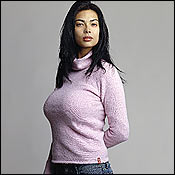 In his latest book. XXX: 30 Porn-Star Portraits, photographer Timothy Greenfield-Sanders becomes the latest serious artist to take smut seriously. David Amsden chatted with one of the book's subjects, Tera Patrick, an articulate nurse turned porn star—and, until recently, a Williamsburg resident—whose oeuvre includes Aroused and Sex Island.
Timothy Greenfield-Sanders has photographed many celebrities, including George W. Bush and Hillary Clinton. What did you think when you heard he was doing a book about porn stars?
I was thrilled! I hope it will introduce me to a new scope of fans.
So it's basically a career move for you?
I know what I do, I'm not ashamed of it, and I want to make as much money as possible. Timothy is very famous, and has a lot of fans who may not know my work. They'll see me in the book, and then go out and buy some of my videos.
Be honest—is a book like this just a way for the intellectual class to look at naked people?
Absolutely!
Are you allowed to admit that?
Come on, the bottom line is that we're all here because of sex, but a lot of people still need to have a kind of artistic representation in order to accept it. I get it—I have a stepson, and I'd rather he see this book than a Penthouse spread.
What was the main difference being photographed by Timothy, compared with other photographers?
He was so excited and passionate! With adult photographers you don't feel the creativity. It's stale, like: "Oh, another shoot for Penthouse. Now she's gonna get naked. All the usual poses." On my Website, my husband takes most of the nude photos—it's fun, he always has new ideas. Timothy was sort of like that.
Apart from the photos, the book includes essays by people like Gore Vidal, John Malkovich, and Salman Rushdie, who writes that porn "sometimes becomes a kind of standard-bearer for freedom, even for civilization." Do you agree?
I do.
Which essay did you like best?
Honestly, I got the book and read it through, but I don't remember the essays very much. So I don't feel comfortable being quoted on that.
XXX: 30 Porn-Star Portraits
By Timothy Greenfield-Sanders (Bulfinch; $35)
Buy it on amazon.com