Though this spring's Impressionist and modern auctions on May 3 and 4 are likely to post their usual huge numbers, the real action will take place the next week at the postwar-and-contemporary sales. That's where the kingmaking takes place, as buyers dissect the market value of those still (or recently) among us. It's also the New Yorkiest of the sales—the majority of the art on view is hometown product.
Sotheby's goes first this year, on May 10, with an estimate totaling $63 million to $87 million. The most carefully watched will likely be a major Chuck Close work, John (1971–72; 1). If it nears its estimate of $5 million to $7 million, it would improve on the artist's record by millions. But no major Close work from this period has made it to market before, so it could go even higher. Also, three Basquiats and one Basquiat-Warhol collaboration will test the fascination with the Brooklyn-born poet manqué. The wordy In the Cipher (1982) from Gianni Versace's collection is expected to draw $1.5 million to $2 million.
Likely bargains: Warhol's rose-and-black Shadow (1978) is strikingly painterly—even earnest—for the laconic artist, at $350,000 to $450,000. A Richard Prince appropriation photo, Untitled (Cowboys) #9 (1982), is priced to heat up the salesroom at $150,000 to $200,000. The moody Belgian painter Luc Tuyman's TV Set (2000), estimated at the same amount, turns a screengrab into an intimation of media horrors.
Overpriced? Warhol's saucy Liz (1963; 2) is the best of thirteen silkscreens of the Cleopatra-era Ms. Taylor. Her perfectly applied aqua eyestripe may be worth the $9 million to $12 million estimate—but buyers of Warhol's ladies often prefer Marilyn.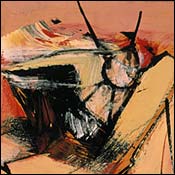 At Christie's on May 11—where the $147 million high estimate for the postwar evening sale is by far the largest ever—a dramatic grouping of mid-century paintings seem to be their own light sources. The bulk of these works come from a collection being sold to benefit the Jewish Communal Fund, so they even have the bonus of being sales-tax-exempt in most states—not a small factor at these prices. In Willem de Kooning's creamy orange Sail Cloth (1949; 3), everything looks right—period, size, color, gesture—at $8 million to $12 million. Robert Rauschenberg's Bride's Folly (1959) represents a serious chunk of art history, at $3 million to $4 million. Alexander Calder's impish standing Beetle (1948) is fairly priced for his reliable buyers, at $700,000 to $900,000. Philip Guston is a young painter's favorite influence these days, and two paintings—The Street (1956), at $3 million to $4 million, and Cup and Brushes (1978), at $1.2 million to $1.6 million—make delectable bookends, spanning his shift from abstraction to blocky representation. At that price, The Street's sale would be a record for Guston—and private sales have already come close.
Likely bargains: Franz Kline's tiny Red Field is so chock full of orange and red it can command its own wall, at $100,000 to $150,000. Thanks to the Guggenheim, Richard Serra is the world's priciest public sculptor, and his Corner Diamond (1986) could be someone's own private Tilted Arc—how big is your den?—for $400,000 to $600,000.
Overpriced? A late Edward Hopper, Chair Car (1965), is one of the last Hoppers in private hands and appeals to film-studies buffs and Americana collectors alike. But it carries an (unpublished) $15 million estimate, well above the artist's auction record.