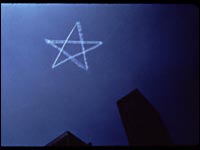 Gary Simmons is a black artist in love with gray. He is known for his "black-boards," on which he draws, smudges, and erases images in chalk, creating a spectrum of subtle, ghostly hues on the schoolroom surface. His interest in gray is metaphysical as well as visual, for he cultivates ambiguity, indirection, and impermanence. At his mid-career retrospective at the Studio Museum in Harlem, organized by Thelma Golden, Simmons consistently turns answers into questions and shouts into whispers. Maybe that's why this teacher is such an unexpected figure in contemporary art. Aren't black artists supposed to be angry, ideological, or confrontational? But there are no supposed to's in Simmons, although his work is steeped in issues of race and class. On his aptly named blackboard – a symbolic screen for black thought – he regularly declares his freedom from all declarations.
As a young artist, Simmons began in a fairly conventional manner, lampooning racial stereotypes such as the street-corner crows in the Disney movie Dumbo. His studio was in a former school; over time, he began to make chalk drawings on rolling blackboards inside the building. He would fudge and partially erase chalk marks with his fingers, leaving behind shimmering traces of imagery that he would eventually rub out altogether – leading to his so-called erasure style. Something about the ephemeral life of these drawings, which appeared full of memory and whimsy, appealed to him. Perhaps it was their dreamlike quality or the way they could not be fixed in place. Not surprisingly, Simmons found himself attracted to the melancholy theme of faded glory and decaying opulence; the passing of time could destroy not only teachings but aspirations. In The Ballroom, he evokes the lost glamour of the Jazz Age, blurring lines until the image seems to recede into misty memories. In I Wish, I Wish, I Wish, the phrase itself dissolves into the haze of chalk, as if no personal desire can hold for long. And in Boom, an apocalyptic explosion melts softly away.
Simmons's most ambitious works are huge, mural-size chalk drawings that he creates for particular locations – and then erases. For SITE Santa Fe last summer, he made a work called A House Divided in which he depicted a cabin that looks like a sharecropper's shack being pulled in half; the lines have a powerful visual ripple, reminiscent of fire, water, or smoke. For the current New York show, he has made a mural of two enormous bird houses or cages that appear to be twirling rapidly around. Their form evokes many other things, too: the fury of a tornado, the swinging lanterns of a trainman, the Dionysian freedom of dancers circling faster and faster. An empty bird house, like a faded ballroom, can be ornate – and an invitation to melancholic reflection. It's a home, but an unnatural one. It evokes freedom and slavery, escape and safety. Its inhabitants may sing, but the song may be one of loss. Who or what lives in Simmons's whirling houses is not certain. But the image is luminous, like something radiant seen through the fog.
A birdcage can be used to symbolize black history and experience. And an image that consists of black and white, even when they're mixed to make gray, can reflect a world rooted in race. But Simmons's art also seems to embody more universal themes. He appears obsessed by the moment that comes after – after the glory years, after the great pronouncements, after the big bang. There is nothing necessarily bleak about such a condition: Simmons, at his blackboard, is a dreamy teacher who obviously relishes this rich aftermath. In one video work, he makes a blackboard of the sky and then, using a skywriter for chalk, draws a rough star in the air. Although the pilot creates confident spurts of white, the lines eventually pull apart, becoming just scribbles in the sky. Even as we create our stars, Simmons seems to suggest, they fade away – leaving behind a new blackboard upon which to project passing certainties and changing dreams.
Art Listings
•Openings & Closings
•Museums
•Galleries
•Galleries
•Photography
•More
Gary Simmons
At the Studio Museum in Harlem; through 1/5/03.