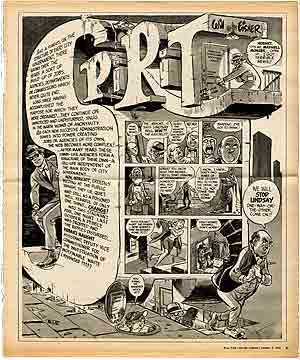 Will Eisner, who died at age 87 on January 3, created the Spirit in 1940. Very nearly the anti-Superman, Eisner's hero was criminologist Denny Colt, who, after a brush with death, decides to fight crime in Central City (a barely disguised Manhattan), letting villains think he's a powerful ghost.
Yes, the Spirit wore a blue mask, but he had no costume other than a red tie, blue sack suit, and fedora. Eisner's visual flair raised this Everyman–in–a– wrinkled–Brooks Brothers–suit saga to high comic art. He refused to settle on a trademark logo for his comic strip, instead working the word Spirit into the opening "splash page" in an endless variety of ways—in the panel printed above, it's carved as a block of stone around which the hero peers.
Eisner was credited as the father of the graphic novel, and pursued serious subjects in books such as A Contract With God; the week after his death, Norton announced plans to reissue his fourteen-novel backlist. But the Spirit was his most artful invention, and in 1966, he created this Spirit adventure for the New York Herald Tribune, involving John Lindsay's mayoral campaign. We offer a glimpse of this long-unreprinted five-page sally into Spiritual politics, a salute to a great city cartoonist. Oh, and as you can see, our hero backed the right horse, too.