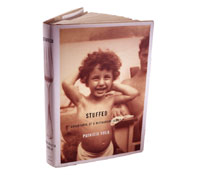 For most readers, the obvious response to the September 11 attacks was to go out and buy the kind of books that have suddenly appeared on what I think of as the Taliban Tables at the local Barnes & Noble: biographies of Osama bin Laden, histories of Afghanistan, that ubiquitous little book about Islam that seems as likely as anything else to give John Bayley's zillionth memoir about Iris Murdoch a run for its money. So I was a little puzzled when I kept hearing that the hot nonfiction title this season was the novelist Patricia Volk's Stuffed, a memoir of growing up in an eccentric New York restaurant family. Escapism, I thought: What could be a better distraction than a lighthearted breeze down a memory lane garnished with caviar sandwiches?
But after reading Stuffed – snarfing it down would be more accurate – it occurs to me that Volk's book speaks to our frazzled times in a deeper way. From 1888 to 1988, Volk's family ran a bunch of restaurants called Morgen's, and her book is ostensibly about the family "store" and those who built and ran it. But as you make your way through these shortish, highly flavored chapters – each named after some treat ("Fricassee," "Hersheyettes") that triggers a memory of this or that relative – you realize that what the book really memorializes so beautifully isn't just a restaurant, or a now-vanished style of eating, but a city in its rich and juicy prime: New York. It's just the thing for those who think of this city as a place with a soul, rather than a collection of buildings.
It's true that the upper-middle-class Upper West Siders she remembers with such tart affection here may not represent all of New York; but like the key spice in a rich dish, they immediately call to mind the whole savory experience that was metropolitan New York in the mid-twentieth century. The mishpocheh that Volk celebrates here was connected to New York in all sorts of ways. Some had a direct impact on life and culture in the city as we know it: Her great-grandfather Sussman Volk brought pastrami to the new world; his son Jake, a famous demolitions man who painted the legend the most destructive force on wall street on his first wagon, cleared the land for the MetLife building and was eulogized by E. B. White in The New Yorker. Uncle Al the endodontist, in the great New York tradition of relatives-who-know-someone-famous, did Erich Maria Remarque's root canals. ("I was impressed, even if I didn't know … whether Erich Maria was a man or a woman.")
Volk's fond recollections of her less august relatives make it clear that they too are part of a crucial urban tradition: hilarious neurosis. Meet impossible-to-please Aunt Lil, whom Uncle Al slept with for eleven years and then wouldn't marry because she wasn't a virgin; the malapropism-prone Aunt Ruthie ("your Uncle Albert and I had a whirlpool romance"); another great-aunt whose two husbands make her a local authority on "what were then called drives." ("I thought of Aunt Ettie as the Colette of the Upper West Side.") Volk, the author of a novel and two collections of stories, brings to life not only these people but the mid-century moment that they so noisily inhabited, and she has a novelist's sure eye for the small but crucial detail. For fortysomethings like me, the mere mention of those neglected blue glass eye-cup bottles in the family medicine chest, or the seemingly lost fashion vocabulary of a certain kind of New York matron ("ruche" and "peplum" and "peau de soie"), will bring tears to the eyes.
What will certainly make you cry is the death, at the end of the book, of the author's beloved father, this memoir's most authentic New Yorker – charming, independent, fierce, multitalented, impatient with fools, and secretly a softy. I was worried, when I started devouring Stuffed, that the short vignettes and character sketches weren't going to add up to anything more than "charming": The beginning's a little haphazard, and Volk doesn't hit her stride for a while. But the chapters that follow – with their little dramas of ambition and hurt and adulation and, often, their wild humor that never strays far from the digestive tract ("If I die first, you can eat me," Volk's psychotherapist sister tells her when they get lost in a bog) – have a cumulative power: When her father, Cecil Volk, dies after selling off the family business and moving to Florida, you feel something crucial's been lost.
As indeed it has been. At one point, Volk hilariously describes a perennially ill great-aunt who'd had so many "ectomies" that "when she had pain, some things were automatically ruled out because they weren't there anymore." All of us who live in the city are feeling pain in phantom limbs right now. Volk's delicious evocation of some missing parts of our urban culture may not cure us, but it will certainly nourish and sustain.
More of Daniel Mendelsohn's book reviews are available online at www.nymetro.com/arts.
Stuffed:
Adventures of a Restaurant Family
By Patricia Volk
Alfred A. Knopf; 244 pages; $23.