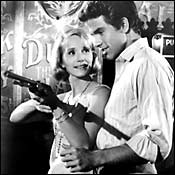 1. Seven Days In May (1964) Backstage thriller: This Cold War drama's noble, straight-shooting president and vast conservative conspiracy set the stage for NBC's The West Wing.
2. The Manchurian Candidate (1962) Paranoid's paradise: Catch it before Jonathan Demme shoots his Gulf War–era remake, starring Denzel Washington and Meryl Streep and scheduled for a fall 2004 release.
3. All Fall Down (1962) Matinee-idol moment: A tan, 25-year-old Warren Beatty gets frisky in Florida with Eva Marie Saint.
4. The Iceman Cometh (1973) Certified classic: An unforgettable adaptation of Eugene O'Neill's unflinching drama.
5. The Young Savages (1961) Teen thrill: In Frankenheimer's second film and first collaboration with Burt Lancaster, adolescent gangsters wreak havoc while a wild-man jazz soundtrack goes, man, goes.