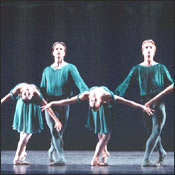 Commissioned by the verdi Festival in Parma last summer, Peter Martins produced two works to the composer's music. Both were given their local premieres in the New York City Ballet's winter season, which continues through February 24.
Quartet for Strings is – go figure – a quintet set to the String Quartet in E minor, arranged for a small string orchestra. The fivesome consists of two couples, Margaret Tracey and Nikolaj Hübbe, and Yvonne Borree and Sébastien Marcovici, and a woman-on-her-own, danced by Jennie Somogyi. The ballet is a hapless affair, beginning with its choice of score, which fails to encourage dancing.
Martins's choreography is neatly but unimaginatively structured, introducing its participants in brief, varied configurations and then settling down with a pair of extended duets for the couples. Though one is slow and the other swift, these pas de deux are similar in tone, proposing a romantic idyll so wispy and saccharine you long for a touch of personal incompatibility, perhaps even a smidgen of flagrant betrayal, as an alternative to the pastel monotony. What the Somogyi role may represent, other than a dynamic contrast to the pallid fragility of the more conventional heroines, is beyond me. I'm not sure that Martins has it figured out, either.
The festival mate of Quartet for Strings, Viva Verdi, is even more slack – and weird as well as baffling. Martins made his first, fatal error with the selection of the music. Marc-Olivier Dupin's 1995 Variations on Verdi's "La Traviata" delivers the famous tunes in peculiar tempi, shorn of their words and of the dramatic context essential to their power. Martins's choreography juxtaposes a trio of the tiny, technically brilliant, affectless young women he has been cultivating of late with a long-limbed languorous couple representing, I suppose, resonant adult romance. The connection, if any, between the alternating teams (beyond giving each other a breather) remains a mystery. Clad in bouncy yellow tutus, the three look-alike girls resemble nothing so much as cake-decoration figurines. In the leading role (originally made for Darci Kistler, Martins's wife), Maria Kowroski, a sublime slow-motion dancer, is ravishing, as usual. Charles Askegard, her ostensible cavalier, lacks temperament and authority, also as usual. Both Verdi excursions underline the fact that Martins is far more adept at evoking poisoned and alienated relationships than he is at expressing mutual empathy and joy.
A third Martins piece new to New York this season is Hallelujah Junction, created for the Royal Danish Ballet. At its local premiere, it featured the dancers who performed the leading roles in Copenhagen, Gitte Lindstrom and Andrew Bowman. The ballet takes its title from its score, a John Adams composition for two pianos; it's the choreographer's eighth essay to Adams's work. Starkly costumed in black-and-white practice dress, the dance is rigorously schematic. The principal couple is offset by a male-virtuoso soloist; the eight-member ensemble appears in a variety of configurations, among them mini-corps of men or women and subsidiary male-female duos. Clearly the setup refers to Balanchine's celebrated "leotard" ballets to Stravinsky, but Martins misses the architectural depth and the emotional implications that Balanchine infallibly provided. Hallelujah Junction is superficially handsome but arid – a series of flat images a computer might produce.
To be sure, Martins gives us the obligatory "love" duet midway through the piece, but it accompanies music that's not a natural for adagio dancing and conveys nothing but Martins's enduring fascination with small, cleverly intricate partnering maneuvers – the twistings, twinings, and cantileverings one might construct with a Tinkertoy set based on human anatomy. If Hallelujah Junction says anything significant, it may be the proposal it makes (inadvertently?) that the breakneck pace of modern life, its fixation on "image," and its resultant anomie are a state of affairs not to be deplored but celebrated. Such a viewpoint would explain a lot about the new choreography we're seeing at the NYCB and, worse, the way in which the old masterworks are being danced.
Private Lives of Dancers, shown under the auspices of the Danspace Project at St. Mark's Church, is the latest installment in David Gordon's dancing-and-talking work that testifies to an expanded concept of family. The term, Gordon demonstrates, needn't be dependent on ties of blood or marriage; a small performing troupe qualifies nicely.
Veteran fans know what to expect: Words and motion made suavely co-dependent. Laconic dialogue on everyday subjects laced with double meanings and ironic plays on words. Formally structured dance patterns in which loose-limbed movement (with healthy roots in classical ballet) is deployed with deceptive casualness. The bearlike, disheveled Gordon and his elegant, British-accented wife, Valda Setterfield, the mistress of the still center, as the David and Valda characters, presiding over a handful of dancers who might be their fully mature children. Material recycled from previous work, as if it were the DNA of the long-term design.
This piece, divided into rehearsal and performance sequences – the first relaxed, with talking, the second with the dancers fiercely focused and silent – isn't one of Gordon's finest. The plotline, which has one of the performers possibly leaving the troupe for, ironically, family life (marriage and kid), isn't made sufficiently central and compelling. The disparity between what Gordon and Setterfield, now well advanced in middle age, can manage physically and what dancers still in their athletic prime can achieve isn't comfortably resolved. As usual, the choreography lacks variety, in both vocabulary and dynamics. And the performance segment – where the laid-back rehearsal accompaniment gives way to the "real music," strongly influenced by Stravinsky – owes too much to the strategies of Nijinsky's Rite of Spring ballet, which Paul Taylor has already treated, brilliantly, in a three-tiered construct of rehearsal, performance, and detective story. What The Private Lives of Dancers is, is appealing, especially to the initiated. David and Valda have taken up residence in our imagination. We've come to care about them in a sort of family way.
New York City Ballet
Quartet for Strings, Viva Verdi, Hallelujah Junction
choreographed by Peter Martins, at the New York State Theater.
David Gordon
Private Lives of Dancers
at St. Mark's Church.