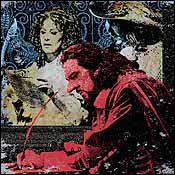 An unlucky man, Franco Alfano. If the opera world remembers him at all, it is for completing Turandot, a thankless task he performed after Puccini's death in 1924 only to see his work mangled by Toscanini and cobbled into the spotty finale we know today. Later on, the score of Alfano's reputed masterpiece, La Leggenda di Sakùntala of 1921, was destroyed in a World War II bombardment and had to be reconstructed from scratch, while his other operas have been almost totally neglected.
Life may have treated Alfano unfairly, but help is at hand. The Metropolitan is giving him some belated quality attention thanks to Plácido Domingo, who suddenly had a late-career urge to sing the title role of the composer's Cyrano de Bergerac. The production has just had its debut, preceded by an advance buzz that centered not so much on poor Alfano as on the proboscis-challenged hero, and especially on how Plácido handles the tricky mechanics of his false nose.
As for me, Cyrano de Bergerac is my favorite among the three Alfano operas I know well, each of which sounds as if it had been written by a different composer. The early Risurrezione (1904), based on Tolstoy's novel, is the best known and the most conventional, an essay in the heated verismo style that dominated Italian opera in those days when Puccini reigned supreme. Sakùntala, at least as reconstructed, is an amazing advance that inhabits a musical world Debussy, Ravel, and even Stravinsky would recognize—a dazzling tour de force of orchestral color and twisting vocal declamation. Cyrano is a late work, from 1936 (Alfano died in 1954), and here, working with a French libretto by Henri Cain, the composer finds the ideal reconciliation between his early lyrical manner and later methods of creating a refined poetic atmosphere.
It's still fashionable for superior people to denigrate Alfano and the other Italian composers of his generation, a creatively diverse and musically sophisticated group despite their basically conservative idiom. Even his harshest critics might admit that Alfano has painted a dashing portrait of the eloquent soldier-poet Cyrano, as he duels in the theater of the Hôtel de Bourgogne, woos the lovely Roxane for the terminally tongue-tied Christian, fights the battle of Arras in which Christian is brutally slaughtered, and finally dies in the arms of Roxane, who learns too late of his selfless devotion. The music brilliantly evokes the play's restless seventeenth-century place and action, but the defining mood is one of aching regret for the unobtainable, a reality that haunts each of the three principals. The delicious three-way love scene in front of Roxane's balcony at the end of Act Two embodies this in music of bittersweet irony, while Cyrano's poignant death amid the falling leaves of the convent garden is just heartbreaking.
As a longtime Domingo-watcher, I can report confidently on one of opera's more astonishing geriatric miracles. Whether the tenor really is 64 (as the books say) or closer to 70 (as is often whispered), his voice is amazingly well preserved, solidly positioned and tonally lustrous in its middle register, where most of Cyrano's music lies or has been discreetly shifted to accommodate him. He is also more actively engaged with the role than is sometimes the case, giving us a hero who is surely just as sympathetic and magnetic as any of the famous Cyranos of film and stage who preceded him. Sondra Radvanovsky's throbbing soprano creates a positively radiant Roxane, Raymond Very's Christian couldn't be more handsomely sung, and the large cast under Francesca Zambello's crisp direction and Marco Armiliato's firm musical guidance catches the opera's full theatrical sweep.
This splendid production, modestly but strikingly designed in period by Peter Davison, is being shared with Covent Garden, where it will no doubt be filmed before returning for more performances at the Met next season. Meanwhile, Roberto Alagna has expressed interest in showing his Cyrano to New York as soon as Domingo is through with the role, and a DVD of the opera starring the French tenor has just hit the stores. Cyrano de Bergerac is clearly here to stay for a while, and Franco Alfano, it seems, has gotten lucky at last.
Cyrano de Bergerac
Franco Alfano.
Metropolitan Opera.