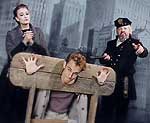 Houdini the Great is not the first opera to give a singing voice to the famous magician and escape artist, and it may not be the most ambitious, but I doubt if other musical treatments have more charm or sheer zest. Den Anden Opera, an experimental group from Denmark, brought the one-act chamber opera to Columbia University's Miller Theatre last month, performing it in English, and the results were indeed magical. As plotted by Danish writer-director Erik Clausen, Houdini's life and career become an immigrant's metaphor for freedom and escape from tyrannies of all kinds, with the action conceived as an in-your-face street show accompanied by a down-and-dirty instrumental combo of trumpet, two guitars, accordion, calliope, and percussion.
The real Houdini was born Ehrich Weiss in Budapest in 1874, came with his family to Wisconsin as a child, and eventually launched his American career as a trapeze performer. Clausen will have none of that, and he gives his hero a complete makeover. The Houdini we meet here is a fast-talking Italian immigrant who entertains on the streets of New York City, tries to be a good son to his doting mama, romances a waif from Poland, and dodges the long arm of an Irish policeman named Officer Law'n'Order. Many misadventures later, he finally perishes after being lowered in chains to the depths of New York Harbor. But this is not the end. Wet, dead, and immortal, Houdini reappears in the finale to take his place in history.
The music is by a composer who understands the immigrant experience firsthand, but from traveling in the opposite direction. Andy Pape was born in 1955 in Hollywood, emigrated to Denmark in 1971, and has since become a leading figure on the Danish musical scene. The influence of Kurt Weill on his tangy, needle-sharp score is unmistakable, although it's too bad that his tunes are never quite as memorable as Weill's. No matter. This is a fast, friendly, fun-filled show performed by four revved-up singing actors who clearly enjoy every moment of it.