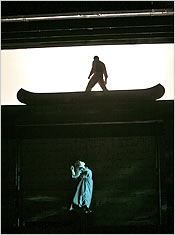 The Lit 101 school of American opera continues to proliferate. Little Women, Of Mice and Men, The House of the Seven Gables, Sophie's Choice, The Last of the Mohicans, The Postman Always Rings Twice, Rappaccini's Daughter—the list of ambitious operas based on all those classic novels you read in school (or were supposed to) goes on, even if the success rate has been marginal. Right now, the Metropolitan is presenting the world premiere of Tobias Picker's An American Tragedy, adapted from the 1925 novel by Theodore Dreiser. Not that long ago we were debating the merits of John Harbison's operatic version of F. Scott Fitzgerald's The Great Gatsby. Can a Met production about a great white whale be far off?
Turning a novel into an effective opera is one of the more difficult tasks a composer can set for himself, and I fear Picker has passed no miracles with An American Tragedy. Together with his librettist, Gene Scheer, he has compressed Dreiser's plot skillfully, retaining most of the essentials—in some ways more faithfully than the two films based on the novel—but in the process he has only managed to add one more generic, musically faceless American opera to a growing heap of melancholy disasters. In crucial matters of dramatic pacing and fluent text setting, he's learned from his earlier work Emmeline, but Tragedy lacks that flawed score's expressive urgency and fierce engagement with the material.
Even audiences unfamiliar with Dreiser's book will have no trouble following the action, as young and thoughtless Clyde Griffiths turns the American dream into a nightmare in which greed, social climbing, and, finally, inadvertent murder bring him to the electric chair. The narrative clarity is a definite plus, although Picker seems unable to find music that can memorably characterize Clyde, the socialite he wants to marry (Sondra Finchley), or the hapless factory girl (Roberta Alden) he gets pregnant and must dispose of. After putting postmodern serial dissonance behind him and making an honest attempt to develop a more accessible and listener-friendly style, Picker has succeeded only in falling into the characterless, derivative neo-Romantic idiom that so many American composers have adopted over the last 50 years, churning out interchangeable operas crammed with by-the-book mood music, eager-to-please arias that lack any real melodic distinction, and long, plodding stretches of arid dialogue. I came away from An American Tragedy with the gloomy impression of having heard it all before, dozens of times, coupled with the sad suspicion that a talented composer had lost his way.
Adrianne Lobel's three-tiered set cleverly gives the cinematic nature of the piece the sort of visual flexibility it needs, even if the overall shabby look of the design seems incompatible with the story's precise social layering and obsession with riches. Francesca Zambello maneuvers the cast around this structure with maximum efficiency, and the musical direction is in the more than capable hands of James Conlon. A lot of deluxe vocal talent is also on hand: Nathan Gunn as Clyde, Susan Graham as Sondra, Patricia Racette as Roberta, and Dolora Zajick as Clyde's back-to-Jesus mother. It's hardly their fault if the characters never come to life or that we don't really care what happens to them.
An American Tragedy
Composed by Tobias Picker.
Libretto by Gene Scheer.
Metropolitan Opera.
Through December 28.