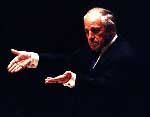 It's been intriguing to watch Pierre Boulez move from the radical left to the very center of our musical life, a process accomplished so gradually over the past 50 years that many of us never quite realized it was happening. Next year Boulez turns 75, and he continues to be a prominent New York presence during the 1999-2000 season. The composer-conductor has just completed a weeklong series of workshops and chamber concerts at Carnegie Hall, focusing on some of the seminal works of the departing century, and next March he returns there to celebrate his birthday by leading four meaty programs with the London Symphony Orchestra. Not only that, such high-profile musicians as Daniel Barenboim and Maurizio Pollini will be programming major Boulez scores in Carnegie Hall during the coming year. Meanwhile, Deutsche Grammophon continues its commitment to Boulez by recording the conductor in performances of his own music, new versions of early-twentieth-century classics, and music by Mahler, Strauss, and Scriabin, late-Romantics one would have never associated with him in the not-so-distant past.
And all this from the young terrorist of the fifties who provoked the Establishment by issuing one angry polemic after another. Any composer who could not accept the inevitability of serialism, we were told, was irrelevant. All opera houses should be blown up, and maybe some concert halls as well. And, yes, even the sainted Schoenberg was proclaimed dead and passé. The mellowed-out Boulez of today is often asked to comment on this fiery youthful rhetoric, most recently by Carnegie Hall's artistic adviser, Ara Guzelimian, at a "Carnegie Talks" chat session. Being French, charming, and as much a wizard with words as with notes, Boulez wriggled out of every snare, never backing down or admitting that his youthful radicalism might not have always been appropriate, legitimate, or even necessary.
Of course conventional opera houses and concert halls are still useful, the old sage now says. Not only do they have the potential of elevating popular taste but they also provide a composer who conducts with an incomparable educational arena, especially if he wants to study the techniques of such masters of large forms as Mahler and Wagner. No apologies were made about the "Schoenberg Is Dead" pronunciamento. After all, it's only natural for young people to revolt against their elders, just as aging radicals should be allowed the privilege of changing their minds. Now Boulez, a father figure himself, has a different take on Schoenberg, whose music he conducts with more precision and eloquence than anyone alive. At the moment, he prefers the composer's early, freely atonal, and largely intuitive music to the later, more dogmatic, strictly organized serial scores that gave rise to the whole twelve-tone school in which Boulez himself was bred. Besides, he points out, musical composition is not about abstract ideas but about the development and consequence of those ideas, and no one illustrates this better than Schoenberg en route to serialism.
As a demonstration, Boulez devoted his professional training-workshop sessions to a pair of the master's most awesome instrumental scores: the tonally ambiguous, four-movements-in-one Chamber Concerto of 1906, and the Op. 29 Suite of 1924, serially organized but with sly references to tonal procedures that still tend to rattle orthodox twelve-tone theorists. Perhaps even Boulez might not have fully approved of these works at one time, but now he revels in their tangy harmonic clashes and surging rhythmic energy. Unlike most avant-garde composers from the fifties, Boulez has always found the physical act of making music a pleasurable exercise for both the ears and the spirit. He also clearly enjoys instructing and communicating with young instrumentalists – the performances, both with the musicians in the workshop program and the Ensemble Intercontemporain, were quite simply staggering.
During his previous Carnegie Hall visits, Boulez seldom brought along his own music, but on this occasion we were treated to several works, including an all-Boulez program with members of the Ensemble Intercontemporain. However far the conductor and educator may reach out to accommodate general audiences, the composer remains an uncompromising creature of his time who refuses to make it easy for the listener. But the sounds he conjures up are invariably dazzling, their musical roots firmly planted in the richest soil of twentieth-century French music. Who knows? By the year 2100, all-Boulez programs may be a commonplace.