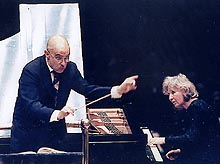 Letting go of the 1998 George Gershwin centenary is proving to be difficult, if forgivably so. There is still plenty to learn about this most popular of serious American composers, especially the exact nature of the scores he wrote for his many Broadway shows. The American Composers Orchestra's recent tribute, conducted by Dennis Russell Davies in Carnegie Hall, wasn't able to go into that, but the music was choice and the context fascinating. This was not just another run-through of overplayed Gershwin concert classics but an attempt to locate the composer amid the music of three contemporaries who were both associates and admirers: Oscar Levant and Vernon Duke, who, like their mentor, traveled between high- and lowbrow circles with varying degrees of discomfort, and Maurice Ravel, a fastidious classicist whose symbiotic relationship with Gershwin has yet to be properly studied.
The program consisted of four works for piano and orchestra, performed in ascending order of quality: one-movement concertos by Duke and Levant, followed by Gershwin's Second Rhapsody and Ravel's Concerto for the Left Hand. Both the Duke and Levant scores are little more than curios, but they have much to tell us about Gershwin and his circle in the twenties and thirties. Born Vladimir Dukelsky in 1903 in Russia, where he received early classical training, Duke emigrated to America with his family in 1921 and was given his new name a few years later by Gershwin himself. It was as Vernon Duke that he gained modest fame as a composer of musicals (Cabin in the Sky), film scores (She's Working Her Way Through College), and such hit songs as "April in Paris" and "Autumn in New York" (Dawn Upshaw has just recorded an entire album of Duke's pop songs for Nonesuch), while his "serious" work more or less languished – the Concerto in C major, written around 1924 at the request of Arthur Rubinstein but never orchestrated, in fact had its world premiere at this concert, in a scoring by Scott Dunn, who also played the solo part.
At first sounding a bit like minor Prokofiev, the concerto loses its self-conscious attitudinizing in a lilting second theme that Gershwin encouraged Duke to play at parties, a clear indication of where this composer's future strengths lay. One would be tempted to say the same of Levant's concerto (played by Alan Feinberg), except that any hint of a tune is quickly smothered in an angry score that seems to pit Schoenberg, who briefly gave Levant composition lessons, against Gershwin, who was the young man's idol before he launched his Hollywood career as an actor and pop-concert pianist. This embattled music paints a frighteningly accurate portrait of Levant as the self-loathing but hilariously witty sidekick that he portrayed in so many film musicals during the fifties.
After these curious works, Gershwin's own Second Rhapsody, as played by Leon Bates, sounded like a masterpiece. It is, in fact, perhaps the most sophisticated example among his attempts to fuse classical techniques with the vernacular style in which he communicated with such genius. Duke, Levant, and many other composers, whether they came out of the conservatory or the pop-jazz hurly-burly, took careful note of Gershwin's success in bridging two worlds, and American music was never again the same. It must have been this cross-fertilization that so intrigued Ravel toward the end of his life. Certainly few other composers took what they heard in Gershwin and integrated the essentials into their own style quite as ingeniously as Ravel did in the darkly brooding lyricism of his Concerto for the Left Hand. Ursula Oppens's polished pianism captured the glowing essence of the piece perfectly, adding a welcome touch of pure musical elation to a most instructive concert.