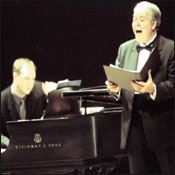 The American art song, most would agree, has not exactly flourished in recent years. Even if the dissonant styles that once prevailed in academic circles did not have the total stranglehold on new music that some would like us to believe, musical fashions in this country hardly encouraged composers to write the sort of songs that audiences wanted to hear or singers liked to sing. All that has changed with the return of tonality, or so the latest orthodoxy goes, and a golden age of American song can now begin. Taking a brave step to help make it happen, Robert White recently sang an ambitious recital with Brian Zeger at the piano: nineteen new songs by as many American composers, all of them the tenor's colleagues, and commissioned for White by the Metropolitan Museum of Art.
Well, if a new day has dawned, there was only a faint hint of it in this noble, well-intentioned project. Perhaps American composers do not have much to sing about right now, or perhaps songwriting still doesn't come naturally to them, but most of the material on the program struck me as pretty characterless and lacking in expressive urgency. The exceptions were by older composers who never lost sight of their aesthetic goals, no matter which way the winds of fashion blew over the years. Ned Rorem, of course, is an indefatigable song composer who has enriched the genre incomparably, and "He Will Not Hear" is typical of him: unsentimental, exquisitely observed and text-responsive, elegant, and emotionally penetrating. So too is Milton Babbitt's "A Lifetime or So," a delicious pop dalliance by this mandarin of serialism, but no less bejeweled or carefully structured than his "serious" music. Richard Hundley's many songs may be too close to parlor balladry for some tastes, although singers adore them and they will relish the sly humor of "How Pleasant It Is to Have Money."
The younger composers had less to offer, although the uninhibited neo-romantic style of Lowell Liebermann goes down well with me because it is so unself-conscious and applied with such skill. And the melodically rich vocal line of his Whitman setting, "On the Beach at Night," is a real gift to a singer. Daron Hagen is another composer with a genuine lyrical talent and, in "Ghost Letter," a feeling for what a voice can do best. I'll draw the veil of charity over those songs that seemed lackluster or downright feeble – a fair amount of dross is inevitable at any concert of new music, even when the composers include such nodding notables as Corigliano, Bolcom, Del Tredici, and Menotti.
White sang all nineteen songs with the interpretive sensitivity and musical care that have been his trademarks for many years. His sweet, rather small Irish-style tenor sounds a bit dried out these days – he has been singing professionally for nearly 60 years, after all, beginning as a boy alto on radio. Even at that, I wonder what other singer of any age could handle so many different styles with comparable ease, confidence, and sheer charm.
The communal energy that warms Wagner's Die Meistersinger von Nürnberg is especially needed right now, and that spirit glows brightly in the Metropolitan Opera's current revival, even if the details sometimes disappoint. Otto Schenk's traditional direction and Günther Schneider-Siemssen's storybook sets may not comment on the work with any special distinction or originality, but they get the job done efficiently and give the singers plenty of leeway to express themselves. James Levine does not plumb the score's expressive depths with the intellectual insight and expressive wisdom of the great Meistersinger conductors of the past, but I suppose that is my problem. He continues to be the audience's hero, and his famous orchestra is certainly in top form.
Wagner connoisseurs who dote on portrayals of Hans Sachs, the kindly cobbler-poet who is the opera's central figure, have long been curious to see the part sung by James Morris, the Met's preferred Wotan of the past fifteen years. The bass-baritone has finally obliged, pacing himself shrewdly and moving comfortably about the stage to give a pleasant performance that satisfies the role's generalities without illuminating its complexities. Following suit, Eike Wilm Schulte plays Beckmesser as a silly old pedant rather than the subtler character he really is, while the young lovers sung by Solveig Kringelborn and Johan Botha are models of fairy-tale tranquility. There is a great deal more to Die Meistersinger than the Met cares to show us, but it's still good to have this people-friendly opera on hand right now.
As it happens, the Met broadcasts begin December 8 with Meistersinger, and to celebrate Texaco's 61-year sponsorship of these Saturday matinees, the company has just released a two-CD package with selections from that inaugural 1940-41 season. All sixteen performances have long been popular with collectors of live Met material – most have circulated unofficially over the years, and several have turned up complete on the opera company's own historic broadcast series. For those who can afford the $150 price tag, the Met versions are the ones to have, derived from the best sources, painstakingly engineered, and provided with elaborate documentation.
Opera fans interested in the past or with long memories will need no encouragement to investigate these generously filled discs. The classic Wagner pairing of Kirsten Flagstad and Lauritz Melchior in Tristan and Tannhäuser, Ezio Pinza's Figaro, Lily Pons as Marie in Daughter of the Regiment, Jussi Björling and Zinka Milanov in Verdi's Ballo, Giovanni Martinelli's Otello, Licia Albanese's Butterfly, Bruno Walter conducting Fidelio – all that and much more may be sampled here, chosen and annotated with care by David Hamilton. I only question the mediocre tenor Bruno Landi in preference to baritone John Charles Thomas, who sang Figaro in The Barber of Seville that afternoon, but let's not quibble. This was a banner Met season, and one can only hope that the broadcasts of 2001-02 will boast half as much vocal glamour. The discs are available with a donation of $150 to the Metropolitan Opera and can be ordered by phone at 212-362-6000 or online at www.metopera.org.
Robert White
Recital by the tenor, accompanied on piano by Brian Zeger, of new songs by Ned Rorem, Milton Babbitt, etc., at the Metropolitan Museum of Art.
Die Meistersinger von Nürnberg
Metropolitan Opera production of the opera by Wagner, conducted by James Levine, staged by Otto Schenk, starring James Morris.