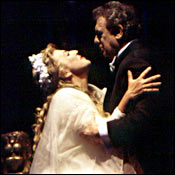 Consider the continuing clout of the Three Tenors – well, two of them, at least. Had not Ermanno Wolf-Ferrari's Sly struck the fancy of Plácido Domingo and José Carreras a few years ago, this obscure opera, first seen at La Scala in 1927 and rarely anywhere else since then, would surely have continued to slumber in peaceful oblivion (despite its very real merits). After his miraculous recovery from leukemia, Carreras chose Sly for his return to the American opera stage in 1999, and Domingo, in his capacity as artistic director of the Washington Opera, made it all possible by commissioning a production and hiring his wife, Marta, to direct it. Domingo then presented the whole package to the Metropolitan Opera, but with himself instead of Carreras in the title role – an offer, apparently, that the Met could not refuse. Anyone who cares should see the Met's version now, since both the opera and its new champions are likely to be soon retired.
In a way, Sly is the tenor equivalent of Cilea's Adriana Lecouvreur, a juicy vehicle for a singer of a certain age who can dominate the stage but is not called upon to perform strenuous or tricky vocal feats. Perhaps the opera's neglect is partly due to the general perception of Wolf-Ferrari as a composer of elegant comic operas rather than high tragedy. Nothing could be further from his frothy farces based on Goldoni plays than this bitter, pessimistic tale of a poet driven to madness and suicide by a society not content merely to ignore its artists but to persecute them – a theme that, given the events in Europe over the next two decades, would prove eerily prescient.
Christopher Sly is a vestigial character in the prologue to Shakespeare's The Taming of the Shrew, a drunken tinker tricked by a lord into thinking he is a nobleman. Wolf-Ferrari's librettist, Giovacchino Forzano, expanded on that slight incident and fashioned it into a troubling Pirandellian drama of identity crisis, misperception, and psychological game-playing with Sly, now a poet, as society's scapegoat. It's an ugly business as we watch the vicious tavern revels of Act One, the hallucinatory diversions at the Earl of Westmoreland's castle, and the wretched Sly's cruel disillusionment when, caged like an animal in the earl's cellar, he breaks a wine bottle and slashes his wrists. Given the grim nature of this story, Wolf-Ferrari's music is all the more remarkable for its restraint, fastidious craftsmanship, and refusal to indulge in verismo excess. While the composer of all those enchanting comic operas is still recognizable in a score of almost neoclassical design, Sly himself is characterized in vocal lines notable for their expressive power and declamatory force.
It's a role written for a type of singer that no longer exists: an Italian tenor with a ringing top, an easy flexibility at every dynamic level, a searingly eloquent delivery, and a mesmerizing dramatic presence. One can hear what is wanted by listening to the recordings of Aureliano Pertile, who created the role, or Francesco Merli, who succeeded him and recorded two of Sly's monologues. For all his musicianship, vocal durability, and earnest industry, Domingo was never that kind of a tenor. He performs Sly with his usual care and dogged efficiency, but he never gets under the skin of the part, and the results are very bland. Juan Pons as Westmoreland and Maria Guleghina as Dolly, the earl's mistress who falls in love with Sly too late, are fine in their roles, but this is an opera that cannot succeed without an inspired protagonist to take charge of the stage.
The production remains much the same as it was in Washington. Michael Scott's budget-conscious sets update the opera – pointlessly so, since all sense of time and place more or less vanishes by Act Two – while Marta Domingo's fussy stage direction includes such inanities as a jigging tavern chorus and a ridiculous white apparition that dances around Sly as he expires. Her greatest sin, though, is to throw a cloak of pervasive dullness over the action, draining all the theatrical life from an opera that needs as much help as it can get. Marco Armiliato is the competent conductor.
The Met is no doubt relieved to work off this obligation to Domingo and get back to its own affairs. But wait. The great tenor has announced that he plans to star in another Italian vehicle from the same era as Sly, Franco Alfano's Cyrano de Bergerac, and he is already talking to the Met about importing a production soon to be unveiled in Madrid. Given Domingo's undiminished performance energies and bargaining power, I think we can count on seeing it.
A New York Festival of Song concert always seems to turn into a marvelous party of one sort or another, and the group's most recent entertainment in Weill Recital Hall at Carnegie Hall was no exception. So far, this season's programs have investigated songs from the Harlem Renaissance, Scandinavia, and the Iberian peninsula, as well as classic Broadway composers inspired by the lyrics of P. G. Wodehouse. At this concert, with justifiable pride and considerable joy, NYFOS revisited some of the many commissions and premieres it has presented over the past fourteen seasons. As usual, the Festival's co-artistic directors, Michael Barrett and Steven Blier, were the companionable pianists and witty commentators, and the singers were absolutely delicious: sopranos Cyndia Sieden and Cynthia Watters, mezzo Rinat Shaham, tenor Steven Tharp, baritones Philip Cutlip and Kurt Ollmann.
But the composers provided the real reasons to celebrate. The Festival of Song premiered its first winner early on, in 1989: Arias and Barcarolles, Leonard Bernstein's last work and a memorable one that somehow manages to compress eight tiny Broadway musicals into half an hour. A decade later, NYFOS introduced Ned Rorem's Evidence of Things Not Seen, a 90-minute song cycle of extraordinary expressive range and cumulative impact and a score that already sounds like an enduring masterpiece. Lots of other good things came in the years between. I especially enjoyed rehearing Lowell Liebermann's hilarious Appalachian Liebeslieder, seven songs recounting the unlikely courtship of a backwoods auto mechanic and a German Fräulein on tour in hillbilly country. If American song has finally come of age, the New York Festival of Song is giving it an eloquent voice.
Sly
Metropolitan Opera production of the opera by Ermanno Wolf-Ferrari, conducted by Marco Armiliato and starring Plácido Domingo.
New York Festival of Song
Concert at Carnegie Hall.