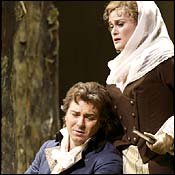 Since it was first seen in 1971, the Metropolitan Opera production of Massenet's Werther has offered a parade of world-class tenors in the title role—even a baritone a few years ago when Thomas Hampson tried out the composer's arrangement for a lower voice. It's ironic that this opera, which gives the tenor one gorgeous set piece after another before he dies in his beloved Charlotte's arms, now turns up more frequently than any other work by Massenet, once typecast as a narrow specialist in the feminine mystique. Maliciously dubbed Mlle. Wagner by the Parisian bon ton, Massenet did create many fascinating heroines—Manon, Thaïs, Cleopatra, Ariane, Cinderella, and the others—but he ranged much more widely than that.
The Met's current Werther of choice is Roberto Alagna, in many ways an ideal interpreter. His French upbringing automatically gives his approach authenticity—verbal nuance is crucial in shaping Massenet's vocal lines correctly—while everything about his handsome stage presence suggests an unstable, romantic-obsessive young poet headed for suicide. I only wish there was a more liquid flow to Alagna's basically firm, attractive tone, which seems to become thicker and less pliant each time I hear him. It's a problem the tenor might ponder.
Charlotte need not take second place to the hero, and Vesselina Kasarova is a distinctive presence, playing a character who clearly has her own neuroses to deal with as well as a strong attraction to Werther that drives her to distraction. She also puts her rich mezzo-soprano to the most expressive uses, generating an intensity that contrasts nicely with Lyubov Petrova's sunny Sophie and Christopher Schaldenbrand's sullen Albert, all sensitively supported by Jacques Lacombe's attentive musical direction.
The Met generously dedicated the first performance of this Werther revival to the memory of the late Franco Corelli, for whom the production was originally designed. That was considered unusual casting at the time, since Werther was not a role one associated with a clarion-voiced Italian tenor heard to best advantage in the dramatic Verdi and Puccini repertory. In fact, Corelli didn't even appear on opening night because, it was said, partisans of the elegant Swedish tenor Nicolai Gedda were enraged that their man had not been given the new production and planned to demonstrate. Operatic passions ran high in those days, and the chronically nervous Corelli was taking no chances. (I'll never forget a raucous matinee performance of Don Carlo when the tenor locked himself in his dressing room for some reason and a big chunk of Act Two had to be performed without its hero.)
When Corelli finally did sing the role, even Gedda fans may have been surprised at how well he did it. But then, Corelli was a more versatile singer than he ever got credit for. Most of the controversies and criticisms that swirled around him during his fifteen-year reign at the Met have been long forgotten, especially since no Italian tenor of his type has appeared to take his place—even Pavarotti's essentially lyric voice is in a completely different category. Corelli never recorded as much as he should have, although live performances are plentiful and not one of his EMI studio efforts lacks its fair share of vocal thrills. A new disc, The Unknown Recordings, has just appeared, released days before Corelli died, a collection of previously unissued material recorded during his prime in the sixties. It's all there: the fearless attack, the gleaming metal, top notes that never fail, and that glamorous, utterly distinctive vocal personality. The opera world moves on, but we now have few tenors like Corelli, a singer who made his own rules and set his own standards.