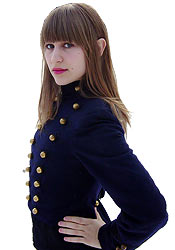 Joanna Newsom sings her folk-inflected compositions in a ragged, yet ethereal voice to solo harp accompaniment, and has emerged as an unlikely cult figure in the indie-rock world. On December 18, Newsom plays the first of two dates at the Bowery Ballroom with Drag City labelmates Smog and Weird War (and a requested dress code: "a sweater with a knit cap or scarf"). Rebecca Milzoff caught up with her on a rare night off.
How did you start playing the harp?
I don't know exactly. I was 3 or 4 when I started becoming fixated on it and bugged my parents into getting me one. I've studied West African and Venezuelan and Celtic harp. I would sit in on bluegrass sessions, too, though it's kind of hard to do bluegrass on the harp.
You've gotten a lot of acclaim from the hard-bitten indie-rock world. Does that seem odd?
Well, I wouldn't be able to distinguish one kind of success from another. But I feel like some people have listened to my record in ways that I would prefer they not.
How do you mean?
Oh, there are people who are attracted to what they see as something that's entirely sweet or childlike or innocent. That's not my music, if anyone's listening. My voice gets compared to a child's, and I don't think it's childlike at all. The so-called positive press has in some ways been more difficult to swallow than the negative.
All this talk about a "neo-folk" movement and your being at the head of it—does it mean anything to you?
I don't place myself within any sort of a scene. I actually don't think of myself as a folksinger. I'd call myself something else, but I can't think of an alternative.
What are your impressions of New York so far?
I've had really good times here before, and really not-good times. If I spend time with someone familiar with the city, I can get access to a face of it that's familiar and not scary. The one time I was kind of here by myself, walking on the streets, I really liked the way I felt and the thoughts going through my head … It's really conducive to the type of thinking needed for writing.
What's up with the dress code?
That was the brainchild of the intrepid Dan Koretsky, who runs our fine label. He wants it to be festive, I guess.
Joanna Newsom
Bowery Ballroom
December 18 and 19 at 8 p.m. and 7:30 p.m.; $15.