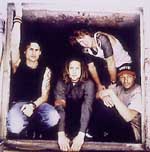 Rock has seen better days. from sneakers to slang, youth culture now takes most of its cues from hip-hop. Music fans have followed suit – new albums by stars like Nine Inch Nails and former Soundgarden front man Chris Cornell recently slid down the charts only weeks after their release. Rock-influenced acts like Limp Bizkit and Kid Rock even make their guitarists share stage space with a D.J.
Adding insult to injury, Sting recently huffed in an interview that rock 'n' roll "can die for all I care." And when rock is dismissed as "reactionary and conservative" by the dowdy likes of Sting, the time has come to check its pulse.
Just half a decade ago, the disaffection of grunge and alternative rock resonated powerfully with a generation weathering an economic recession and a dispiriting sense of diminished expectations. So it only makes sense that three of this year's most eagerly awaited albums are from bands that began at that time, although their approaches to alternative rock couldn't be more different: One tries to remake it, one stays true to its likeable formula, and one seems to repudiate its inventive aesthetic altogether.
Rage Against the Machine is the most ambitious of the bunch, and its versatility with a variety of musical styles points the way to an interesting – if somewhat impure – possible future for rock. On The Battle of Los Angeles, the band mixes scorched-earth sonics with leftist politics, combining elements of heavy metal, funk, and hip-hop with earnest, almost pamphleteering lyrics. "Testify" is an abrasive lament on war and genocide, "Mic Check" is a raw denunciation of faith in authority, and the pulsing funk of "Maria" tells the tragic story of an exploited Mexican immigrant.
Even though Rage Against the Machine looks toward the future, the group still seems to be Luddite – and rock 'n' roll – at heart. Tom Morello performs hip-hop-style "scratches" on his guitar, and the group's dub-reggae-influenced echo sound effects are created with amplifier distortion rather than synthesizers. Electronic punk groups like Atari Teenage Riot have shown that it's possible to rage with the machine – but Rage Against the Machine's primitivism endears it to the mosh-pit regulars who made the group bona fide rock stars.
Still, Rage is downright avant-garde compared to the Foo Fighters, the relentlessly upbeat pop-punk band fronted by former Nirvana drummer Dave Grohl. While Grohl provided a hefty backbeat for the nihilism of Nirvana, his work with the Foo Fighters has been catchy but fairly lightweight; songs like "I'll Stick Around" and "Monkey Wrench" have been raucous radio hits, but the group's most memorable moment may well have been their video for "Big Me," which parodies the surreal optimism of Mentos television commercials.
Their video for the more atmospheric pop single "Learn to Fly" mocks the high jinks of airline-disaster films, but little else has changed on the Foos' third album, There Is Nothing Left to Lose. The group does tweak its sound somewhat by adding rough edges (several songs begin with a few seconds of unedited guitar squall) and a sense of grunge-inspired cynicism ("Hook me up with a new revolution, 'cause this one is a lie," Grohl sings on "Learn to Fly") but otherwise stays true to its simple, three-chord sound. That's not all bad – "Stacked Actors" is a bristling punk song, and "Breakout" is a burst of pure rock energy with touches of Pet Sounds-style pop – but nothing here lives up to the kind of raw emotion promised by the album's title.
The group that really has nothing left to lose is the Stone Temple Pilots, who have never enjoyed Rage's punk credibility or the Foo Fighters' iconic musical lineage. Releasing their first album at the height of grunge's commercial success, they were dismissed first as Pearl Jam imitators and then as cookie-cutter hard-rockers. There's certainly something to that – the aptly titled No. 4 isn't much different from Nos. 1 through 3 – but they've also managed to remain consistent and outlast most of their original contemporaries.
Lead singer Scott Weiland's relaxed, textured solo album 12 Bar Blues was a glammed-up departure from form, so this album was the perfect opportunity for STP to give alt-rock pretensions a celebratory kick in the pants. Instead, they've actually managed to move backward from grunge into eighties-retread territory, mixing the down-and-out sonic sludge of grunge with the theatricality of stadium rock: "Down" is full of sludgy Led Zeppelin-style guitar and overdramatic starts and stops, and "Pruno" recalls the hippie pomp of Jane's Addiction. But they've somehow managed to capture the spectacle of hard rock without much of the fun that usually goes with it – No. 4 is as overwrought as their previous albums. Weiland sings the ludicrously titled "Heaven & Hotrods" without a hint of irony, and lyrical howlers like "Pleased to meet you / Nice to know me / What's the message / Will you show me?" sound like they could have been lifted from Dana Carvey's pompous-rock-star character on Saturday Night Live. Even "MC5," which initially sounds like a tribute to the proto-punk band of the same name, includes lines like "She don't like the way she smiles / He don't like the way she smiles." Huh?
Rock is far from dead, but it needs an infusion of ideas from other genres, a return to the kind of inventiveness that led the Clash to experiment with ska and the Talking Heads to dabble in funk. Rage Against the Machine's angry embrace of reggae and hip-hop shows that rock can open up to outside influences without losing its identity, and Kid Rock and Korn's rap moves sound remarkably fresh, even though they're also clownish. Indeed, if rock should learn anything from hip-hop, it's not about street marketing or larger-than-life characters but the importance of looking all over the musical map for inspiration. Otherwise, rock is going to face further insults from Sting – as well as a good chance that it won't sound much more interesting than he does.