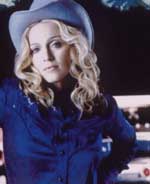 Blame it on Camille Paglia, university semiotics departments, even the opening scene in Reservoir Dogs: Madonna Studies has obscured what made its subject so appealing in the first place. A less-than-mediocre singer and lyricist – critic bell hooks memorably recalled a friend angrily remarking, "The bitch can't even sing" – Madonna is best at finding interesting sounds on the dance floor, making them disposable for the radio, and scouting out producers who can make them work for her. It's the New Wave lite of "Borderline" and the retro disco of "Deeper and Deeper," not the ham-fisted mysticism of "Frozen," that make audiences smile, dance, and turn up the radio.
A devotee of turn-of-the-eighties New York clubs like the Paradise Garage and Danceteria, Madonna knows what makes people move – and how life-affirming a night on the dance floor can be. So when she intones "Hey, Mr. D.J., put a record on" on the opening track of Music (Maverick/Warner Bros.), it elicits memories of past pop odes to dance culture like Indeep's "Last Night a D.J. Saved My Life" and Zhané's "Hey Mr. D.J." Even if the sentiment is far from original and the lyrics are a clumsy attempt at expressing dance's utopian leanings ("Music makes the bourgeoisie and the rebel … come together"), the production, by French studio maestro Mirwais, is a giddy mix of electro-bounce, campy vocoder chants ("Do you like my Acid Rock?"), and funky keyboard squeals.
So long as she stays on the dance floor, Madonna makes Music as shimmering as the gold tooth she sports in her new video. The sinuous synths of the William Orbit-produced "Amazing" recall the singer's uninhibitedly tacky take on Don McLean's "American Pie," while "Runaway Lover" intriguingly melds mangled sub-bass and ecstatic house beats. Her ballads, however, are the sort of excessively serious stuff that makes one long for the cribbed refrigerator poetry of "Frozen." "This guy was meant for me / And I was meant for him," Madonna croons on "I Deserve It." "This guy was dreamt for me / And I was dreamt for him." The idea at the song's center – that true love belongs to those who deserve it – is a theme that only an egoist could conceive.
Mostly, as on Ray of Light, sophisticated production masks Madonna's shortcomings as a songwriter. Mournful vibes and sweeping ambient electronics almost succeed in cloaking the dreadful spoken-word interlude of "Paradise (Not For Me)," and "Don't Tell Me" brings a samplelike stop-start approach to the acoustic guitar. Often Mirwais is the real star here – he even makes a sparse drumbeat seem expressive on "I Deserve It." He repeatedly uses the vocoder – a production technique perfected by seventies funksters Zapp and heard recently on Cher's "Believe" – to make the human voice sound robotic – but his take on electronica is unusually personal. It's his music that makes Music matter.