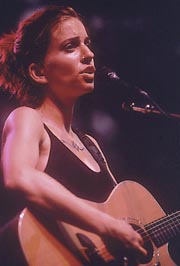 On paper, Ani DiFranco is a counterculture superhero. She has a folkie's unjaded commitment to social justice, a punk's DIY ethic, and the incandescent charisma of a born pop star. Since 1990, she has released at least an album a year on her own Righteous Babe Records, toured increasingly large houses to increasingly frantic audiences, and helped set the stage for the Lilith Fair crowd – the generation of guitar-slingers that includes Sarah McLachlan, Jewel, and Alanis Morissette. Through it all, she's been a model of integrity, steadfastly turning down offers from major labels, refusing even to move Righteous Babe from her hometown, Buffalo, and achieving the kind of grassroots success that's been rendered otherwise extinct by MTV-era marketing practices.
It has always seemed unfortunate, then, that all these admirable qualities and achievements were in the service of music that was often mediocre – either unsettlingly earnest, offputtingly manic, or short on subtle metaphor. But DiFranco's new album, Up Up Up Up Up Up (Righteous Babe Records) is a big step forward, particularly from her self-obsessed previous album, Little Plastic Castle, whose hoary main subject was the difficulty of being famous.
Despite its bubbly title, the new disc is fairly low-key. It's DiFranco's first album to feature a full band, and there's a palpable, if understated, chemistry between the singer and the three other musicians. Julie Wolf's organ, in particular, creates warm atmospherics similar to those that gave Bob Dylan's last album, Time Out of Mind, its stirring gravity. (DiFranco recorded much of Up Up Up at Daniel Lanois's Kingsway Studios; Lanois produced Dylan's disc two years ago.)
Nobody's going to accuse DiFranco of selling out to the pop machine, of course. Her social conscience is still active: The leadoff track, " 'Tis of Thee," for instance, features nuanced thoughts on nineties law enforcement. But the record's most powerful material is more personal – not the exhibitionistic career dissection of Castle but honest, clear-eyed assessments of family relationships, friendship, and sex. "Angry Anymore," which DiFranco sings to a Cajun-flavored banjo-accordion vamp, is straightforward and simple, but not at all simplistic, in its depiction of a woman's maturing attitudes toward her parents. Nearly as impressive is the eight-minute "Come Away From It," which breathes fresh life into that all-too-familiar rock trope – the plea to quit a drug habit. "Do you want to get off? Is this your stop?" DiFranco sings over menacingly spare guitar and organ notes. The song falters only when she asks, "Are you trying to tell me this world / Just isn't beautiful enough?" – as if addiction were an aesthetic choice.
Up Up Up does have its, well, up moments, though these tend to be somewhat less satisfying than the innuendo of the quiet numbers. There's nothing inherently wrong with stretching out on a jam, but the last song, "Hat Shaped Hat," does get a little tedious by the time it hits the twelve-minute mark. Live, DiFranco carries off such endeavors with panache – partly because her onstage energy is so infectious, and partly because her between-song patter is so full of genuinely self-deprecating humor ("You think I'm cute?" the diminutive singer once asked a fan who shouted a compliment during a show. "How about statuesque and muscular?"). On record, though, there are limits to just how much intraband chemistry a listener really wants to witness.
Up Up Up represents an engaging paradox. Here is a performer who has prided herself on doing things by herself throughout her career – her label's 800 number even spells out on-her-own. But her best, most personal album yet turns out to be the one on which she's finally recruited an actual band rather than a handful of backing musicians who make occasional appearances. Even superheroes need their superfriends.