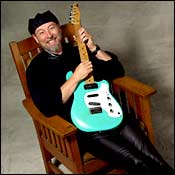 Richard Thompson just might be the most economical rocker in pop music. Though his new album is divided into two portentously named parts—"The Haunted Keepsake" and "The Pilgrims Fancy"—The Old Kit Bag has little in common with the all-too-profound singer-songwriter set, whether young (John Mayer) or old (Loudon Wainwright).
Instead, The Old Kit Bag—Thompson's eighteenth album in a long career that has included founding Fairport Convention and making breakup records with ex-wife Linda—proves how much he can wring out of sharp, pointed lyric writing ("Clouds across my crystal ball" is how he describes his foreboding about a relationship) and taut guitar solos. Even when Thompson wails about lost love on "A Love You Can't Survive," he comes close to torchiness but doesn't fully embrace it, making the effect moving, not maudlin.
The lack of pretentiousness extends to Thompson's voice, which has become warm and tremulous, like David Byrne without the irony. And the album feels like a romp, with Thompson performing everything from delicate waltzes to roadhouse rock.
Thompson has been a rock critics' favorite at least since 1982's Shoot Out the Lights. But he deserves much wider recognition for his considerable artistry. He manages the near-impossible feat of being erudite without approaching the suffocating smartness of Elvis Costello albums like All This Useless Beauty.
Unlike his more excessive European peers, Thompson's sensibility is plainspoken, almost American. He did, after all, include Britney Spears in his encyclopedic retrospective at Joe's Pub, "1,000 Years of Popular Music." It's that inclusiveness, that lack of condescension toward popular culture, that makes him such an appealing rarity: a bardlike rocker with a completely open mind.
Karen O of the Yeah Yeah Yeahs is usually compared to Chrissie Hynde or Debbie Harry, but on the band's debut, Fever to Tell, she's more like an unhinged character from John Waters's Female Trouble.
The album has already been dismissed by critics hungry for a takedown of one of the most hyped bands since the Strokes, but Fever to Tell is compelling for O's vocal acrobatics alone: "Rar! Rar! Rar!" she roars on "Rich"; on "Tick," she repeats "tick-tick-tick-tick-tick" over and over in a mewling, cartoonishly girly voice until her sanity seems to leave her. In the same song she turns around and shouts in a baritone, "You make me wanna uh-huh!"
The Yeah Yeah Yeahs' guitarist Nick Zinner has sense enough to get out of Karen O's way: He'll shoot out a single chord or let loose with a frenetic solo that echoes vocals so outsize they're almost Pop Art.
As exciting as Fever to Tell is, it sometimes feels thin because the band went with longtime friend David Andrew Sitek instead of a producer who would have broadened their sound or challenged them (Steve Albini, producer of Nirvana's In Utero, would have been one of many good choices).
But when you're treated to such a powerful front woman, it seems almost unfair to complain about the lack of sophisticated sonics. Besides, production can be a tricky thing when it comes to primal rock, whether it be the White Stripes or the Stooges (whose Raw Power didn't sound much better when it was finally remastered and rereleased in 1997). Instructing the Yeah Yeah Yeahs to clean up their sound would be like demanding that Karen O get a makeover at Elizabeth Arden.
There's a single trick at the heart of Zongamin, the self-titled debut album from the Japanese electronic-music producer: On every song, Zongamin (a.k.a. Susumu Mukai) replicates the serrated, undulating bass lines of electro with distorted guitar fed through a fuzzbox.
It's an ingenious move, right up there with Daft Punk's lifting the vocoder-funk of Chicago house music. Distortion rules on Zongamin, from the metronomic buzzes and burrs of "Serious Trouble" to the staticky, multitracked guitar playing of "Make Love Not War," which sounds like surf-guitar maestro Dick Dale on meth.
Zongamin's subtle smartness extends even to the song titles: An easygoing riff on disco is called "Painless," and the album's single "Double Dostiev" is a play on Malcolm McLaren's "Double Dutch."
"Double Dostiev" is also the album's distorted, fuzzed-out masterpiece. Zongamin ratchets up the barbed bass lines until they feel almost vertiginous. Just when the energy is about to peak, he brings it all down with a theremin-like eeewwwww.
Like Röyksopp's Melody A.M. or the Soft Pink Truth's Do You Party?, Zongamin proves that the most compelling electronic music is being made by bedroom eccentrics with no interest in hewing to subgenres. It's bad news for record-company talent scouts and trend-hungry music critics, but great news for everyone else.
In the late nineties, London hipsters crowded the dance floors of "Anokha," a party where D.J.'s like Talvin Singh merged drum 'n' bass with traditional Indian music.
It was pretty cerebral stuff, and the records that came out of the scene were matched in their dullness only by the torpid trip-hop of London's Mo' Wax label.
But a new generation of Indian ("Asian" in the UK) music makers seem to have learned the lesson of their forebears' failure: Move asses first, worry about intricately woven "soundscapes" later.
Despite the embarrassing title (must the word essential be affixed to every compilation coming from Europe?), Essential Asian Flavas is a must-have guide to the Indian-music scene's young guns.
The best of the bunch is Panjabi MC's "Mundian to Bach Ke," which was recently remixed by Jay-Z. With its hammering tablas and a floor-scraping bass line married to the blippy Knight Rider theme, the song is so potent a cultural clash that it makes the remix feel like a third foot.
(Panjabi MC plays S.O.B.'s on June 4.)
Richard Thompson
The Old Kit Bag (Cooking Vinyl).
Buy it at bn.com.
Zongamin
Zongamin (XL Recordings).
Buy it at bn.com.
The Yeah Yeah Yeahs
Fever to Tell (Interscope).
Buy it at bn.com.
Various Artists
Essential Asian Flavas (Outcaste).
Buy it at bn.com.