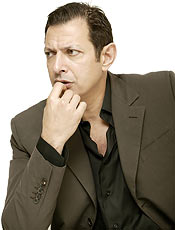 Jeff Goldblum, whose brainy-alien charm has served him in everything from The Fly to Earth Girls Are Easy to Igby Goes Down, plays a cop in an oppressive state in Martin McDonagh's The Pillowman. He spoke to Boris Kachka about his renewed interest in theater (owed in part to his fiancée, the 25-year-old actress Catherine Wreford) and his busy life.
Do you ever get sick of being called a character actor?
No, I focus little on it. I think different people see me different ways, and I know everybody's got their own perception.
What attracted you to The Pillowman?
Martin McDonagh is a brilliant and important writer, and it sure is a nice little humbling learning experience and challenge.
Even though it's kind of … grim?
Very dark. Even though it's full of laughs, it really is about death and loss and abuse, and very serious in potentially deep and primal areas.
You were just on The View this morning, and I'm trying to imagine you discussing a play about child killings there.
I didn't mention child murders. I mentioned that it won the Olivier Award. I mentioned the other actors. And then told them about the first dream I remember having.
I can understand not focusing on the child killings. Has there been dark humor offstage?
Oh, sure. Billy Crudup is hilarious—we'd be laughing a lot in rehearsals in the last months. All those severed children's toes and stuff.
You play a "good cop" interrogating a writer in a totalitarian state, and you seem to be channeling John Ashcroft.
Yeah, [my character's] not unrelated to people of fierce law-and-order thinking.

Did you read up?
I read about Stalin, and Bruno Bettelheim's The Uses of Enchantment was very interesting. Just the other week I happened to see this Oliver Stone documentary about Castro. And I did The Exonerated a couple of years ago at the Culture Project, and that had not dissimilar issues. Ooh. That was grueling. I'll say.
You also did The Music Man in Pittsburgh last summer, with your fiancée. Why?
That's my hometown, Pittsburgh. Just for a couple weeks, as part of a film, really—a funny little kind of experimental docu-fiction-mentary. We'll see if anything comes of it. I like making acting part of my daily life—even if I don't have a job, I work on plays and scenes. In fact, I've turned my guest house into this little studio, and we have actors come over and do readings.
Well-known actors?
Yeah, but I don't know if they'd want me to mention them.
Okay. You've got some background in musicals, right?
My first job ever was this musical of Two Gentlemen of Verona that John Guare adapted and Dylan McDermott worked on. Then I did the last musical ever at the Morosco Theatre, The Moony Shapiro Songbook. It closed opening night.
And I heard that you cried at Fiddler.
Who couldn't? They're leaving Anatevka, for God's sake.
Co-Star, The Pillowman
At The Booth Theatre; Opens April 10