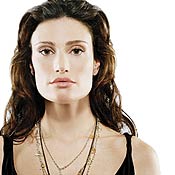 It's weird to be looked up to by little girls," says Idina Menzel. We're sitting at a cafeteria table in the cavernous brass-and-chrome lobby of the Public Theater. It's the week before previews for her latest musical vehicle, Michael John LaChuisa's See What I Wanna See, and Menzel is describing her fan base—which features an awfully high proportion of preteens for a self-described "edgy little rocker girl."
The adoration of the Hilary Duff set arrived with Menzel's best-known role: a Tony-winning turn as the bright-green teen witch Elphaba in the Broadway smash Wicked. But that audience—the Long Island teenyboppers wearing I ♥ IDINA T-shirts who saw so much of themselves in her ugly-duckling character—might be thrown by her turn at the Public, where she plays three rather adult characters: a kimono-clad femme fatale, a dangerous moll, and a coke-addicted actress. So Menzel made an unusual request for the downtown theater: a notice in front of the theater that read NOT APPROPRIATE FOR CHILDREN UNDER THE AGE OF 13.
It's peculiarly appropriate that a Syosset girl who began her career on the Long Island bar mitzvah circuit is, at 34, preparing to give the Public's first PG-13 performance (though the notice was later changed to cut the specific age reference). Yet her fan base puts her in an odd position. "I want to set a really good example, but I'm not the most innocent person," she says, accidentally channeling Britney Spears. "I'm a little crass. But I just have to be myself."
Menzel's theatrical breakthrough was a very grown-up performance as a louche bisexual in Rent. But theatergoers know her best as that ubiquitous witch who belted out technically flawless pop ballads. They may also know about the full-blown critical backlash against her singing style (and, perhaps, her fan demographic)—most notable in critic Ben Brantley's New York Times rant against the American Idol-ization of the Broadway musical. The popular spoof Forbidden Broadway even features a Menzel imitator belting out, "I am the loudest witch in Oz / And no one's gonna turn my volume down!"
Menzel bristles at the criticism. "I actually think Kelly Clarkson is extremely talented," she says. Declining to address Brantley specifically, she does say that "because Wicked had a big budget, people knock it. If it had the same songs but we did it downtown in a little dark theater and I was standing on a chair," the reviews might have come out differently. Besides, she has that downtown pedigree. "People forget where Rent came from," she says. "I sing a duet to my gay lover, who's black! I mean, come on!"Well, she's downtown now—working on an experimental musical created by one of theater's most stubbornly anti-populist musical playwrights. (Menzel is also recording a second solo album and stars in the movie of Rent, out in November.) "I just wanted to challenge myself," she says, predictably, but adds something else. "I want to work with Michael John because I feel like people don't give me enough credit for my training."
Her training began informally on Long Island, where Menzel (born Mentzel) was a classic diva in the making—a musical-obsessed girl longing to act, sing, and flee the suburbs. The soundtrack to Barbra Streisand's A Star Is Born was the first album Menzel owned. "My grandmother took me to see that in the movie theater," she says. "I know it's not cool; I should say a Bob Dylan record or something." But her pajama-salesman father and therapist mother didn't want to raise a child star, and she had to settle for school productions.
At 15, Menzel found her way out: She became a wedding and bar mitzvah singer. Passing for 18, "I'd drive myself illegally with my junior license to the Temple Beth Shalom ballroom and work with all these older men. I grew up kind of fast. I had to come in with this huge repertoire." Her precociously sexy, exotic look—doe eyes, full lips, aggressively jutting jaw—had to have helped.
By the time she graduated from NYU's drama program, Menzel had outgrown the wedding circuit and was focusing on downtown rock gigs. Auditions for a theatrical career had become almost an afterthought by 1995, when Jonathan Larson picked Menzel for his downtown rock musical about East Village squatters coping with aids, drugs, and gentrification. When he died the night before the show's opening, Rent's mythology was born: the scrappy posthumous rock opera that would take over the world. Rent was also where Menzel met her husband, Taye Diggs, who's since become the show's most successful alumnus.
But while Diggs scored role after role, Menzel hit a rut. One record label dropped her after her EP failed to sell. She and Diggs were married in Jamaica by the country's official rabbi, to generous tabloid coverage—but Diggs's name would always come first. "I'd walk down the red carpet with Taye and nobody knew who I am; they'd push me aside," she says.
Then came Wicked, which made her a household name (at least if your household made regular visits to TKTS). And her harrowing final week cemented her diva status. The day before Menzel's swan song, she cracked a rib falling through a trap door. Unable to perform on her last day, she made a curtain call in a tracksuit to a standing, screaming ovation.
"I'd drive myself illegally to the Temple Beth Shalom ballroom and work with these older men. I grew up kind of fast."
One of her more surprising fans was Michael John LaChuisa. Having railed publicly against unimaginative pop musicals, you wouldn't expect him to replace his show's original star, the classically trained Audra McDonald (who left to do a TV show), with a power-pop belter. "I'm a classicist," acknowledges LaChuisa, "and she comes from a rock background." But for him, there was a bottom line: "When it came to looking for someone young, who can sing the bejesus out of my stuff, and who can act, and who can be beautiful and sexy and has magnetism, I don't know of anyone else but Idina Menzel."
Her reputation as a belter, he says, is overblown. "At first she was shy about the colors in her voice. She became famous for her high belt, and I use that in the show—I'd be foolish not to—but she's got jazz, she's got folk, she's got a degree of classical soprano in her voice. Each of the characters goes through a certain transformation, so I figure, use it all."
Both LaChuisa and Menzel cite a basic premise of musical theater, and one that neatly sidesteps her tentative acting: Character equals voice. "A good actor for film knows what to do during the close-ups," says LaChuisa, "and in musical theater, the song is the close-up."
LaChuisa's instincts were spot-on. Menzel carries his wildly diverse tunes beautifully, adding emotional notes to a cerebral libretto without blowing out the little theater's footlights.
It's a good thing, because she's got even more intimate spaces in mind. In honing her solo cabaret act, Menzel has been carefully watching Bette Midler's shows. "She came out and she'd sing Janis Joplin style, just blood from the vocal cords, and then she'd do 'Boogie Woogie Bugle Boy,' and the next thing you know she'd come out in a wheelchair in a mermaid costume, and then do stand-up. I like that. Everybody in this business wants you to not confuse people. She doesn't care."
No one doubts that she'd be a crowd-pleaser in a one-woman show. But what kind of crowd would it be? "There are different clubs in the theater world," she concedes. "Has Sondheim asked me to be in a show? No. Would I love that? Yes. Maybe he's not a fan of mine. And yet, am I proud that I can probably sell a lot of tickets? Yeah—and I'm not going to be ashamed of my popularity."