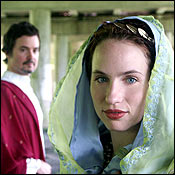 It takes courage, in a time of kitschy sendups and cynically commercial pop-music revues, to stage a low-budget musical that attempts to do for the Byzantine Empire what Les Miz did for revolutionary France. And courage is pretty much all this awfully earnest but undercooked show has going for it. From the contrived love story between the emperor Justinian and actress/party girl Theodora to the shamelessly derivative song-and-dance numbers, Byzantium veers close to camp—who knew that Byzantines had a leather fetish?—without delivering any of the guilty pleasures. Anyone who's ever sat through a high-school production of Pippin or Jesus Christ Superstar can predict the costumes (togas and jeans), the set pieces (gold-flecked, tie-dyed sheets standing in for the Hagia Sophia) and the showstoppers (a va-va-voom burlesque by a princess-turned-slave). Trying to contemporize the sixth century's far-flung wars with topical references to "security of the homeland" and "insurgents" only compounds the problem. The true story of Justinian's action-packed reign, combined with Theodora's Evita-like ascent to power, should have been juicy enough.
Byzantium
Music by Steven Jamail, Lyrics by Troy Scheid, Book by John Kaiser
The Village Theatre
Fri, Aug 12 at 7 p.m.; Mon, Aug 15 at 2 p.m.; Thu, Aug 18 at 8 p.m.; Sat, Aug 20 at 1 p.m.; Sun, Aug 21 at 5:30 p.m.