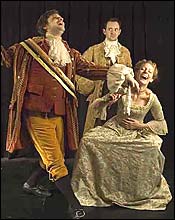 Casanova meets Jack Black in the prankish Uncle Baldrick, a bright-eyed, brocade-wearing dandy who's just as decadent as the family's sinking line of French Whore perfume. Whether impersonating a Hasidic rabbi or tormenting his brother with an infamous "tea and crumpets" gag, the saucy, sassy bon vivant (inspired by Moliere and played by charming Josh Perilo) is nonetheless a diehard romantic. He schemes not simply to drive people crazy but in order to rescue his niece from marrying an interloper and to turn her attentions to the enamored cook. The entire cast, quite a pedigreed crew, attacks this commedia scenario - and its fateful family revelation - with gusto as they race in and out of the two doors that bookend a striped backdrop. Smartly conceived by writers Sean Kent and Kenan Minkoff, director Matt Cowart's clever production has recreated classic French farce naughtiness for 21st century New York. The timing, in more than one sense, is perfect.
The Salacious Uncle Baldrick
By Sean Kent and Kenan Minkoff
The Players Theatre
Sat, Aug 13 at 9:45 p.m.; Sun Aug 14 at 5:15 p.m; Tue, Aug 16 at 6:30 p.m.; Thu, Aug 18 at 6:30 p.m.; Sat, Aug 20 at 2 p.m.