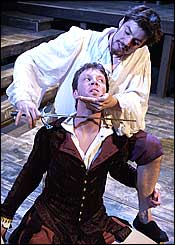 Roustabout, gambler, boozehound, outspoken critic and prodigiously talented poet-playwright Christopher Marlowe made quite a name for himself in Elizabethan London before dying in a bar brawl at age 29.Although marred by a ridiculously melodramatic ending, this bio-drama pays homage to its subject with Harlan Didrickson's propulsive (if historically inaccurate) script and Timothy Hull's cocksure charm in the title role. A star on the rise, Marlowe initially basks in his posse's adoration and later, in the attentions of his patron (and lover) Sir Francis Walsingham (played with silky aplomb by Kevin Mayes) and the Queen herself (Julia Partyka, doing an increasingly shrill, bitch-slapping impersonation of Glenn Close in Dangerous Liaisons). Yet Hull is the sole actor capable of reconciling Didrickson's clunky mix of Elizabethan verse and contemporary slang; the rest of the cast, especially Rial Jairell as Marlowe's bumbling best friend Thomas Watson, seem eager to get out of their tights and into some meaty Mamet-speak. This lack of ease with period dress and language becomes more pronounced when the actors are confronted by Marlowe's actual texts; climactic moments from Doctor Faustus and Edward II, are full of sound and fury, but signify nothing. As the Queen chides Marlowe, "There's more to writing than volume."
Marlowe
By Harlan Didrickson
SoHo Playhouse
Wed, Aug 24 at 3 p.m.; Thu, Aug 25 at 10 p.m.; Fri, Aug 26 at 7:45 p.m.; Sat, Aug 27 at noon; Sun, Aug 28 at 4:15 p.m.