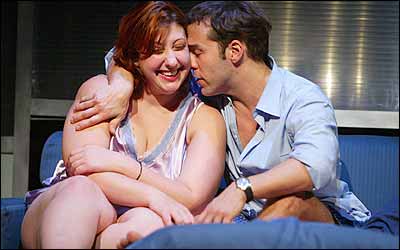 Something there is that does not love obese," as Robert Frost might have written. Most words for its opposite have a seductive ring: slim, slender, svelte, lithe, lissome, willowy; whereas fat, obese, adipose, corpulent, all thud on my inner ear. True, there is Junoesque, Rubenesque, the Hottentot Venus; but these pertain to other places, other times. Or else they are mere euphemisms, skirting the (embon)point, like voluptuous, curvaceous, well-endowed. So Neil LaBute's latest, Fat Pig, seems to tap into something basic. The eponymous heroine isn't just steatopygous; rather what is conveyed by the penultimate syllable: Helen is discovered stuffing herself from the get-go, when Tom, in a crowded restaurant, parks his tray next to hers.
A friendship develops, and some dates ensue. Helen wears her fat, it seems, with staunch resignation: "It's not a shame for me"; the two can even joke about it. In a later, postcoital bedroom scene, where the couple watches TV in their scanties, Tom, snuggling, exults that he hasn't "felt this way for a long time. Ever, probably." Meanwhile his office co-workers have found out about the affair. Carter, the cynic and LaButian sadist, teases and torments him about it; Jeannie, his now ex-girlfriend, vents her scorned woman's fury on him. The scenes cleverly alternate: One with Carter and Jeannie follows one with Helen, as both romance and hostility escalate toward a beach-party conclusion. Here it emerges that not even genuine affection can withstand peer pressure.
Carter is a dyed-in-the wool anti-fattist; he even worries that the delectably sylphlike Jeannie's ass "doesn't seem as taut as it used to be," if only for "a couple of grams." But is Tom a fatty lover? Then why does his dalliance with Helen come as such a surprise to him? If he isn't, what about her is so enticing as to overcome the extra 50,000 grams? Either author or actress fails to supply something essential here. I must confess that I found it hard to watch the bedroom and beach scenes.
The dialogue, however, is better than standard LaBute. "I don't think we were put down here to be nice. Not exclusively. Every so often we sprinkle a little 'nice' in on top, just to keep 'em guessing." "The guy who first thought up the whole 'I hope we can still be friends' thing must be giggling his dick off somewhere." "We're all just one step away from being what frightens us. What we despise. So we despise it when we see it in anybody else." Significantly, most of the good lines come from Carter, the meanest character; the fewest from Helen, the nicest one. If you wonder why LaBute's sprinkler system is so chary, it's because he finds it much harder to write nice.
He is, though, very nicely served by this production. Jo Bonney has directed with maximum invention and efficiency, and the cast is tops. As Tom, Jeremy Piven is a master of puzzlement and unease; as Helen, Ashlie Atkinson steadfastly combines resilience with vulnerability. Andrew McCarthy, as Carter, excels at lean swinishness. And Keri Russell not only acts Jeannie to perfection, but also, standing bikini'd next to Atkinson, could be the poster girl for the Atkins diet.
Fat Pig
By Neil Labute.
Directed by Jo Bonney.
Lucille Lortel Theatre. Through January 15.