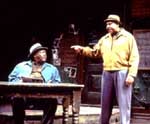 Jitney is the revised version of August Wilson's first play, the start of what became a ten-part series, still in progress, about African-American lives, one play per decade. Here the seventies are viewed through the goings-on in the office of a gypsy-cab company in the Pittsburgh of 1977. There are five drivers, including Becker, the owner, each with his own problems. Youngblood, a Vietnam vet, is having troubles with his woman, Rena, their small son, and the house he wants to buy for them. Fielding is an alcoholic, unable to stop drinking even on the job. Turnbo, a malicious gossip, is always fomenting dissension. Doub, the raisonneur, has a hard time keeping the others in line.
Boss Becker has a son, Booster, about to be released after twenty years in jail for a crime of passion, which also caused his mother's death from grief. He has cut his son off, and wants nothing to do with him. Moreover, the entire block the car service is on is to be razed forthwith. Rena suspects Youngblood of cheating on her and of stealing the household money. Only Shealy, the numbers runner, and Philmore, doorman at the nearby hotel, are relatively problem-free. If this sounds like melodrama to you, be advised: Whatever it is, it is so vividly written, acted, and directed (by Marion McClinton, a Wilson specialist) that it keeps you steadily amused, concerned, and moved.
Where all performers are flawless, suffice it to list them: Willis Burks II, Paul Butler, Anthony Chisholm, Leo V. Finnie III, Stephen McKinley Henderson (who looks a lot like Wilson), Barry Shabaka Henley, Russell Hornsby, Carl Lumbly, and Michole Briana White. The lovers' quarrels between Hornsby and White, and the father-son confrontation between Butler and Lumbly, are among the strongest scenes you can see anywhere today. Add an atypical but incisive set by David Gallo, unerring costumes by Susan Hilferty, and pointed lighting by Donald Holder, and you may wonder how Jitney could have eluded Broadway, which – with the meter, I hope, still running – should be its next and lasting destination.