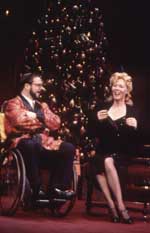 As is widely conceded, The Man Who Came to Dinner is one of the American theater's funniest farces. It is much funnier than the same Kaufman and Hart's You Can't Take It With You, because it is less good-natured, and amiableness is not what farce is about. The reason it isn't done more often is, I suspect, the difficulty of finding the actor who can carry off the wittily acid-tongued and egomaniacal, yet somehow not hateful, curmudgeon Sheridan Whiteside – a part that Monty Woolley created onstage and, more permanently, onscreen, to such perfection that few have dared follow in his intimidating footsteps.
The Roundabout Theatre Company has bravely inaugurated its new home, the American Airlines Theatre, with this capital farce, and in Nathan Lane they have found the right man for a risky role. Lane has been in a rut for some time, playing some roles to which he wasn't suited and others for which he was so fatally suited that he just kept repeating himself. With Whiteside, he turns, if not quite a new leaf, at least a new petal. The character is semi-Lane, semi-lion, and the actor nicely adds the bitchy fierceness to his customary campiness. The result is not quite an epochal Whiteside, but a highly commendable one, perhaps closer to Alexander Woollcott, on whom the character is based, than others have been.
The plot needs no more retelling than that of Hamlet. The director, Jerry Zaks, who, like his star, has been floundering (remember Epic Proportions?), recovers here his lost standing as a leading farceur, and supplements the Kaufman-and-Hart wit with the old Zaks razzmatazz. Some of his shtick may be excessive or even anachronistic (like the swish J. Edgar Hoover bit), and he neglects to make the co-opted Stanley living room as messily Whitesidized as the script calls for, but otherwise he is on target, even if he doesn't know that "Pago Pago" is properly pronounced "Pango Pango."
There is not a weak link in the large cast. My personal favorites are Jean Smart, whose Lorraine Sheldon gets every laugh with the utmost ease and efficiency; Mary Catherine Wright, who rightly makes Nurse Preen touching as well as comic; Lewis J. Stadlen, who gets high Marx (a perfect three) for his Banjo; and Byron Jennings, whose Beverly Carlton (a.k.a. Noël Coward) is better than impersonation, incarnation. But the others in the mad scramble are only a hare's length behind.
William Ivey Long's costumes, Paul Gallo's lighting, and especially Tony Walton's set that cunningly mirrors the auditorium's somewhat faded splendor are no less on the mark. And with admirable decorum, American Airlines did not change the description of Whiteside, who flies around as much as he broadcasts, from Idol of the Airwaves to Idol of the Airways.