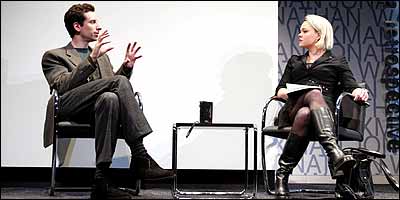 Donald Margulies's Sight Unseen is a classic American play, and, like Death of a Salesman but more honestly, a crucial Jewish-American one: Margulies is to American drama what Philip Roth is to American fiction. The play is in part about the ambivalent mutual attraction of the Jewish man and the shiksa, but it is also about how success changes the individual. And also about why a love affair ends and cannot be rekindled years later. Also about sons and parents. Further, about Jewishness in America: how it is viewed from the inside, and how from the outside, when a very smart young German journalist, Grete, interviews the highly successful Brooklyn-born painter Jonathan Waxman at his London retrospective.
In England, too, but up-country, there is Patricia, who years ago was Jonathan's passionate lover, until he abruptly dropped her after his mother's funeral. She moved to England and passionlessly married Nick, a British archaeologist, whose assistant she had become. Jonathan eventually married another shiksa, became rich and famous, and is about to be a father. Significantly, he has just buried his own father, but had to rush to London to his retrospective without sitting shivah. Now he seeks out Patricia again, saying, "I'm nobody's son anymore, Patty. They're all gone now, all the disappointable people."
An affluent celebrity, he could well quote Michael Frayn's line, "I was happier when I wasn't so happy."
Pointed or poignant things happen between Jonathan and Patricia, Jonathan and Nick, Nick and Patricia, Grete and Jonathan. Margulies's strengths are several: keen psychological insight; wonderful power of suggestion rather than spelling out, with the unsaid reverberating loudly; dialogue captured stunningly by both the ear and the heart. The play is not linear; it moves forward and backward in time, thereby achieving a fine sense of timelessness. It conveys how we can neither recapture our past nor, even if we break with it, wholly shake it off.
Like all great plays, Sight Unseen requires an astute and sensitive audience able to fill in the tremendous, looming unspoken. It also needs perfect casting, which it had at the Manhattan Theatre Club in 1992, but doesn't quite have at MTC in 2004. Only Byron Jennings fully scores as Nick, thus, alas, slightly overshadowing the others. Laura Linney, who was a sensational Grete in '92, and went on to well-deserved stardom, is a bit too hysterical here and lacks the maternal component in Patricia. The good Ana Reeder is a trifle too obvious as Grete; most regrettably, Ben Shenkman, convincing as the young painter and timorous lover, remains—unlike Dennis Boutsikaris in '92—too much of a cipher as the celebrated older artist, and very nearly scuttles the first act.
In Act Two, though, the excellence of the play surmounts all obstacles, and hits piercingly home. The production values work, and Daniel Sullivan has directed as well as this cast allows. Even at half-mast, the production catches most of the wistfully tickling, tantalizingly direction-changing breezes that blow through this play. Bask in them!
And now to Kia Corthron's depressingly bad Light Raise the Roof, whose very title makes no sense. Corthron has trouble even with titles (Force Continuum; Splash Hatch; Breath, Boom), let alone plays. But this is her worst so far, in a language that is neither standard nor yet quite black English, but some hodgepodge Corthron has concocted, and which her homeless characters spout for maximum impenetrability.
Onstage, as clumsily directed by the hapless Michael John Garcés, who has staged some of our poorest plays (including most of Corthron's), the piece is scarcely comprehensible—badly spoken or concurrently shouted by several characters. Reading it is no help, though, what with characters both creepy and boring, plot not worth the effort of unscrambling, language grating even on the page. And the inconsistency of it: Illiterate, homeless layabouts suddenly dropping fancy words (abode, apprised) and recondite references ("Parthenon, Greece. 432 B.C."). Sample speech: "This new statue, drool her chin, out the blue slowly turn her face I feel I'm lookin' at some shop window movin' dummy. Here's Bebbie, Bebbie the cat: 'Desiiire,' she say. 'Desiiiiiire.' Then she dead asleep." Even the passages in Vietnamese sound better than that.
"Corthron has trouble with titles, let alone plays."
The unreliable designer Narelle Sissons has come up with a messy, unevocative set, and there is mostly inept acting. April Yvette Thompson, for instance, is totally amateurish, and not one word from little Moe Moe Alston (valedictorian of her kindergarten class) is decipherable. Light Raise the Roof, on which Corthron worked seven years, with several workshops at various venues, is produced by the New York Theatre Workshop, whose claims to fame are (sob!) Rent and ruined O'Neill plays from the despicable Dutch director Ivo van Hove.
Jon Robin Baitz's talent tends to get scattered in the course of a play. Or there is overambitious overreaching. Or, as in Chinese Friends, improbabilities accumulating until they devour the worthwhile premise. It is 2030; three young people arrive on a New England island, where Brice, the father of one of them and a former important politician, has exiled himself, waiting for the political tide to change again. The three youths have scores to settle: Ajax, the son, wants to know why and how his mother died. Stephen wants to know who ruined his father, Brice's colleague. Alegra, who is part of a bisexual triangle with the boys—they are members of an anarchic and hedonistic commune—wants to know who caused the disappearance of her minister father, also connected with Brice.
While the play is a battle of wits, with Brice or the threesome alternatingly gaining the moral—or sometimes merely strategic—upper hand, the play holds interest. But I cannot begin to tell you what reversals are piled on reversals, what unlikely devices and incredible effects are tossed in. Sympathies are continually reshuffled, and you end up questioning all values in the play—the ones Baitz seems to uphold and the ones he appears to reprehend. One finally cares as little for the actors as for the flip-flopping characters. Something is missing from all performances: Peter Strauss's, Tyler Francavilla's, Will McCormack's, and Bess Wohl's. Chinese Friends—its title derived from a board game—turns into a similar game that outsmarts itself. It is, I suppose, well-enough directed by Robert Egan on one of Santo Loquasto's rare unhelpful sets, and with sparse but repulsive music by Obadiah Eaves. What, I wonder, has become of the playwright who started out so brilliantly with The Film Society, and has never equaled it?