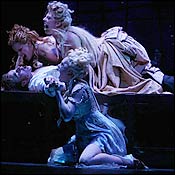 Frank Wildhorn must have a little book of the 100 most stirring stories, which he ticks off one by one. Having already dispatched Jekyll & Hyde and The Scarlet Pimpernel—The Civil War, an aberration, was an abject failure—he is now, with Dracula, back on track with his abject successes. Why abject? Because despite numerous groupies (Jekkies and Pimpies), none has made Broadway money. No matter: Wildhorn's bonanza, pop singles, keeps these pop musicals afloat. Wildhorn is to lowbrow audiences what Sondheim is to highbrow ones: a refuge for those for whom The Phantom of the Opera is too much or too little.
Bram Stoker's novel Dracula is one of those freak favorites whereby a mediocre writer, once in his lifetime, pushes the buttons of scads of readers through the ages, even without benefit of the authorial gifts of a Mary Shelley. The Romanian vampire count, with his castle of horrors and transportability in coffin boxes, his lovely female victims whose blood is sucked through tiny neck incisions until they join him among the undead, has fans even among those who leave the book unread.
"That music! It is not so much composed as ground out, enough to make one yearn for the melody of an interrupting cell phone."
This Dracula, The Musical is mostly about fantabulously imaginative sets by Heidi Ettinger that rise, sink, slide, split, converge, and stun. Also about Catherine Zuber's aptly overwrought costumes that billow blissfully. Further, Howell Binkley's lighting with kaleidoscopic color changes and pinpoint highlights in tricky places. And topping all, effects by Flying by Foy, which also includes levitating, midair somersaulting, plummeting underground, floating horizontally, and much dizzying more. If one could eliminate the abysmal lyrics by Don Black and book by Christopher Hampton (hard to believe he was once a playwright), and even ghastlier music by Wildhorn, constantly getting in the way, a modicum of fun could be had. But alas, those scurryings, mouthings, and electronics (one hesitates to call it music) make Dracula, The Mucilage sticky, stinky going.
Mindy Cooper's choreography is embryonic, but even less than the dancing is the walking: In emulation of the sets, characters fly, float, glide, sidle, sink, disappear—though the last never quite long enough. The dialogue has only some unintentional laughs to recommend it, as when the rough-hewn Texan, Quincey, remarks, "I ain't been on tenterhooks like this since that night we were waiting for the tiger to come for that tethered goat down in Sumatra." The lyrics have little rhyme, less reason, and still scantier originality. Thus Dracula: "I've seen so many sunsets in my life / I should know everything there is worth knowing / But since I saw your face I don't know where I am." And Mina: "I step across the line for you / I plunge myself in mortal sin / I sacrifice my soul to be your bride / I give in to feelings I can't hide," etc., etc. Yes, unlike in Bram Stoker's infinitely superior novel, this is really Dracula and Mina's love story, complete with Liebestod.
But that music! It is like a long, uniform sausage made of sawdust, cut into uneven slices (rhythm) with singing sometimes yelled, sometimes whispered (variety). It is not so much composed as ground out, enough to give monotony a bad name and make one yearn for the melody of an interrupting cell phone. Des McAnuff's direction is busy and bizarre, and the acting does what it can to avoid being utterly ridiculous. In this, Melissa Errico and Kelli O'Hara come off best, and Stephen McKinley Henderson, grotesquely miscast as Van Helsing, worst. To put it lyrically, Wildhorn has had his Pimpies and Jekkies / Now let him have also his Drackies or Dreckies.
Shakespeare's Claudio is told "Thou hast nor youth nor age"; conversely, Mickey Rooney seems to have only youth and eld, with fribble in between. Actually, he was in movies tirelessly—even a good one, Baby Face Nelson (1957)—and, at age 59, on Broadway in Sugar Babies (1979). But posterity is most likely to remember him as a ragamuffin and a geezer, because, for whatever oddball reasons, his current Off Broadway venture, Let's Put On a Show!, deserves Ripley-esque Believe It or Not! acclaim.Making his film debut at 6 as a cigar-smoking midget, Rooney rose to No. 1 stardom thanks to the fifteen Andy Hardy flicks and a couple of other early pictures. Although he kept being in humdrum movies and TV shows (more than 300) as well as sundry stage productions, he lives in memory as America's Andy, Reinhardt's Puck, and Judy Garland's scalawag vis-à-vis. Sugar Babies had a long (undeserved) run, largely because Mickey, his co-star, Ann Miller, and their vaudeville routines had huge nostalgia value. Already then he looked like a puckish oldster; now almost 84, in Let's Put On a Show! he combines the gnomelike appeal of the indestructible old-timer (a kind of showbiz Mother Teresa) with the dubious luster of eight marriages, including a brief one to Ava Gardner.The show, with Mickey and wife No. 8, Jan Rooney, is cleverly conceived. Act One is Mickey reminiscing with anecdotes and songs (some golden oldies, some pyrite ones written by himself) and well-chosen film clips. Act Two is at first all Jan, then the pair together along with more film clips—including a nice tribute to Garland—debouching on a Patsy Cline medley, one more Mickey song, and the final duet, "I Can't Give You Anything but Love," meant to epitomize the eighth marriage, now creeping up on its 30th year and thus outlasting the seven previous ones rolled together. What constitutes the show's winsomeness? Baby Face Rooney, now like Hamlet "fat and scant of breath," lumbering with a list to both port and starboard, but with a mug still encapsulating the Brooklyn toddler and Hollywood rascal, still doing socko impersonations of Clark Gable, Lionel Barrymore, and Maurice Chevalier, still exudes star presence. His jokes may be hoary, but the glint in his eye is youthful; the footwork may be on the weather-beaten side, but his welcoming smirk is ageless. He sings mostly in bellows and muffled Sprechstimme, with in between a stray sunbeam of heartwarming song.As for Jan, who conforms to the Rooney-spouse model of pretty and tall, she warbles like a California lounge singer with rubato-laden self-assurance and still-saucy countenance. An accomplished thrush on her own, she speaks tentatively as Abbott to hubby's Costello, and rather overpowers Mickey in their duets. But strictures be damned: Let's Put On a Show! is no put-on; it really is a show, complete with an apt three-piece band (and, for a bit, Mickey as jazz-piano whiz) and oodles of sweetness, charming self-mockery, and—why the hell not?—understated nostalgia.