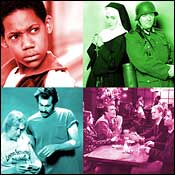 Watching Tyler James Williams play the 13-year-old lead in Everybody Hates Chris (UPN, Thursdays, 8 P.M.), taking two buses each way every day in 1982 from tough-love Bed-Stuy to a melanin-deprived middle school where "Satchmo" and "Bojangles" are the nicest things his classmates call him, I recalled a scene in The Tuskegee Airmen a decade ago on HBO. In this scene, Army Air Corps cadets Cuba Gooding Jr. and Laurence Fishburne drop out of the sky one afternoon in 1943 and emergency-land their training wheels on an Alabama highway right in front of a prison chain gang. If the good ol' boy of a guard is startled when these pilots remove their Martian goggles, his prisoners are flabbergasted: Black men can fly. Like, for example, Chris Rock, whose Reagan-era childhood has been vandalized for the best of the new fall sitcoms and maybe the best black sitcom since Frank's Place, with Rock telling us how it was in his own Greek-chorus voice-over signature screech.
Of course, junior high, as we used to call it back when I was a pimple, has always been awful for everybody, an equal-opportunity estrapade and bastinado. But not every 13-year-old, while flying from bullies who love him (Tichina Arnold and Terry Crews as mom and pop) to bullies who don't (Italian hoodlets), has to put up with racism, a crack epidemic, and latchkey responsibility for the excess baggage of two younger siblings (Imani Hakim, Tequan Richmond). Nor will the dozens do him much good in a fistfight with Joey Caruso. It's as if The Wonder Years, on the runway, met Icarus and Dumbo. And yet, on wings of wit, the kid becomes our hero and his enemies a joke.
Everybody Hates Chris works because it tells the truth as well as jokes. So does Extras (HBO, Sundays, 10:30 P.M.), a new half-hour from Ricky Gervais, who gave us The Office. This time out, he plays a middle-aged movie extra who forever fails to land a speaking part no matter how much he wheedles or abases himself. As in The Office, much will be made of Ricky's gaffes, which range from the merely embarrassing to the generally humiliating to the totally outrageous. Since the first two films he works on are devoted to the Holocaust and ethnic cleansing, the likelihood of offending someone increases exponentially. (Don't miss the cerebral-palsy joke.) But Extras also seems, on purpose, to be sad. Am I only imagining that Ricky, on the other side of mortification, once or twice actually feels ashamed?
After the first half-hour of How I Met Your Mother (CBS, Mondays, 8:30 P.M.), in which the voice of Bob Saget talks to his teenage children in the year 2030 about romance in 2005, we still haven't … met their mother, that is. Apparently, we've only met their aunt (Cobie Smulders). And Dad, before he became one, back when he was still Josh Radnor and his madcap friends included Jason Segel, Alyson Hannigan, and a surprisingly hilarious Neil Patrick Harris, all of whom find humor in French horns, black olives, golden retrievers, and a Smurf penis. Not so funny but genuinely touching, these guys want to get married and be fathers. Except, of course, for Harris, who plays Lazer Tag instead.
My Name Is Earl (NBC, Tuesdays, 9 P.M.) asks us to amble along in the trailer-trash shoes of Jason Lee, a thief who has no sooner won the lottery than he's hit by a car, discovers "karma" while watching Carson Daly on the hospital TV set, and sets out to make amends for every misdeed in his sorry life, from litterbugging to stealing a car from a one-legged woman. We have to put up with characters whose brainpower compares unfavorably with a fire hydrant, but Lee is funny even in a gay bar.
Freddie (ABC, Wednesdays, 8:30 P.M.), on the other hand, isn't funny anywhere, and as a bad sitcom it actually bucks the season's trend. Freddie Prinze Jr. plays a chef who would have a spectacular view from his bachelor apartment in swinging Chicago, except that his truculent grandmother (Jenny Gago), his widowed sister-in-law (Mädchen Amick), his divorced sister (Jacqueline Obradors), and her teenage daughter (Chloe Suazo) all get in the way. Apparently, they have nowhere else to live. But there is a distinction to be made between being a swell guy and being a masochistic chucklehead. I will watch Jacqueline Obradors in anything … except Freddie.