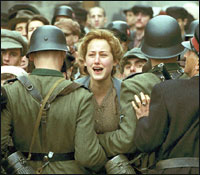 That the Jews of the Warsaw Ghetto should have discovered during World War II not only the courage but even the weapons to resist their deportation and death-camp murder by the Nazi Moloch has fascinated every historian of the Holocaust from Hannah Arendt to Leon Uris. As much as we'd like to believe that we would have performed as heroically as they did, we are likelier to have behaved more like the French in The Sorrow and the Pity. The heretofore unimaginable has a way of paralyzing the critical faculties of those who are asked, all of a sudden at ground zero, to imagine it. Instead of instantaneous understanding – blank incredulity. Thus, on Sunday night in the mini-series docudrama Uprising, Donald Sutherland's Adam Czerniakow, the chairman of the Warsaw Ghetto Jewish Council, is as blankly incredulous in the face of the Final Solution as, on Monday night, Jon Voight's General Jurgen Stroop will be in the face of armed Jewish resistance.
There really was a Czerniakow; he committed suicide. There really was a Stroop; he was hanged for crimes against humanity. (Both remind us of the lesson drawn by Primo Levi in The Drowned and the Saved: "We too are so dazzled by power and prestige as to forget our essential fragility, forgetting that we are all in the ghetto, that the ghetto is walled in, that outside the ghetto reign the lords of death, and that close by the train is waiting.") And there really were a Mordechai (Hank Azaria), a Mira (Radha Mitchell), a Yitzhak (David Schwimmer), a Tosia (Leelee Sobieski), a Kazik (Stephen Moyer), a Zivia (Sadie Frost), a Marek (John Ales), and a Devorah (Mili Avital). Some of them survived. There was even, somehow worst of all, a Fritz Hippler (Cary Elwes), the Nazi propaganda filmmaker who thought he was
in competition with Frank Capra.
For Uprising, director Jon Avnet ordained the construction, in Bratislava, Slovakia, near the Danube, of a brand-new Warsaw Ghetto – a four-story set the length of three football fields, with hand-laid cobblestones. He mobilized 125 actors for speaking parts, plus 20,000 extras. He then imagined ballet lessons, classical-music concerts, the dispatching of couriers through barbed wire and checkpoints to the "Aryan" side of town to bring back bread and guns, a guerrilla army striking from ambush, a march of children from a Jewish orphanage to the train that went one-way to Treblinka, and the flooding of the sewers to drown the underground resistance. It all happened, and yet it seems dreamlike, as wish-fulfilling as a fairy tale, maybe because the men are so uniformly handsome and the women so impossibly beautiful and the odds so immeasurably stacked against them and the language, any language, so woefully inadequate to convey either the horror or, equally inexplicable, the honor of those who opposed that horror.
Uprising must be a movie because it makes us feel better about ourselves, when we know perfectly well that we don't deserve to. We build these sets in our heads, dreaming of firebombs and sniper fire, hoping to repudiate the Czerniakows and Stroops who show up in our sleep. In his magnificent novel, See Under: Love, David Grossman imagined this very same ghetto late at night after curfew. What he saw were "fabled creatures" flickering in the darkened streets – colorful seahorses, tiny and winged; forest elves, with a green gleam; Cinderellas and Peter Pans, phoenixes and unicorns. These flickering creatures, thirsty for meaning, prove to be phosphorescent pins, made and sold in the ghetto, to keep the Jews from bumping into each other in the blackout. So is Uprising such a seahorse or unicorn pin, to keep us from hurting ourselves as we grope around in history.
Great Books: Poe's Tales of Terror (October 30; 10 to 11 p.m.; TLC), just in time for Halloween, listens to Wes Craven, Ray Bradbury, a couple of critics, and a couple of biographers talk about Edgar Allan Poe while watching dramatized snippets of "The Pit and the Pendulum," "The Tell-Tale Heart," and "The Fall of the House of Usher." Didn't I read somewhere recently that he actually died from rabies instead of alcohol and drug addiction?
Sweeney Todd in Concert: The Demon Barber of Fleet Street (October 31; 9 to 11:30 p.m.; Channel 13) is a surprisingly thrilling rendition of Sondheim's semi-opera, with Patti LuPone as Mrs. Lovett, George Hearn as Sweeney, and the San Francisco Symphony and Chorus playing backup. With such lighting, you don't need any more stagecraft. And LuPone is scarier than Angela Lansbury was.
The Wilde Girls (November 4; 8 to 9:35 p.m.; Showtime) stars Olivia Newton-John as a single mother and ex-pop star who really doesn't want Chloe Rose (her daughter in real life as well as in this TV movie, which she also executive-produces) to leave small-town Georgia for the L.A. music scene as a teenager, but who is talked into letting her have a go at it by Swoosie Kurtz.
Undetectable (November 4; 11:30 p.m. to 12:30 a.m.; Channel 13) examines the cases of six HIV-positive patients who have spent three years taking the multi-drug aids "cocktail" therapy. Three are women, three men, and they range from a gay broadcaster and a gay nuclear-medical technician to a pair of recovering heroin addicts to a churchgoing African-American grandmother to a married middle-class white woman with no history of drug use. For some of them, the cocktail works; for others, it obviously hasn't. This plague is far from over.
Uprising
Sunday and Monday, November 4 and 5; 9 to 11 p.m.; NBC.