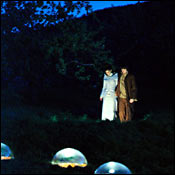 Lathe of Heaven may be a godsend during a week that's otherwise an orgy of reminiscence and recrimination as we near the first anniversary of the terror bombing of the Trade towers. And in an oddly animistic way, director Philip Haas's creepy-crawly TV-movie version of Ursula K. Le Guin's science-fiction novel even seems to correspond. The magical thinking goes like this: What if September 11 was one of our own nightmares come true? Could we, in the very same sickening slo-mo, dream it all away again?
Lukas Haas, whose name in Lathe of Heaven is George Orr so as to set up an amusing "Either/Or" wisecrack, is afraid to go to sleep at night because the dreams he has tend to change the future he wakes up to in the morning. Which is why he takes drugs, even if he has to steal them, for which he is arrested, after which he must see a therapist. And this unscrupulous therapist, with the help of an "augmentor" that is part cat scan, part dental drill, and part Wilhelm Reich orgone energy accumulator, will exploit the dreams of George to advance himself in the unpleasant world.
In such foreboding movies, we expect a Lukas Haas who has over the years come to embody our cultural fearfulness, a sort of serial neurosis. What we couldn't expect is the casting against type of James Caan as his bearded therapist, Lisa Bonet as the lawyer with whom he falls in love, David Strathairn as his chess-playing guardian angel, and Sheila McCarthy as a hot-to-trot receptionist. So distinctly different are their physical types that they seem to have been selected according to some Cubist design of geometrical equivalents. Besides, who knew that James Caan had an inner life in which he was an intellectual? And Lisa Bonet is so gorgeous that it doesn't seem to matter whether she can act.
Just as impressive as the cast are the sets of the imaginary futures, each a subtle variation, with more color or less, alternative faces on the television screen, alternative ethnicities on the subway train, martial-law uniform gray urban spaces, brilliant Impressionist natural landscapes, a sense of increasing border-guard surveillance, of media "squeeze" – and yet also of randomness, of what I can only call surprisingly resourceful contingencies. Lathe of Heaven is also talky, but the mouths are attached to brains.
In the preface to his forthcoming Dead Cities (New Press), the radical urbanist Mike Davis suggests that 9/11 came along "as epic horror cinema" just in time to give us something real to worry about after the delusional "occult menaces of black helicopters, killer asteroids, maddog teenagers, recovered memories, Lyme disease, Satanic preschools, road rage, Ebola fever, Colombian drug cartels, computer viruses, and Chinese atomic spies." Now, according to Davis, we are licensed to obsess about terrorism. He may be right, but his sour remarks are outside the range of permissible discourse on this subject, which is either pious or punishing. On the whole, I prefer pictures. And there are certainly plenty of them:
(Tuesday, September 3; 9 to 11 p.m.; Channel 13) is a two-hour Frontline special that talks to dozens of Americans, of all faiths and none, including family members of 9/11 victims, friends and colleagues, inadvertent eyewitnesses, clergy, academics, even a novelist (Ian McEwan). They can't agree on whether God was partly to blame.
(Monday, September 2, through Thursday, September 5; 9 to 11 p.m.; History Channel) features programs on the World Trade Center, on the fall of the towers as captured by many professional and amateur photographers, and on the collection and preservation of artifacts from ground zero; a look by CBS News correspondents at the war on terror; a documentary on the Pentagon; and an account of Islam that finds wisdom rather than violence.
(Wednesday, September 4; 10 to 11 p.m.; A&E) follows American Airlines flight 77 through the southwestern face of Defense Department HQ and talks to Solicitor General Theodore Olson, whose wife, Barbara, was on the hijacked plane.
(Thursday, September 5; 9 to 11 p.m.; Travel Channel) is what you get when you happen to have a documentary team at the San Francisco airport on September 11. They stayed for weeks, recording a new age of permanent security alerts.
(Thursday, September 5; 10 to 11 p.m.; Channel 13) talks to students at the Brooklyn Polytechnic Preparatory School, which lost ten alumni in the terror attack.
(Monday, September 9; 8 to 9 p.m.; Channel 13) spends time in one Brooklyn and one Manhattan firehouse (Engine 205, Ladder 18, and Engine 1, Ladder 24), which lost eight and six men respectively.
(Monday, September 9; 9 to 11 p.m.; A&E) ticks off the last 102 minutes of the World Trade Center towers, from the point of view of those who escaped.
Of course, there is alternative programming, too:
(Thursday, September 5; 10 to 11:30 p.m.; Showtime) rehearses once again the murder of the Israeli athletes.
(Sunday, September 8; 9 to 10 p.m.; Discovery Channel) digs up a grave site dating back to Roman times where, Lucy (Xena) Lawless tells us, archaeologists allegedly found a female warrior.
(Monday, September 9; 10 to 11 p.m.; Channel 13) lets the Italian filmmaking team of Alberto Vendemmiati, Fabrizio Lazzaretti, and Giuseppe Petitto follow up for POV on Jung (War) in the Land of the Mujaheddin, their documentary on the rule of the Taliban, with an account of the American bombing of Afghanistan as seen through the eyes of a medical-relief group. ß
Lathe of Heaven
Directed by Philip Haas; starring Lukas Haas, Lisa Bonet, and James Caan.
Sunday, September 8; 8 to 10 p.m.; A&E.