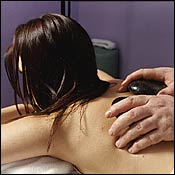 Neuromuscular Therapy
THE SPA AT EQUINOX
140 E. 63rd St.
212-750-4671
Neuromuscular therapy (NMT) works on the principle that overloaded muscles freeze up, causing stiffness and pain where there should be flexibility. Therapist Heloisa Demelo at Equinox's 63rd Street spa uses moist heat and herbal ointments to start the unclenching, moves on to broad effleurage strokes to relax the nervous system, and finally applies deep acupressure to increase circulation and release the pent-up muscles.
Fifty minutes is $105.



Shiatsu
SILK DAY SPA
47 W. 13th St.
212-255-6457
If you're a novice to the pressure work and body manipulation of shiatsu, therapist Tom Oelkrug will talk you through the process and explain how each step helps various parts unwind. Or, if you prefer, he'll just keep quiet and rub.
One hour is $115.
Sports
PHYSICAL ADVANTAGE
139 E. 57th St.
212-460-1879
Owner Laurie Towers treats professional athletes and dancers with injuries or overworked muscles, but her trigger-point work and friction strokes do wonders for the everyday active person as well. She can warm up muscles before a workout or help afterward by easing out lactic acid.
One hour is $100.
Relaxation
SKINCARELAB
568 Broadway
212-334-3142
Relaxing massage doesn't go as deep as other approaches such as NMT, so you're likely to zone out within moments under Mark Eron's hands. He focuses on broad, soothing strokes using his elbows and forearms, rather than digging into muscles with his hands.
One hour is $125.
Swedish
SUSAN CIMINELLIDAY SPA
754 Fifth Ave., Ninth fl.
inside Bergdorf Goodman; 212-872-2650
Russian-born masseur Gregory Krashenny towers over the table with the kind of comforting bulk you want from someone who's about to move your muscles back to their natural locations using the digs, strokes, and circular rubbings typical of classic Swedish technique.
One hour is $120.
Thai Herbal Massage
ACQUA BEAUTY BAR
7 E. 14th St.
212-620-4329
Warm, muslin-wrapped bundles of steamed ginger, lemongrass, and turmeric are rubbed into knotty muscles to stimulate circulation and ease tension. The scent adds to the experience—although you may crave tom yum soup afterward.
A 90-minute treatment is $175.