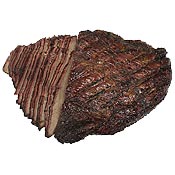 It takes an iron will—not to mention a hugely expensive smoke diffuser—to open a barbecue joint in this town. Not only do you have to abide by the city's draconian anti-barbecue-smoke laws, but you also have to contend with a homegrown swarm of dubiously hypercritical 'cue experts. Enter RUB, Manhattan's brand-new rib joint, whose name stands for Righteous Urban Barbecue. A collaboration between Paul Kirk, who is, apparently, the Lance Armstrong of the competition-barbecue circuit—although, in person, he more closely resembles Wilford Brimley—and Andrew Fischel, a 'cue-crazed tech-world dropout from Roslyn. Fischel took Kirk's master class a couple of years ago, tagged along with him on the tour circuit, and the rest is hickory-smoked history. RUB's secret weapons, according to Fischel, are Kirk's signature spice rub, superior trimming technique, and a healthy dose of barbecue braggadocio: "I don't think that we'll just be the best barbecue in New York," Fischel says. "We're going to be world class anywhere."
New York: It's a Barbecue Town
These five conscientious 'cue joints aren't just blowing smoke.
RUB BBQ
208 W. 23rd St., nr. Seventh Ave.
212-524-4300
Pit Master
Paul Kirk, teacher, legend, Kansas City "Baron of Barbecue."
The Pits
Three customized fire-engine-red pits fueled by "green" hickory.
Specialties
Brisket, deep-fried spareribs, pastrami, Sichuan duck.
Urban Concession
A massive BBQ tasting and bottle of Dom for $250. Your choice of any two sides included, of course.
Blue Smoke
116 E. 27th St., nr. Park Ave. S.
212-447-7733
Pit Master
Ken Callaghan, former executive sous-chef at Union Square Café.
The Pits
Two shiny metal applewood-fired behemoths imported from Missouri.
Specialties
Salt-and-pepper beef ribs, hot links, side dishes, and desserts.
Urban Concession
Pit-smoked foie gras; an actual wine list.
Dinosaur Bar-B-Que
646 W. 131st St., at Twelfth Ave.
212-694-1777
Pit Master
John Stage, Harley rider who got his start hawking 'cue at biker swap meets.
The Pits
Hickory-fueled J&R-brand pit from Texas, not to be confused with the electronics store.
Specialties
Brisket, spareribs, pit-smoked chicken wings.
Urban Concession
Rhubarb crisp is as fancy as it gets.
Daisy May's BBQ USA
623 Eleventh Ave., at 46th St.
212-971-1500
Pit Master
Adam Perry Lang, veteran of the estimable rib joints Daniel and Le Cirque.
The Pits
High-tech with automated humidity control; wood-fueled.
Specialties
Texas chili made with Mexican Hatch chilies, pulled pork.
Urban Concession
Sweet potatoes touched with vanilla cream.
Pearson's Texas Barbecue
170 E. 81st St., nr. Third Ave.
212-288-2700
Pit Master
Carolina pit master Shawn Glenn has taken over from the recently retired Robert Pearson.
The Pits
One 3,000-pound hickory-fired J&R job.
Specialties
Texas beef brisket, pulled pork, sandwiches on Portuguese rolls.
Urban Concession
Whole suckling pig by special order.