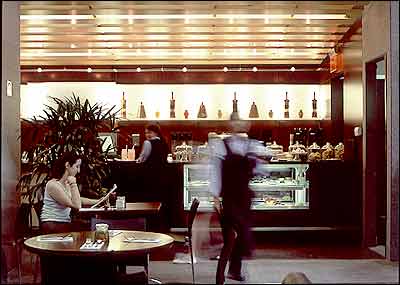 The best way to experience a culture is through its food. That's the idea, at least, behind the new Atrium Cafe at the Onassis Cultural Center in midtown (pictured). But the Greeks aren't the only ones trying to appeal to New Yorkers' hearts and minds through their stomachs. (Not to mention inducing them to drop some change in the gift shop.) Here, a sampling of cultural canteens.
The Atrium Cafe
645 Fifth Ave., entrance on 51st St.; 212-838-9113
On the Menu
Rich Greek yogurt with quince spoon fruit; stuffed grape leaves with tsatsiki; dakos kretian salad, with tomatoes, feta, and barley rusk (left). Finish with phyllo-crusted, honey-drenched galactoboureko and strong Greek coffee.
On the Walls
Until the center resumes its cultural program in October, check out the Parthenon Marbles Cast Collection on loan from City College in the atrium lobby.
On the Shelves
Replicas of figurines, icons, reliefs, and vessels—it's all ancient history.
Café Sabarsky at the Neue Galerie
1048 Fifth Ave., at 86th St.; 212-288-0665
On the Menu
Hazelnut guglhupf for breakfast; open-faced matjes herring with egg and apple for lunch; beef goulash with quark spaetzle for dinner. And glorious Viennese pastry all day long.
On the WallsThe timing of the current exhibit, "War/Hell: Master Prints by Otto Dix and Max Beckmann," is uncanny.
On the ShelvesThe next time you're in the market for a $2,880 sterling-silver jewelry box modeled on a 1905 Josef Hoffmann design, the museum shop is your place.
AQ Café at Scandinavia House
58 Park Ave., nr. 38th St.; 212-847-9745
On the MenuMarcus Samuelsson's budget-priced meatballs, salmon plate, and herring sampler, plus hot soups, cold sandwiches, and chocolate-enrobed meringue "sweedies."
On the Walls"Breakable Art: Contemporary Glass and Ceramics From Norway." (Watch out, butterfingers.)
On the ShelvesThe shop is your preeminent source for all things Marimekko—plus Iittala glassware, Dala clogs, and various licorice-flavored snacks.