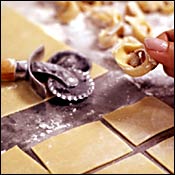 Lupa
170 Thompson St.
(212-982-5089)
Roman-style osteria beloved for peerless antipasti andpasta.
Crispo
240 W. 14th St.
(212-229-1818)
Frank Crispo's handiwork tastes even better thanit sounds on the menu.
Frank
88 Second Ave.
(212-420-1232)
A cramped kitchen finesses sprightly salads andsucculent ragùs.
Max Soha
1274 Amsterdam Ave at 123rd St.
(212-531-2221)
A relaxing red-sauce beacon in Morningside Heights.
Supper
156 E. 2nd St.
(212-477-7600)
Frank's spiffy spinoff showcasesnorthern-Italian fare and nightly specials.
Via Emilia
240 Park Ave. So.
(212-505-3072)
Tortellini, tortelloni, and some of the best lasagnearound.
Locanda Vini & Olii
129 Gates Ave., Brooklyn
(718-622-9202)
A trip to Tuscany without the jet lag, and greatVirginia house wine.
Other Italian Picks from Our 2003 Cheap Eats Guide:

• Le Zoccole
95 Avenue A
212-260-6660• Max Café
1262 Amsterdam Ave.
212-531-1210• Nick's
1814 Second Ave.
212-987-5700