Eric Ripert, Le Bernardin
We gave him $89—the price of his prix fixe—and he spent it on breakfast, lunch, and dinner.
Agata & Valentina
1505 First Avenue, 212-452-0690.
Large blueberry muffin, $1.50; single espresso shot, $1.75. "I spend my life here. They have great espresso. They have an excellent butcher as well."
Circus
808 Lexington Avenue, 212-223-2566.
One portion feijoada (veal, pork, sausage, and black-bean stew), with blood-orange slices, collard greens, and a pile of yucca dust, $23; one caipirinha, green, in short glass, $8. "I love this dish—I discovered it in São Paulo in 1992. It's the most famous dish in Brazil. It was originally a slave dish. They used to use the yucca as filler when they had no real meat to put in the stew. Paulo uses yucca here because it's traditional, but I don't really like it myself. It doesn't need it! Sometimes I have them deliver it to me at Le Bernardin when I am really craving it. The knuckles are the best part."
Baraonda
1439 Second Avenue, 212-288-8555.
One carciofini scottati salad (sautéed artichokes, pistachios, and shaved Parmesan), $12; one Caprese salad with yellow and red tomatoes, prosciutto, grilled peppers, and mozzarella, $14; one glass Chianti, $8; one tirami su, $8. "It's impossible to leave here. Whenever you say you're going, the owner gives you so much free food and drinks that you are forced to stay. He'll also bring you amazing bruschetta or fresh watermelon if you're one of his personal friends or a VIP. The carciofini scottati salad is amazing. I have a dish inspired by this at Le Bernardin."
TOTAL: $75.25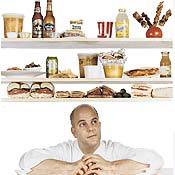 Jonathan Benno, Per Se
Thomas Keller's chef de cuisine roamed all over town to spend $150—the price of his tasting menu.
Murray's Bagels
242 Eighth Avenue, 646-638-1334.
Onion bagel with smoked salmon and scallion cream cheese, $8.75; orange juice, $1.75.
Reunion Coffee & Tea
301 West 57th Street, 212-586-4152.
Large coffee, $1.90. "Really, really strong."
Mamoun's
119 Macdougal Street, 212 674-8685.
Chicken shawarma, $4.65; falafel, $2.50; seltzer, $1.
Rai Rai Ken
214 East 10th Street, 212-477-7030.
Miso ramen noodles, $7.40; Sapporo, $4.
Kitchen/Market
218 Eighth Avenue, 212-243-4433.
Chicken burrito, $7.75; green-chili posole, $5.75.
Joe's Pizza
233 Bleecker Street, 212-366-1182.
Two slices, $5.
Havana Chelsea
190 Eighth Avenue, 212-243-9421.
Chicken soup, $3; Cuban sandwich, $5; Snapple, $1.50. "The soup is really authentic."
Bar Jamón
125 East 17th Street, 212-253-2773.
Fourteen-month serrano ham, $9; olives, $3; Estrella beer, $5.
2nd Avenue Deli
156 Second Avenue, 212-677-0606.,br>Tip tongue sandwich, $12.95; matzo-ball soup, $5.25; celery soda, $1.95. "The matzo ball is like a cloud. It's really light."
Yakitori Taisho
5 St. Marks Place, 212-673-1300.
Four chicken skins, $5; three meatballs, $5.25; glass of cold sake, $4.50.
Bar Veloce
176 Seventh Avenue, 212-629-5300.
Mortadella tramezzini, $5; soppressata panini, $7; Averna with soda, $7; Stella Artois, $5.50. "Literally the best bologna sandwich ever."
TOTAL: $147.71
Anita Lo, Annisa
With the $68 price of her tasting menu, the chef found three square meals within blocks of her restaurant.
Patisserie Claude
187 West 4th Street, 212-255-5911.
Two croissants, one coffee, $3.50. "The croissants have butter in them, but they're so crispy on the outside."
Murray's Cheese Shop
257 Bleecker Street, 212-243-3289.
One smoked mozzarella, basil, and tomato panini; one mozzarella-and-salami panini, $11.90. "Murray's uses high-end ingredients. I also come for the entertainment. Cielo and the other guys are a bunch of characters."
Manhattan Fruit Exchange Chelsea Market
75 Ninth Avenue, 212-989-2444.
Fresh black figs, $2.99. "A great complement to the Italian sandwiches."
Buon Italia Chelsea Market
75 Ninth Avenue, 212-633-9090.
One bottle Pellegrino, $2.
Moustache
90 Bedford Street, 212-229-2220.
Two hummus, two baba ghannouj, lentil soup, two lettuce-and-tomato salads, one lahambajin pitza, one merguez sandwich, $37.48. "There's something very comforting about this food."
Bleecker Minimart
355 Bleecker Street, 212-242-3271.
Two Stoudt's micro-brewed beers, $4.18. "Carol Stoudt is a brewmaster in Philadelphia. There's only about fifteen female brewmasters in the world. We carry this once in a while at Annisa."
Amy's Bread Chelsea Market
75 Ninth Avenue, 212-462-4338.
Four cashew bars, $5. "This is Amy's mom's recipe. She brought a bar into the restaurant once, and I've been thinking about it ever since. They're made with butterscotch."
TOTAL: $67.05
David Waltuck, Chanterelle
The chef-owner blew the cost of his tasting menu—$105—in Chinatown.

Mei Lai Wah CoffeeHouse
64 Bayard Street, 212-925-5435.
Two "Special Big Steamed Buns," $1.10 each.
Bayard Meat Market
57 Bayard Street, 212-619-6206.
One pound chicken feet, $3.05. "I like anything gelatinous and crunchy."
Chatham Restaurant
9 Chatham Square, 212-267-0220.
Four baked pork buns, 55 cents each; two turnip cakes with dried shrimp and sausage, $1.70 each.
Sanur Restaurant
8 Doyers Street, 212-267-0088.
Two Indonesian curry turnovers, 60 cents each.
Buffet Lin
15 Division Street, 212-941-1273.
Buffet lunch, $4. "After 5 p.m., it's $3. It's not the greatest food, but I'm very impressed that it's $3 after 5."
New Southwind Restaurant
21 Division Street, 212-966-4116.
Two savory doughnuts and two fresh rice-noodle wraps with dried shrimp, 70 cents apiece.
Aji Ichiban
37 Mott, 212-233-7650.
Quarter pound of spicy sesame fish candy, $6.72; quarter pound of Thai fish crackers, $4.68. "Peppery and salty, it's all weird, but I like it."
Dumpling House
106 Mosco Street, 212-693-1060.
Four fried buns, $1; five fried dumplings, $1.
Ping's Dried Beef
58 Mulberry Street, 212-732-0850.
Half pound shredded beef, $8.50.
Fruit Stand
69 Mulberry Street.
Litchi, $10; two pounds of cherries, $5. "Peel the litchi and spit the seed on the ground. Believe me, I'm not the only one spitting things on the ground in Chinatown."
Thai Son
89 Baxter Street, 212-732-2822.
Pho with beef brisket, navel, flank, omosa, tendon, and eye of round, $5; sautéed squid with sweet-and-sour sauce, $7.50.
Wong's Rice and Noodle Shoppe
86 Mulberry Street, 212-233-2288.
Beef, squid, pork congee, $2.95; spicy beef chow fun, $5.25. "Places named Wong make good spicy beef chow fun."
Kam Man Food
200 Canal Street, 212-571-0330.
Six-pack of Tsingtao, $6.60. "The Chinese Budweiser."
Sau Voi CafÉ
101 Lafayette Street, No. 3, 212-226-8184.
Two sandwiches with "the works," $2.75 each.
New Wing Wong Restaurant
111 Lafayette Street, 212-274-0690.
Whole roast duck, $14.
TOTAL: $103.60