TRAY CHIC
Truly great cafeteria-style food
Now that the Condé Nast cafeteria has made busing a tray at lunch downright stylish, we've been reliving our junior-high days – without the Tater Tots and mystery meat – at the new AQ Café at the Scandinavia House, a natty concession run by Aquavit. On the menu: textbook Swedish meatballs with mashed potatoes ($9), a luscious herring plate ($6.50), even that old cafeteria warhorse lasagna. Though this one's a rich salmon version with béchamel and tomato-caper salsa ($9).
We also happily get on line at lunch with the UPS delivery men, the beefy double-beeper-belted garmentos, even strappy-sandaled, Pucci-clad blondes (no doubt Condé Nast-cafeteria fugitives bucking the Si Newhouse-imposed garlic ban) at Veronica Ristorante Italiano. The place mingles a shabby sixties-era garment-district charm – brown plastic trays; orange Formica tables; pre-poured red or white wine – with a few unexpected refinements like homemade herb-and-fennel bread and good espresso. Defying the laws of steam-table physics, the pasta, in most cases, is just a bite shy of al dente. Shells in a creamy Bolognese sauce ($8.50) and linguine with two mammoth but surprisingly light turkey meatballs ($6.50) are favorites. "It's better than Le Cirque," we overheard a fashionista crow on a recent visit. "Well, the portions are better," demurred her garmento friend.
The portions at the spotless, skylit PSC (Polish Slavic Center) Cafeteria in Greenpoint, Brooklyn, are so much better than Le Cirque's that even the burly working men who congregate here wobble like tentative tightrope walkers as they carry their pierogi-packed trays back to their tables. Satisfying slabs of meat loaf, chicken cutlets, and beef-and-pork-stuffed peppers are a few of the hearty entrées heaped high with mashed potatoes and gravy, red cabbage, coleslaw, rye bread, plus a glass of compot (the room-temp fruit drink) – all for under five bucks. Throw in a measly extra dollar and you get a big bowl of the soup of the day. Or splurge on dessert: perhaps the best cheese blintzes in Greenpoint served with a dollop of vanilla-sweetened sour cream.
AQ CAFÉ, 58 Park Ave., near 38th St. (212-847-9745); VERONICA RISTORANTE ITALIANO, 240 W. 38th St. (212-764-4770); PSC CAFETERIA, 177 Kent St., Brooklyn (718-383-5290).
FILLING STATIONS
All you can eat, and eat, and eat
Last time we made the trek uptown to Charles' Southern Style Kitchen, we had the great good fortune to arrive at the exact moment when the all-you-can-eat buffet ($6.99 at lunch, $9.99 at dinner) was being replenished with crackling-hot fried chicken, chef-owner Charles Gabriel's claim to soul-food fame. Suffused with the kind of distinctive flavor that comes from long, slow marination – and sheathed in the sort of light, crispy skin that indicates expert frying – this bird alone is worth the cover charge, which you pay up front, as if you were buying a movie ticket. Inside, a friendly waitress offers you individually wrapped, beyond-moist cornbread and a plastic glass of sweet lemonade ($1 extra, free refills), and then you're free to repeatedly pillage the steam table for beefy oxtails; smothered steak; okra succotash; fine macaroni and cheese; candied yams; first-rate collard greens tinged with turkey so smoky we swore we tasted pork; and barbecued ribs in a splendid sweet sauce that gives the fried chicken a run for your well-spent money.
Indian lunch buffets abound in this town, but we've narrowed the field down to two personal faves. Dimple, a kosher vegetarian restaurant and sweetshop, does deeply elaborate, delicious things with vegetables, grains, beans, nuts, and yogurt. Seating is communal, at hard wooden booths, so if you'd rather commandeer a comfy booth of your own, head to Utsav, the ritzy restaurant located uniquely in an elevated bridge between two midtown office buildings. At $12.95, the spread is pricier than most, but the setting's posher (in a contemporary, tasteful way), with tablecloths and flowers and gracious waiters wearing chili-pepper-patterned neckties. Every day brings a selection of four vegetable and three meat dishes, plus a choice of cold salads, top-notch chutneys and pickles, nan, superb saffron pullao rice, and silky-sweet Indian puddings for dessert.
CHARLES' SOUTHERN STYLE KITCHEN, 2841 Frederick Douglass Blvd., near 152nd St. (212-926-4313); DIMPLE, 11 W. 30th St. (212-643-9464); UTSAV, 1185 Sixth Ave., near 46th St. (212-575-2525).
PRIX FIXATIONS
Set-price menus to fit your budget
We salute those generous kitchens that extend their $20.01 Restaurant Week lunches throughout the year, but they're not the only prix fixe game in town. Starting from the bottom (in price, not quality), you can get your fill for as little as $3.75 at Warteg Fortuna, an Indonesian hole-in-the-wall below the elevated subway in Woodside, Queens. That buys you a Styrofoam plate that is, alas, mostly rice but also includes smaller portions of tasty curried chicken on the bone (or beef, lamb, or fish) and stewed cabbage and carrots in a spicy coconut curry. There are five other dinner plates to choose from, and we recommend splurging on the $5 chicken satay – four skewers of luscious coal-blackened meat marinated with sweet, thick soy sauce, served with rice and a petite portion of green beans, bean sprouts, and kale with peanut dressing. Es teler is a multicolored tropical drink that turns bright pink when you stir it up, a shade that complements the slivers of avocado and jackfruit floating on top ($1.50).
A thali is a full Indian meal served on a metal tray, which is how lunch ($6) and dinner ($10) arrive at Thali, a sliver of a Southern Indian vegetarian restaurant in Greenwich Village. The menu changes daily, but you can safely expect tandoori roti, rice, a couple delectably spiced vegetable stews or curries, dal, and, for dessert, something like a delicate ras malai, or sweet cheese dumpling. For $10.95, Ayurveda Cafe provides a similarly scrumptious package deal for that rare Upper West Sider who doesn't mind letting someone else dictate what he's eating for dinner.
For a quarter of a century, La Petite Auberge has quietly endured the ascendance of nouvelle cuisine, celebrity chefs, and health-consciousness, remaining remarkably immune to every hostile threat to its classic style of French cooking. For the price of an entrée almost everywhere else, the $23.95 four-course prix fixe features such high-fat, old-school fare as steak au poivre with buttery potatoes and spinach, filet of sole meunière, and an enormous, wonderfully crispy duck a l'orange (for a $2 supplement). The vinaigrette on the leeks is more cream than vinegar, the pâté is robust, and the service is that practiced blend of proper and friendly that makes this wood-beamed chalet in the heart of Curry Hill such a sentimental fave. If our arteries could take it, we'd be regulars.
WARTEG FORTUNA, 51-24 Roosevelt Ave., Woodside (718-898-2554); THALI, 28 Greenwich Ave. (212-367-7411); AYURVEDA CAFE, 706 Amsterdam Ave., near 94th St. (212-932-2400); LA PETITE AUBERGE, 116 Lexington Ave., near 28th St. (212-689-5003).
Turf (SANS Surf)
Steak on a shoestring
Two kinds of people order the $16.95 chopped sirloin steak at Gallagher's: the cheapskate and the connoisseur. The cheapskate surveys the classic steakhouse menu and quickly zeroes in on the least expensive hunk of beef he can find. The connoisseur, on the other hand, knows that a properly prepared chopped steak is a thing of beauty, whatever the cost. In spite of their common order, you can tell the two apart: The cheapskate will inevitably complain about the wait – "Waiter, why's my hamburger taking so long?" – while the connoisseur knows that hand-chopping the beef to order is the sine qua non of chopped steak and what elevates Gallagher's brawny, crusty, charred, perfectly juicy two-inch-thick version beyond the realm of burger heaven.
The chief draw at Tad's Steaks – besides the bargain-basement beefsteak – is the primordial thrill of watching the flames from the grill shoot up and pop around your T-bone while you wait, cafeteria tray in hand. It's what Tad's founder called a "steak show." So dazzling was the spectacle to a British friend of ours that he insists on returning every time he visits. To see if he was suffering from mad cow, we checked out the original Tad's branch on 42nd Street, which still has the aura of old Times Square, residing as it does next to the Peep-O-Rama. A faded bordello-red color scheme, fake Tiffany lamps, and Latino music add to the ambience. We ordered No. 6, the $9.75 Tad's Famous twelve-ounce T-bone (cooked medium, just to be on the safe side), which includes a side salad, a good baked potato, a grill-toasted slab of garlic bread, and – the pièce de résistance – a large ladleful of greasy gravy spooned over the entire plate. No threat to Peter Luger, but a surprisingly good protein fix for the price.
GALLAGHER'S, 228 W. 52nd St. (212-245-5336); TAD'S STEAKS, 119 W. 42nd St. (212-944-6907).
SURF (SANS TURF)
Lobster for less and other fish stories
Which lobster roll is better – the one at Mary's Fish Camp or Pearl Oyster Bar – was the topic around the water cooler the other day when a curmudgeonly colleague, a thrifty native New Englander with a Thoreauish patch of shrubbery on his chin, joined the debate:
"You can't get a real lobster roll in this godforsaken town," declared the young salt. "You've got to go to Maine for it."
"Well, what's wrong with Mary's and Pearl's?" we asked.
"Too small," he said.
"But they're positively bursting at the seams with lobster meat," we argued.
"Wrong type of bun," he retorted.
"But it's a grill-toasted Pepperidge Farm top-loading hot-dog bun," we said.
"Forget the bun," he said coldly. "There ain't no such thing as a $19 lobster roll."
Before we could say that Mary's actually costs $18 while Pearl's is only $17 (including, at both places, a pile of shoestring fries), Young Salt, having made his point, had gone back to scraping barnacles off his cubicle. The next time he emerges, we'll send him to Chelsea Market's The Lobster Place for a plump, juicy roll at half the price of Mary's. Or to Nick's Lobster, a Marine Park, Brooklyn, fish market and seafood shack overlooking Mill Basin. Although Nick's doesn't make rolls, its lobster sandwich – a mass of buttery, sweet steamed lobster meat, oddly but deliciously topped with a layer of seafood stuffing, the whole thing served on a big bun and baked in the oven – is a formidable rival, and only $8.95.
At the raucous fried-fish feeding frenzy known as Johnny's Famous Reef in City Island, you can get four to five good-size lobster tails deep-fried or steamed with fries and coleslaw for $18 – along with a sweeping view of Long Island Sound from the outdoor picnic-table patio.
Waiting for takeout in the pokey line outside Famous Fish Market, a defiantly unrenovated Harlem hole-in-the-wall, might rankle even a stoic New Englander. But the fabulous $4.50 mess of peppery battered fried whiting and fries (with a splash of hot sauce from a Snapple bottle with a hole punched in the lid) is worth the wait.
THE LOBSTER PLACE, 75 Ninth Ave., near 15th St. (212-255-5872); NICK'S LOBSTER, 2777 Flatbush Ave., Brooklyn (718-253-7117); JOHNNY'S FAMOUS REEF, 2 City Island Ave., Bronx (718-885-2086); FAMOUS FISH MARKET, 684 St. Nicholas Ave., near 145th St. (212-491-8323).
POCKET SCIENCE
Perfect pita sandwiches
Anyone who's confined his pita-sandwich consumption to MacDougal Street and street carts is likely suffering from a common misperception: If you've had one shawarma, you've had 'em all. Disabuse yourself of that notion by ordering the succulent Yemenite-Israeli poultry version at Olympic Pita, a bustling kosher restaurant in Midwood, Brooklyn. The flavorful amalgam of chicken and turkey is sliced off the spit and rolled up in a pita or – better yet – a sesame-seeded lafah, the blistered and blackened brick-oven bread resilient enough to contain the juicy, flavorful meat and the awesome sauces (a dangerously spicy, cilantro-based zhoug and a sweet-and-sour mango condiment called amba). The sandwich price ($6.99 for pita, $7.99 for lafah) includes a salad bar, with all manner of crunchy shawarma add-ons like sour pickles, radishes, pickled turnips, and delectably oily deep-fried eggplant.
Happily, shawarma is nondenominational, which makes for an easy transition from the Israeli to the Lebanese version, rendered to delicious effect at Karam in Bay Ridge, Brooklyn. The flavor-packed meat is loaded onto a pita, then slathered with a garlicky white sauce that permeates the whole shebang once it's rolled up and smooshed in a sandwich press. Then it's unwrapped, garnished with parsley, pickled turnips, lettuce, and tomato and re-rolled into a $4 meal that will make you forget about falafel forever – that is, until you get to Alfanoose, a low-key Lebanese-Syrian falafel joint near Wall Street that shares Karam's technique of rolling (burrito-style) rather than stuffing fresh, tasty ingredients into a pliant pita. We love the everything-in-one-bite effect, which works equally well with falafel, shawarma, and Alfanoose's signature vegetarian kibbeh, an egg-shaped croquette of bulgur wheat filled with Swiss chard and chili peppers ($3.25-$4.75).
OLYMPIC PITA, 1419 Coney Island Ave., Brooklyn (718-258-6222); KARAM, 8519 Fourth Ave., Brooklyn (718-745-5227); ALFANOOSE, 150 Fulton St. (212-528-4669).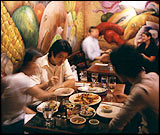 WHIRLY BIRDS
Rotisserie chicken with a Latin spin
We're still mourning the flight of El Pollo, our favorite source for expertly seasoned Peruvian-style rotisserie chicken, from its Upper East Side roost. But birds of a feather do seem to flock together, as we discovered last Memorial Day when the vacant El Pollo space reopened as the first Manhattan branch of Queens-based Pio Pio. The chicken, prominently featured in the gut-busting "matador combo," is as juicy and succulent as its counterparts in Rego Park and Jackson Heights. For $28, a ravenous couple or a threesome of average appetites can ravage a whole bird, plus rice and beans, avocado salad, tostones, and a very kid-friendly plate of French fries adorned with sliced hot dogs that turns out to be a straight-from-Lima street food called salchipapa.
Downtown, we're partial to the exceptional birds at Cocina Cuzco, a friendly Avenue A storefront that won us over with its spectacular two-tone herb dipping sauce, made from huacatay and yerba buena, which adds a subtly spicy kick to everything from the moist, marinated chicken to the freebie bowl of cancha (roasted corn kernels) and plantain chips. Last month, a second Cocina Cuzco opened in Park Slope, a potential threat to the sovereignty of Coco Roco, heretofore the Slope's leading purveyor of Peruvian roasted chicken and a good source for various lime-marinated seviches. For a different Latino take on birds on a spit, try the excellent "pollo rostizado estilo Yucatán" at Gabriela's, the bustling Mexican cantina with two Upper West Side branches. For $8.95, you get half a bird, rubbed with sweet, citrusy spices, a choice of two sides (we love the herby stewed hominy), and three hot corn tortillas. Splurge on all three moles – a fruity mancha manteles, a peanutty pipian, and a smoky dark mole negro – for $1.25 each. We can never choose just one.
PIO PIO, 1746 First Ave., near 91st St. (212-426-5800); COCINA CUZCO, 55 Ave. A (212-529-3469), and 222 Seventh Ave., Brooklyn (718-788-5036); COCO ROCO, 392 Fifth Ave., Brooklyn (718-965-3376); GABRIELA'S, 311 Amsterdam Ave., at 75th St. (212-875-8532).
MANHATTAN LATINS
Four righteous rice-and-beaneries
Lately, we've been spending a lot of time at Javier, a sunny West Village storefront with a handful of tables, a mellow vibe, a pre-Buena Vista Social Club soundtrack, and a knack for soupy, scrumptious red and black beans. It's clear from the first bite of the tender, vinegary ropa vieja that Javier is cut from the same culinary cloth as some of our favorite well-worn Latino lunch counters – places like La Taza de Oro, La Fonda Boricua, and Margon – that serve up good cheer and cheap, savory chow in equal measure. Owner Javier Martinez is part of a grand Spanish-American tradition – even though he calls it "Latin-Caribbean" – and he honors it with juicy pernil (roasted pork marinated in sage, oregano, and garlic) and pollo asado, a moist roast chicken that gets a double dose of garlic – once when it's marinated and again in the sandwich when it's slathered with ajilimojili, a lethal blend of garlic, olive oil, and lemon (from $1.50 for a savory stuffed pastelillo to $7.50 for generous main dishes with rice and beans).
JAVIER, 70 Greenwich Ave. (212-929-7878); LA TAZA DE ORO, 96 Eighth Ave., near 15th St. (212-243-9946); LA FONDA BORICUA, 169 E. 106th St. (212-410-7292); MARGON, 136 W. 46th St. (212-354-5013).
TACO BELLES
Maximum Mexican, minimal cost
With a few exceptions, New York Mexican food is inherently cheap, but that still doesn't mean that you should settle on just any old burrito barn. Not with East Harlem increasingly populated by good, cheap taquerías like El Paso Taquería and La Taquicardia (an offshoot of the pioneering La Hacienda down the block). And not when you can grab a stool at Matamoros Puebla Taquería in Williamsburg and stuff yourself silly with $1.50 sopes, $2 soft tacos, and $4.50 tortas, fastidiously made by two kindly hair-netted women struggling to feed the onslaught of hungry hipsters.
Matamoros isn't a restaurant, just a makeshift kitchen in the back of a Mexican grocery store, and the pickings – including tamales on the weekends and a $5 off-the-menu burrito – are relatively slim. But the snacks, or antojitos, here possess much more flavor and pizzazz than you'd have any right to expect, considering the price and the slapdash, paper-plate setting. Red and green salsas are fresh and vibrant; stewed meats are moist and flavorful, from pork head (cabeza) to beef feet (pata). Vegetarians, relax: They do a mean rajas con papas taco (peppers and potatoes) for just $1.50. And the tortas – wonderful pressed sandwiches with mild white cheese, avocado, salsa, and the meat of your choice – are without peer.
EL PASO TAQUERIA, 1642 Lexington Ave., at 104th St. (212-831-9831); LA TAQUICARDIA, 237 E. 116th St. (212-369-9782); MATAMOROS PUEBLA TAQUERIA, 193 Bedford Ave., Brooklyn (718-782-5044).
A LITTLE ROMANCE
Four sweet places to take a date
What's so terrible about a cheap date? you ask. Isn't it the thought that counts? Well, yes, but flattering lighting and ambient music can't hurt, either. You'd be surprised how some places manage to conjure romantic atmosphere on the skimpiest of shoestring budgets – it's all about scale (small) and service (friendly but not intrusive, casual but not distracted). It's a subtle art, one that the teeny panini-and-wine bar 'ino has mastered with its supremely sensuous finger food: bruschetta and panini lavished with creamy cheeses, pungent pestos, or a drizzle of truffle oil ($2 to $7).
But 'ino's not the only place that wins big by thinking small: When a joint has only five tables, like A, three is definitely a crowd. A's French-Caribbean-inspired menu is as tiny as its unfussy premises, but the mellow vibe and the nonstop reggae and ska invite lingering long after the last bite of curried lamb pie with coconut crème fraîche (one of only six dinner dishes, all in the $7-to-$10 range). Like A, Snack, the sweet little SoHo Greek café, is BYOB (though Snack has applied for a liquor license). At night, the rough-hewn storefront takes on a candlelit luster and a significantly expanded menu, with substantial entrées like braised lamb stifado and vegetarian moussaka ($10.95 to $12.95).
If you're a sucker for nostalgia and a connoisseur of Sicilian pizza, take someone special to L&B Spumoni Gardens, a 62-year-old landmark in Bensonhurst, Brooklyn, where locals and pizza pilgrims line up for the signature square pie (a light, crunchy crust, adorned with a bare minimum of mozzarella cheese beneath a layer of tangy tomato sauce) and a paper cup of the house spumoni. American Graffiti meets GoodFellas.
'INO, 21 Bedford St. (212-989-5769); A, 947 Columbus Ave., near 106th St. (212-531-1643); SNACK, 105 Thompson St. (212-925-1040); L&B SPUMONI GARDENS, 2725 86th St., Brooklyn (718-449-1230).
CALCULATING PIE
The pizza kings of Queens
Speaking of pizza pilgrimages, we've done Denino's (Staten Island), Totonno's (Coney Island), and Pepe's and Sally's (New Haven) – all mandatory excursions for any pizza freak. But it takes more than a pizza margherita – no matter how masterly – to bring us back again and again.
At Nick's Pizza in Forest Hills, Queens, owner Nick Angelis's light, fragrant, superbly charred crusts ($11 and up) contrast beautifully with creamy fresh mozzarella – melted but not boiled over – and bright tomato sauce and basil. No wood, no brick, no coal – how does he achieve pizza greatness with a conventional gas oven? The mystery is part of Nick's allure. That, and a wine list that goes beyond the basic pizzeria house red and white, plus killer cannoli that will change forever your perception of the Mulberry Street staple.
A year ago, we tracked down a favorite ex-Mezzogiorno pieman at Sapori d'Ischia in Woodside, Queens, working for importers Frank Galano and his son Anthony, who've transformed their wholesale-gourmet-Italian-foods warehouse into a red-hot red-sauce dining destination where you can still get a great deal on imported pastas and cheeses. On Tuesdays and Wednesdays, there's live Neapolitan music; Thursdays are "opera nights." If the stellar thin-crust pizza, the homemade pasta pillows wrapped around spinach and ricotta, and Wednesday's hunky headliner, crooner Paolo Siani, aren't enough to lure you out to this industrial desolation row, factor in the steep discounts on extra-virgin olive oil, 25-year-old balsamic vinegar, and aged provolone – all up for grabs, if you can work your way around the boisterous crowd.
NICK'S PIZZA, 108-26 Ascan Ave., Forest Hills (718-263-1126); SAPORI D'ISCHIA, 55-15 37th Ave., Woodside (718-446-1500).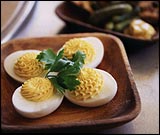 BEYOND BEER NUTS
A budget meal at the bar
Bar food means different things to different people. The common denominator? It should go well with a drink, be it a pint of Brooklyn Lager or a dry martini. Burgers at bars are a dime a dozen, but few measure up to the juicy, five-napkin whopper at Donovan's, the Irish pub with branches in Woodside and Bayside, Queens. It's so devastatingly delicious, we'd even send teetotalers ($4.95 at lunch, $5.75 at dinner). When the legendary Pearson's Texas Barbecue shut its doors in Long Island City, fans of its wood-smoked brisket and ribs – the best in town – were bereft until it reopened, curiously, in the back of Legends, a sports bar in Jackson Heights, Queens, where clued-in 'cue connoisseurs pay much more attention to the pulled pork and tender brisket sandwiches on Portuguese rolls than to the score of the game ($5.95 to $12).
In "serious" restaurants, bar food gets short shrift. If you're Jean-Georges Vongerichten or Daniel Boulud, do you really want your customers filling up on Triscuits and sardines? Gabrielle Hamilton, chef-owner of Prune, doesn't seem to mind. Her bar menu (available at tables too) offers delectable finger food like radishes on the stem with sweet butter and coarse salt; unapologetically retro deviled eggs; an Iberian arrangement of figs, fried almonds, and serrano ham; and, yes, those aforementioned straight-out-of-the-cupboard (yet unexpectedly satisfying) sardines with Triscuits and Dijon mustard ($3 to $7).
DONOVAN'S, 57-24 Roosevelt Ave., Woodside (718-429-9339), and 214-16 41st Ave., Bayside (718-423-5178); PEARSON'S, 71-04 35th Ave., Jackson Heights (718-779-7715); PRUNE, 54 E. 1st St. (212-677-6221).
THE RIGHT STUFFING
Dandy dumplings from all over
The best dumpling deal in town just got better: Now that Fried Dumpling has opened a second branch in Chinatown on Mosco Street, there are two places – not counting the inferior clones – to buy five flavorful crescent-shaped minced-pork-and-leek dumplings for a dollar.
Vegetable dumplings, too often a bland cabbage-and-mushroom-stuffed afterthought, are reinvented at Dim Sum gogo, where they come in ten different versions, with three kinds of dough wrappers and four kinds of sauce. No. 4, the snow-pea-leaf dumpling, reminded us a bit of spinach ravioli ($2.25 for three).
Mandoo are Korean dumplings, the chief attraction at 32nd Street's Mandoo Bar, where they're hand-formed in the window by a pair of nimble-fingered women who stop traffic with their engaging labors. We're partial to the steamed kimchi mandoo, in which the typical pork-and-vegetable stuffing is fortified with tofu and a smidgen of the cuisine-defining pickled cabbage ($7.99 for ten).
Once you've tried mandoo, it's time to tackle momo, the oversize Tibetan take on Chinese potstickers. At Tibetan Yak in Jackson Heights, they're steamed or fried; stuffed with your choice of vegetables, chicken, or beef; and served with a sesame-dressed cabbage salad ($6.75 to $7.25 for eight). The momo at Shangrila remind us of Japanese gyoza, but maybe that's because the Tibetan-born chef-co-owner used to cook at Honmura An. (Hence the presence of tempura and edamame alongside gutse ritu, hand-rolled Tibetan pasta stewed in lamb broth and garnished with cottage cheese.) We find ourselves craving these momo, and keep rotating between the sesame-flavored chasha chicken and the "Shangrila special," stuffed with spinach and homemade curd cheese ($8.50 steamed, $9.50 fried).
FRIED DUMPLING, 99 Allen St. (212-941-9975); DIM SUM GOGO, 5 E. Broadway (212-732-0797); MANDOO BAR, 2 W. 32nd St. (212-279-3075); TIBETAN YAK, 72-20 Roosevelt Ave., Queens (718-779-1119); SHANGRILA, 129 Second Ave. (212-387-7908).
FAMILY CONNECTIONS
Favorite pasta parlors
The recent history of cheap Italian restaurants in New York is a befuddling chronicle of families – some extended, some dysfunctional – writ large in red sauce. The tale goes something like this: A casual, rustic trattoria is born. It thrives. It either expands or clones itself or, more often, loses a beloved maître d', or a star cook, who goes off to open a similarly cheap and delicious place of his own. Our story focuses on what we'll call the Four Families – a loosely connected network of irresistibly cheap Italian restaurants and their offspring.
The most far-flung family is the Pepe posse, engendered by Pepe Rosso to Go in SoHo. What began as little more than a takeout alcove with a sidewalk table, scrumptious focaccia sandwiches, and robust pastas (all hovering around $10) begat Pepe Verde in the West Village, Pepe Giallo in Chelsea, Capa and Paprika in the East Village, Caffè Linda in midtown, and Pepe Viola in Brooklyn. Ownership varies, but the grub, like a terrifically savory Bolognese, remains the comfortingly familiar lingua franca.
Then there's Frank in the East Village, a trattoria so tiny and overrun it soon expanded into an adjacent storefront, which became a wine bar called Vera. Besides becoming a destination for crunchy fennel salad, mozzarella flown in from Naples, and rosemary-roasted chicken, owner Frank Prisinzano's minuscule restaurant also served as a pit stop for a couple of Italian pals who worked there briefly before heading deeper into the East Village to open Max, which recently spawned a Morningside Heights outpost called Max SoHa (South Harlem). Both excel at rich, zesty ragùs and the Italian-style meat loaf called polpettone ($10.95-$11.95).
Piadina, best-known for its house bread, a delectably chewy Emilia-Romagnan stuffed flatbread, was the rustic, candlelit precursor of Malatesta and Gradisca (all in Greenwich Village). When chef Salvatore Zapparata left Piadina to open La Madrastra, he brought his personal takes on northern and southern classics like a particularly savory, deeply flavored rigatoni melanzane e ricotta salata ($9) and a green vegetable soup from his hometown in Sicily but conscientiously left the signature piadina behind.
The six-year-old Il Bagatto began as a joint Alphabet City venture by Roman chef-owners who've since parted ways, but their partnership has spawned two new spots, one opened by each original owner – Il Posto Accanto, the wine bar next to Il Bagatto, and Miss Williamsburg Diner, a rehabbed Italian-flavored eatery in industrial Williamsburg. A broken home, perhaps, but one that's given us three distinctive sources for cheap, carefully made fare like perfect bruschetta, tortellini con ragù, thin strips of rosemary-infused beef called straccetti (Il Bagatto, $5-$12), a lovely selection of panini and cocci, hot crock pots full of vegetables and bubbling cheese (Il Posto Accanto, $7-$9), and hake casserole with zucchini and potatoes (Miss Williamsburg, $14).
PEPE ROSSO TO GO, 149 Sullivan St. (212-677-4555); FRANK, 88 Second Ave. (212-420-0202); MAX, 51 Ave. B (212-539-0111); PIADINA, 57 W. 10th St. (212-460-8017); LA MADRASTRA, 93-95 First Ave. (212-475-6620); IL BAGATTO, 192 E. 2nd St. (212-228-0977); IL POSTO ACCANTO, 190 E. 2nd St. (212-228-3562); MISS WILLIAMSBURG DINER, 206 Kent Ave., Brooklyn (718-963-0802).
SUPER BOWLS
Noodle shops that hit the spot
Don't look for any resemblance between a packet of instant ramen noodles and a steaming bowl of deeply flavored tonkatsu ramen from Ajisen Noodle, the first American branch of an Asian ramen chain that opened in Chinatown this spring. Expect, instead, springy noodles, roasted pork, scallions, and hard-cooked egg in a smoky, buttery broth made from long-simmered pork bones ($4.75). The "tenderous ribs" version features something the menu ominously calls "steamed gristly ribs," which turn out to be rich, fatty chunks of tender, slow-cooked boneless pork ($6.25).
Not in the mood to pig out? Choose an alternative soup stock, like curry or miso, which is also an option at Rai Rai Ken, a new East Village noodle shop with a menu as minute as its fourteen-stool premises. There's gyoza (Japanese pork dumplings) and ramen, available three ways: miso with chicken, shoyu (soy sauce), and shio (chicken broth), the latter two of which come chock-full of bamboo shoots, sliced roast pork, egg, scallion, and seaweed ($6.50). In the theater district, Little Yokohama occupies an equally cramped, twelve-seat space. Customize your soup by selecting one of four noodles – a thick udon, a thin udon, soba, or seaweed – or beat the heat with a wonderfully refreshing summer cold-noodle special. Yakko-soba is our idea of the perfect, slurpable pre-theater supper: slick buckwheat noodles adorned with squares of cold tofu, julienned cucumbers, eggs, seaweed, and shaved bonito, in a scallion and ginger dressing ($8.75).
AJISEN NOODLE, 14 Mott St. (212-267-9680); RAI RAI KEN, 214 E. 10th St. (212-477-7030); LITTLE YOKOHAMA, 374 W. 46th St. (212-315-3161).
SANDWICHING IT IN
Best things since sliced bread
There's more to making a Cuban sandwich than throwing some ham and cheese on a roll, tossing the thing onto the sandwich press, and twiddling your thumbs until it's ready. Harlem's La Flor de Broadway earns its nickname, "El Rey del Sandwich Cubano," by meticulously basting the bun with margarine – while the sandwich cooks in the press – and generally lavishing attention on the thing as if it were a Thanksgiving turkey. The result is perfectly thin and crispy outside, and juicy within ($2.50). And believe it or not, the simple but similarly fawned over Swiss-cheese sandwich ($2) is even better.
We consider an elaborately dressed "churrasco" (grilled-chicken-breast sandwich, $5.75 to $8.75) at Island Burgers and Shakes to be virtually a two-for-one special. Remove some of the excess meat from the sandwich, fold it into the accompanying garnish of crisp romaine leaves as you would Korean barbecue, and share with your Zone-dieter friend. Be sure to order yours blackened (a couple degrees of Cajun heat short of a call to Jacoby & Meyers) and on a Sullivan Street Bakery ciabatta roll.
None of the prepacked but fresh and tasty sandwiches at the Wall Street outpost of the British fast-food chain Pret A Manger costs more than $5.55, including a $3.25 egg salad and cress on wheat, a boon for wounded Wall Street warriors. And by fall, three more branches opening in midtown will challenge the pricier Mangia's sandwich supremacy.
If egg salad on wheat bread is too white-bread for you, try a banh mi, the Vietnamese hoagie made with mysterious-looking – but perfectly delicious – lunch meats. At Viet-Nam Banh Mi So 1, $2.50 will buy you a warm hero roll crammed with a salty-spicy-crunchy-sweet combo of crumbly barbecued pork (red), a slice of cured pork (pink), "pork roll" (beige), cucumber, cilantro, pickled carrots, homemade mayo, and a dash of tangy hot sauce. And think of No. 16 on the menu at Chinatown's Dumpling House, the "sesame pancake with beef," as the banh mi's poor relation: a pizza-slice-size triangular wedge of bready sesame-studded pancake split open like a pita and layered with thin slices of beef, shredded carrots, and cilantro and topped off with a squirt of "beef juice," just $1.50.
LA FLOR DE BROADWAY, 3401 Broadway, at 138th St. (212-926-4190); ISLAND BURGERS AND SHAKES, 766 Ninth Ave., near 51st St. (212-307-7934); PRET A MANGER, 60 Broad St. (212-825-8825); VIET-NAM BANH MI SO 1, 369 Broome St. (212-219-8341); DUMPLING HOUSE, 118A Eldridge St. (212-625-8008).
HAUTE DOGS
And other street-food wonders
Fifth Avenue and 54th Street isn't the sort of corner where you'd expect to find a bargain, let alone a sign reading freaking deal, $5. But that's precisely what's written on the paper-plate sign taped to the Hallo Berlin street cart. Fans of bad puns and good German sausages will recognize the work of Hallo's owner, Rolf Babiel. "It's a frik-a-delle, a German meatball, you get it?" said Rolf as he buried a beef-and-pork meatball under a mound of sautéed onions and tossed it into a paper basket along with an excellent, mildly spiced currywurst sausage and a vinegary heap of German potato salad studded with chopped sweet and sour German pickles, before giving the whole freaking thing a squirt of his proprietary paprika-heavy mustard and his curry steak sauce.
What attracted us to Otafuku, the tiny East Village kiosk specializing in Japanese takoyaki (an octopus-filled croquette) and okonomiyaki (a sort of cabbage-and-egg pancake), was the Wonkaesque sight of a polka-dot-bandanna'd cook squirting batter through what looks like an electric nail gun into a vibrating griddle, its indented surface resembling a giant egg carton. His partner simultaneously formed a cabbage-vegetable-and-egg mixture into patties, which sizzled on the grill under little metal domes; then he did a Jackson Pollock on both snacks with mayo and a thick, sweet barbecue-Worcestershire sauce, after which he gave the whole thing a liberal dusting of bonito flakes. Five dollars here buys six Ping-Pong-ball-size takoyaki, light and airy with a chunk of octopus in the center, a nice contrast of soft-chewy textures and sweet-salty flavors. And the beef, pork, squid, or shrimp-topped okonomiyaki will set you back $7 – a bargain for such a hearty, satisfying cross between a seafood frittata and a pumped-up potato pancake.
Taxicabs on stilts – not real ones but a Madison Square Park art installation – will lead you to the hot-dog stand near Broadway and 23rd Street run by Eleven Madison Park restaurant to raise money for the park's continued restoration. For one afternoon, forget about civic pride and try a "Chicago dog" ($2.50), boiled with bay leaves, onions, garlic, and allspice and topped with tomatoes, green peppers, onions, cucumbers, lettuce, pickles, mustard, relish, hot chilies, and a dash of celery salt. It's practically a Cobb salad perched precariously on top of a hot dog and a sneaky way of getting you to eat your veggies.
OTAFUKU, 236 E. 9th St. (212-353-8503).
THAI REQUIRED
Bangkok for your buck
Too often, Thai chainlets give us what they think we want: too-sweet satays, tame tom yum, pallid pad Thai. The critical balance of hot, sour, salty, and sweet is lost in translation. There are exceptions – namely, and most spectacularly, Sripraphai, a superb Thai kitchen housed inside a nondescript Woodside, Queens, storefront that looks about as cheerful as an H&R Block office. With all due respect to Mets fans – if there are any left this season – we can't think of a better reason to board the No. 7 train than feeding on crispy dried catfish in a piquant mango, red-onion, cilantro, and chili-pepper salad ($10.50); fiery beef panang redolent of basil and lemon leaf ($7); mouthwateringly good minced pork with chilies, peanuts, and lemon juice ($6). You'll trivialize the experience to some ineffable degree if you eat indoors, cramped among the Formica tables, under the fluorescent lighting, so instead repair to the semi-secret bare-bones backyard with its picture-book border of overgrown pink and red rose blossoms. But don't forget to make a pit stop at the dessert counter on your way out to stock up on sticky coconut-rice confections or some milky puddings for the road.
Somewhere between standard Americanized Thai and Sripraphai are Thai Cafe and Amarin Cafe, two brightly flavored spots in Greenpoint's pierogi-laden landscape. In the East Village, Kai Kai Thai Eatery deliciously breaks the menu monotony with fifteen appetizers that read like Thai dim sum, priced from $1 to $5 apiece. (We're addicted to the ma-ta-ba, a flaky, buttery chicken pastry.)
Good grub turns up in the unlikeliest of places, perhaps none less likely than Lady Bakery, a generic fluorescent-lit pastry-and-birthday-cake depot near the mouth of the Lincoln Tunnel. Strategically located a couple doors down from Cupcake Cafe, ostensibly to undercut the competition, this nondescript storefront dabbles in takeout Thai home cooking, almost as if it were a hobby. "People would come for coffee and ask for food," the cashier told us. She and her mother obliged, with handwritten signs announcing a daily choice of two soups and a main dish, like the rich and pungent chicken curry served with soft jasmine rice ($6.50). If the Hell's Kitchen cake racket proves too cutthroat, these ladies clearly have something to fall back on.
SRIPRAPHAI, 64-13 39th Ave., Queens (718-899-9599); THAI CAFE, 923-925 Manhattan Ave., Brooklyn (718-383-3562); AMARIN CAFE, 617 Manhattan Ave., Brooklyn (718-349-2788); KAI KAI THAI EATERY, 78 E. 1st St. (212-777-2552); LADY BAKERY, 510 Ninth Ave., near 38th St.(212-268-2616).
NAN PLUS
Surpassing 6th Street sameness
Sixth Street already had one sturdy anchor in Haveli, near the corner of Second Avenue, when Banjara, an atypically spacious and relatively snazzy new spot, opened last December to shore up its eastern extremity. Working within the same culinary parameters as his neighbors, chef Tuhin Dutta has breathed new life into 6th Street staples like vindaloos, biriyanis, and tandoori chicken – the latter one-upped by its even more succulent clay-oven cousin, sharabi kababi, which is rendered uncommonly moist with a wine-and-cream marinade ($12.95). Dutta particularly distinguishes himself, though, with his dumpakht, a Lucknowi dish that resembles a potpie with stewed meat or vegetables baked beneath a taut bread crust ($11.95-$12.95).
Out in Jackson Heights, Queens, Rajbhog Sweets is best-known for its 60-plus varieties of milk-based confections tantalizingly arranged in display cases like Neuchâtel truffles. But toward the back, a steam-table selection of mostly Gujarati vegetarian dishes makes this sweetshop a compelling mealtime destination. The assortment changes daily, and includes snacks like khaman dhokla (steamed chickpea-flour cakes dotted with black mustard seeds) and chickpea-battered chili peppers. Freed from gloppy curry bondage, vegetables here are done to a delicate turn: tooriya patra combines long green squash with Swiss-chard leaves and lima beans; karela are green Chinese eggplant, cooked in a subtly spicy sauce with potatoes and cashew nuts. At lunch, one vegetable, a paratha (flaky griddle-fried bread) or poori (puffy deep-fried bread), and a pickle will run you $2.75; $4.50 buys an extra vegetable medley, plus rice and dal. If you still have room for dessert, you're in the right place.
HAVELI, 100 Second Ave. (212-982-0533); BANJARA, 97 First Ave. (212-477-5956); RAJBHOG SWEETS, 72-27 37th Ave., Queens (718-458-8512).
Click here for Adam Platt's Taxi Fare