A woman I know of the most refined gourmet tastes looked downcast, even a little peevish, when I asked her the other day about her favorite meals of the year. "It's just one big fancy hamburger after the next wherever you go," she said with a tiny sigh. Or lamb shanks, she might have added, or pork bellies, or great truncheons of Texas brisket smothered with barbecue sauce imported from St. Louis. Which may not be such a bad thing, depending on your point of view. In this era of fiscal constraint, New York is awash, again, in simple gastronomic pleasures. Pork ribs are the hot new dish at Lespinasse, and all around town, destination dining has given way to the cult of the neighborhood restaurant. Mr. Waxman's classic California cuisine is what passes, these days, for a gourmet event. Home cooking is the trendy phrase among members of the Chinese-food cognoscenti. And even the city's grandest Italian chefs are focusing their considerable energies on the safest, most time-tested recipe of all: They're opening new pizza joints.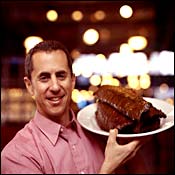 It's taken a few months, but Danny Meyer's approximation of a honky-tonk neighborhood bar (albeit one in Tuscaloosa, Alabama) is beginning to achieve that smoky, lived-in barbecue feel. The Texas-style beef brisket tasted like shoe flaps when I first sampled it during the early days of Blue Smoke, so imagine my surprise when I dropped in for a quiet, unhurried lunch not long ago and found the meat in my brisket sandwich strangely tenderized, even juicy, with satisfying bits of burnt crackle around the edges. The "salt and pepper" ribs have undergone a similar transformation—now they're chewy and densely flavorful—and the little racks of baby backs, from Mr. Meyer's hometown of St. Louis, are as compulsively edible as ever.
Lunch also happens to be my favorite time at Washington Park, when light pours in through the oversize windows facing Fifth Avenue, and the waiters serve Jonathan Waxman's refreshing West Coast delicacies with sunny, faux-California smiles. Mr. Waxman probably won't like hearing his bustling enterprise referred to as a neighborhood restaurant, but it happens to be two blocks from my home. So whenever I wander in for a lunchtime snack, I like to indulge in a joint of crispy duck leg (part of a $30.03 prix fixe, matched with three tasting glasses of wine), or possibly the grilled skirt steak smothered in a cilantro-infused salsa verde, and for dessert, the house ice-cream sundae, accompanied by small cups of butterscotch, whipped cream, and crumbled cookies and served in a tall martini glass, of course.
A restaurant usually has to marinate in a neighborhood for a good decade or more before it is called a joint, but chef and co-owner Jimmy Bradley has achieved this status at The Harrison, in Tribeca, in record time. His formula for comfortable dining includes lots of exposed, beamy wood and a long bar you can spread out in. It also entails a menu filled with artful gourmand dishes like ricotta cavatelli decked with veal cheeks, thick wood-smoked pork chops, and great ham-size Colorado lamb shanks, so well braised they fall from the bone.
Rate and Review
Blue Smoke
116 E. 27th St
212-447-7733

Washington Park
24 Fifth Ave.
212-529-4400

The Harrison
355 Greenwich St.
212-274-9310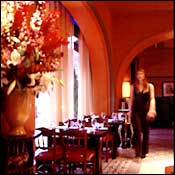 The town's operatic claque of food connoisseurs are waiting breathlessly for the curtain to open at WD-50 on Clinton Street later this month, where, according to the grapevine, boy-wonder chef Wylie Dufresne has been conducting all sorts of tantalizing experiments. Until then, however, they're flocking to Pazo, the new Mediterranean-fusion venture by Patricia Yeo and her co-executive chef, Pino Maffeo. As at Ms. Yeo's elegantly overwrought restaurant AZ, meals here unfold in a painstakingly mannered style, replete with theatrically dim lighting and flocks of waiters who seemed to bomb our table in waves, like seagulls over a lobster boat. The best dishes tend to be the simplest, like pan-roasted chicken dusted in Moroccan spices, and a paella-inspired concoction of big whiskery prawns, Valencian rice pilaf dotted with savory bits of chorizo, and, on top of it all, a haunch of moist, crispy-skinned duck confit. Pastry chef Nicole Plue's desserts are nearly all exemplary, although if you have to choose just one, try the beignets, lightly rolled in sugar and filled with caramel.
Whenever my friend the food aristocrat doesn't feel like paying a small fortune for a single perfectly articulated, perfect-tasting scallop at Craft, she repairs next door to craftbar to feed gingerly on little boats of stuffed sage leaves ($7), bruschetta piled with whipped salt cod ($7), and those crackly hot panini sandwiches stuffed with hen-of-the-woods mushrooms, duck ham, and taleggio cheese ($11). For a truly high-minded meal, however, she pays a visit to Atelier, at the Ritz on Central Park South, the celebrated new home of chef Gabriel Kreuther. Even nonfoodies are partial to his version of chicken en cocotte (cooked to a kind of creamy tenderness in a little cast-iron pot); his nouveau version of boeuf Wellington, made not with beef but fat slabs of squab and foie gras; and the pan-roasted loup de mer (French for sea bass), served with lovage and a little platoon of Hon Shimeji mushrooms.
If you don't like the preening, jackets-required atmosphere of dinner at the Ritz, sprint west to Marseille, where chef Alex Urena, a recent graduate of the refined kitchen at Blue Hill, serves artful little tasting plates of meze—tangles of marinated squid, mashed short ribs wrapped in fried phyllo cigars—along with an elegant rendition of the croque monsieur constructed with buttery slices of sourdough bread, smoked ham, and a burnt topping of Gruyère.
Rate and Review
WD-50
50 Clinton St.
212-477-2900

Pazo
106 E. 57th St.
212-752-7470

AZ
21 W. 17th St.
212-691-8888

Craft
43 E. 19th St.
212-780-0880

Atelier
50 Central Park South
212-521-6125

Marseille
630 Ninth Ave.
212-333-3410

Blue Hill
75 Washington Pl.
212-539-1776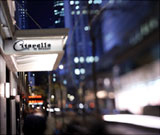 Flux is the normal state in the food world, as in the rest of the cosmos, although this year the usual game of musical chairs between chefs and restaurants has seemed downright chaotic. Since Wylie Dufresne pulled the rip cord at 71 Clinton Fresh Food, his old lieutenant, Matt Reguin, has infused the new menu with a strangely cloying brand of sweetness. The tiny space is mobbed as usual, but it was a little perplexing to find my too-rare Wagyu sirloin doused with strawberry relish, and my companion's perfectly acceptable piece of sea bream crusted in lavender and drowned in tepid broth made of honey and lime. Most of the restaurant's classic desserts are still intact, although I'm not sure a taste of melted-chocolate-and-peanut-butter tart is worth the arduous downtown trip.
David Bouley seems to have developed a similar sweet tooth since returning, with great fanfare, to the revamped and slightly renamed Bouley. Some of the kitchen's new fusion experiments seem to work better than others; I liked the lunchtime veal loin (with fresh Canadian chanterelles and Pinot Noir sauce). It's almost worth paying the outlandish $16 fee to sample the chef's operatic appetizer of orange-flavored Thai curries, lobster, artichokes, and Serrano ham named, with characteristic Bouley flourish, "Return From Chiang Mai."
Among seafood loons, the word is that Citarella's new chef, Brian Bistrong, has steadied that listing ship, adding semi-esoteric items like sand dabs (mini sardines from the Pacific) to the kitchen's repertoire, and a nice fillet of rouget in a slim, crispy envelope of potatoes, which I discovered one evening while rooting around in the tasting menu. Wunderkind Cornelius Gallagher is the second chef to occupy the kitchen at Oceana since Rick Moonen's abrupt departure, and if his fancy renditions of seared cod (presented, when I visited, on a bed of lentils infused with a sweet carrot emulsion) and striped bass (served with a thin, cigarillo-size tube of brique pastry filled with truffle-laced mousseline) are any indication, he'll be cooking at that stately establishment for years to come.
The same appears to be true at La Caravelle, where chef Troy Dupuy continues his decorous experiments in haute cuisine, and also at Olica, the newly remodeled and renamed home of the talented Alsatian chef Jean-Yves Schillinger. On the ever-expanding brasserie circuit, the formerly dreary midtown establishment Montparnasse has been transformed by chef Philippe Roussel into a kind of mecca for traditionalist Francophile devotees. Begin with the little crock filled with escargots, then dip into the old-fashioned coq au vin, poured over mashed potatoes and bacon, or a proper serving of onglet, covered in red-wine-and-shallot sauce and buried in a golden tangle of salt-speckled frites, naturally.
Rate and Review
71 Clinton
71 Clinton St.
212-614-6960

Bouley
120 West Broadway
212-964-2525

Citarella
1240 Sixth Ave.
212-332-1515

Oceana
55 E. 54th St.
212-759-5941

La Caravelle
33 W. 55th St.
212-586-4252

Olica
145 E. 50th St.
212-583-0001

Montparnasse
230 E. 51st St.
212-758-6633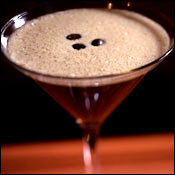 In trying times, restaurateurs and diners alike tend to turn to pasta (preferably accompanied by great vats of Bolognese sauce) for comfort, which may explain why people have been rushing at Stephen Hanson's swanky new Soho restaurant, Fiamma, ever since the doors opened nine months ago. I liked chef Michael White's little tubes of garganelli covered in prosciutto-and-truffle butter, and the flat leaves of spinach pasta smothered in a rich rabbit Bolognese sauce. If you're feeling nostalgic for the bygone bull-market days, you can get all these dishes covered with shavings of white truffle (when they're in season, and for a cool $65). Otherwise, it's always fun to ride the impressive glass elevator to the second floor and addle yourself at the elegant little bar with sip after sip of the restaurant's startling cappuccino martini.
The long oaken bar at Beppe is another prime watering hole for rustic diners of a certain stripe, and whenever I drop in, I like to enjoy a couple of chef Cesare Casella's split-grilled sausages, handmade from pigs raised on the chef's own farm upstate and served with white beans and a sprig of rosemary. Next stop on the Italian express is Via Emilia, where just a few bucks will buy you a plate of puffy gnocco fritters (to be stuffed with slices of fresh prosciutto), waffle-size squares of real Emilia-Romagnan lasagna oozing bits of beef and thickly creamy béchamel, platters of melty warm lamb cosciotto (covered with white beans and slices of fresh tomato), and the finest wedge of creamy tirami su for the money ($6; cash only, please) in town.
From there, it's on to Crispo, on a traffic-clogged stretch of 14th Street, for the myriad different cuts of prosciutto and soppressata, before staggering around the corner to the raucous room at Gonzo, where Vincent Scotto, the newest member of the portly-downtown-Italian-chefs club, has recently set up shop. Every one of the chef's signature grilled pizzas I sampled was superior—there are 50 of them, I dimly recall, of which 12 are on the menu at any one time—as was my salad constructed from neatly stacked half-charred Vidalia-onion rings leavened with croutons and shavings of Parmesan, a deliciously fat quail stuffed with ground chicken and apples and wrapped in smoked bacon, and, finally, the praline cookie sandwich, a spectacular confection of meringue, ice cream, and candied pecans that seemed to rise up over our table like some great caloric mushroom cloud.
If you're weary of all this rustic grub, then chef Scott Conant's gauzy new East Side restaurant, L'Impero, offers similarly satisfying treats on a slightly more elevated level. My four-course $48 feast included braised-duck agnolotti speckled with little lozenges of foie gras, creamy polenta covered with delicious mushroom fricassee served from a shining copper pot, and, for the main course, moist roast capretto (that's baby goat, in case you didn't know) cooked in the bowels of Tudor City, according to my chatty waiter, for an entire day.
Rate and Review
Fiamma
206 Spring St.
212-653-0100

Beppe
45 E. 22nd St.
212-982-8422

Via Emilia
240 Park Ave. South
212-505-3072

Crispo
240 W. 14th St.
212-229-1818

Gonzo
140 W. 13th St.
212-645-4606

L'Impero
45 Tudor City Place
212-599-5045


You only have to look at Mario Batali to know he's a pizza hound in his soul. But until Otto Enoteca Pizzeria, the newest spinoff of the Babbo empire, begins selling pies down on lower Fifth Avenue sometime this month, the newest hot spot for gourmet pizza is Ápizz, recently opened by the brick-oven maestros at Peasant in an elegantly styled redbrick bunker on the Lower East Side. The pizzas here are oblong, with chewy burnt crusts and generous toppings of earthy ingredients like artichokes and handfuls of sweet ground sausage. You can complement them with bubbling bricks of wild-boar lasagna or soft, grapefruit-size meatballs, and if you run out of money eating yourself silly in this cash-only establishment, an ATM has been installed in the basement lounge for your convenience.
You won't find a private ATM at Celeste, another cash-only spinoff, this time by the proprietors of the fine midtown restaurant Teodora. But in the warm weather, you can devour platters of fresh pasta or fried zucchini blossoms on a rustic wooden porch looking out over the great human pageant that is Amsterdam Avenue. The selection of brick-oven pizzas I sampled here were only okay, so for the real real thing, travel down to Lombardi's on Spring Street or, if you're feeling intrepid, to DiFara's Pizza in Brooklyn, amid the jumble of laundromats and kosher bakeries along Avenue J. That's where you'll find Dominic De Marco, dressed in comfortable shoes and his flour-dusted apron, making thin Neapolitan pies the same way he's been doing it for more than four decades. This means a wafer-crisp crust that's soft around the edges and not too wet in the middle, bits of fresh basil (grown in the window), and a lacing of extra-virgin olive oil through the sweet tomato sauce. After the pie comes out of the conspicuously non-wood-burning oven, it gets a ceremonial dusting of Parmesan, administered in slow, deliberate, old-world style by the master himself.






Rate and Review
Babbo
110 Waverly Pl.
212-777-0303

Apizz
217 Eldridge St.
212-253-9199

Peasant
194 Elizabeth St.
212-965-9511

Celeste
502 Amsterdam Ave.
212-874-4559

Teodora
141 East 57th St.
212-826-7101

Lombardi's
32 Spring St.
212-941-7994

Di Fara's Pizza
1424 Avenue J
Brooklyn
718-258-1367



To the ever-expanding roster of the city's mellifluous-sounding Indian establishments—Tabla, Tamarind, Vatan—my friend the Delhi connoisseur respectfully wishes to add Utsav Festive India, a place already famous among midtown corporate curry hounds for its copious and reasonably priced lunchtime buffet. The sparsely decorated dining room resembles an upscale cafeteria in some new, nameless suburb of Bombay, but the menu includes creations from all over the subcontinent, like tandoori filet mignon ("broiled to your liking," according to the menu), delicious Kashmiri lamb shanks, great curling hara masala shrimp flavored with coriander and fresh mint, and a fine rendition of the sweet-and-sour arsi specialty called zardaloo, made with braised lamb and tiny apricots with their pits still in.
Diwan (meaning "honor" in Hindi) is the new midtown home of the tandoori specialist Hemant Mathur, formerly of Tamarind, and if you order the tasteful though frighteningly bulky venison chops, he may even emerge from the kitchen to explain that the dish is not a normal Indian delicacy but flown in, mind you, all the way from the wilds of New Zealand. If you're lucky, you might also get a taste of tandoori wild boar, the lemony, charcoal-crisped squares of tandoori halibut, or a tiny, melting portion of quail, served on a banana leaf and smothered in a pale orange-colored sauce flavored with saffron and coriander. For a quick midday dosa infusion, I like the lunchtime potato and ground-lamb dosas at Tamarind and Café Spice, respectively, and if you can't make it out to the original Dosa Hutt in Queens, a reasonable facsimile of the crackly, whole-wheat rava masala dosa is available most days from the friendly gentleman manning the NY Dosas cart at the southern end of Washington Square Park.
If it's exotic curries you crave, the adventurous proprietors of the Brick Lane Curry House, on the old Indian row down on East 6th Street, will give you a free bottle of beer if you can finish a bowl of their famously punishing phaal curry, which has a foreboding, swampy color and the consistency of sand (I couldn't). The suitably peppery lamb vindaloo tasted almost soothing by comparison, as did the house salia rolls, filled with spiced ground lamb and egg. If you've ever dined at the curry houses along 6th Street, the thick, creamy, un-oily variety of chicken tikka masala served here has a disorienting, slightly jarring effect, like stumbling on fresh-baked cherry pie, say, at your local Burger King.
Rate and Review
Utsav
1185 Sixth Ave.
212-575-2525

Diwan
148 E. 48th St.
212-593-5425

Tamarind
41-43 E. 22nd St.
212-674-7400

Cafe Spice
72 University Pl.
212-253-6999

Dosa Hutt
45-63 Bowne St.
Flushing
718-961-6228

NY Dosas
West 4th St.
917-710-2092

Brick Lane Curry House
342 E. 6th St.
212-979-2900




Lots of the night-owl gastronomes I know—okay, just this night-owl gastronome—have been scurrying down to Suba ever since word leaked out that the great Luis Bollo, formerly the chef at the delicious but doomed Galician restaurant Meigas, has been hired on to this subterranean Lower East Side establishment as a consultant. There are several new varieties of tapas on the menu as a result, like warm chorizo tortillas, and silvery twirls of anchovy on oil-smeared toast, although if you want to enjoy a proper midnight meal, book a table over the moat in the soothing, weirdly effervescent "grotto" and order the mildly gamy, supremely tender duck, which is cooked with just a hint of citrus flavor then laid over a pile of onions, potatoes, and salty Serrano ham.
There's a new chef at Théo, too, where Cédric Tovar, lately the second-in-command at Town, has imbued the downstairs menu with all sorts of serious gourmet intentions. After hours, however, the real action in the old UPS building is still upstairs, where you can sink into deep cushions under luminous orange lampshades and swig an assortment of specialty drinks concocted by Aisha, the affable, spiky-haired bartender. I usually grease my palate with the sweetly lethal chartreuse martinis (made with vodka, chartreuse, lime, and honey) and the ginger capiroscas (made with Aisha's own ginger-infused vodka) before diving into Tovar's high-minded lounge food, which includes a respectable tart flambée made with bacon, onions, and fromage blanc and served on little silver stilts, and baby-back ribs flavored with harissa.
If you can't wedge yourself into one of the Lilliputian tables at Swifty's, Jimmy Rodriguez's newest establishment, Jimmy's Downtown, is far and away the best place for a gay old night out on the town in the vicinity of Sutton Place. If you're a fan of the currently fashionable treehouse design motif—lots of exposed beams and logs, etc.—Butter and Industry (food) are the places to be downtown. For a combination of many of these trendy attributes, however, I recommend Meet, in the meatpacking district, where the normally helter-skelter scene manages to feel almost cozy, thanks to the room's quirky, inventive, feng shui–inspired design.
Rate and Review
Suba
109 Ludlow St.
212-982-5714

Theo
325 Spring St.
212-414-1344

Town
15 W. 56th St.
212-582-4445

Swifty's
1007 Lexington Ave.
212-535-6000

Jimmy's Downtown
400 E. 57th St.
212-486-6400

Butter
415 Lafayette Street
212-253-2828

Industry(food)
509 E. 6th St.
212-777-5920

Meet
71-73 Gansevoort St.
212-242-0990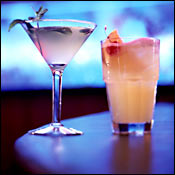 "This place is Ricky Ricardo on steroids," my arch fashionista friend declared after we'd made the twisting Sherpa's trek up through the many levels of thronged bar nooks and pulsating samba bands that is David Emil's kinetic new establishment Noche. Much of the food has that bulging steroid quality, too, particularly the terminally edible braised pork shank, a volcano of meat spewing lavalike streams of green mojo sauce made with garlic and oregano. Delicate eaters can take refuge in the multicultural blizzard of Peruvian seviches—we liked the salmon with passion fruit—and sweet corn tamales from Ecuador, although what I liked best was the simple chicken taco, stuffed with strips of charcoal-broiled chicken, deposits of fresh guacamole, and a tangy crumbling of manchego cheese.
Stephen Hanson follows a similarly glitzy formula at his newest party spot, Dos Caminos, where there are more than 150 varieties of tequila available at the bar, and the ceiling is hung with hollowed-out tree trunks, artfully carved to resemble the twinkling southwestern sky. If it's artful Mexican cooking you want, travel up Park Avenue and around the corner to Salon Mexico, where you'll find chef Alan Miguel Kaplan turning out strange fusion creations like baby quail covered in peanut-mole sauce, and plump empanadas stuffed with shredded shiitakes and Muscovy duck. If the dinginess of the small townhouse dining room gets you down, take comfort in the twelve varieties of margaritas on the menu, or the dizzying selection of fine sipping tequilas.
I don't think I spotted any bleary tequila freaks at Alma, although there were plenty of dreamy expressions among the mob of wholesome Brooklynites crammed like anchovies onto the restaurant's already famous roof deck. The chef, Gary Jacobson, labored at Zarela's for years, so he knows his way around down-home dishes like chicken mole (braised to a tender soupiness), seared duck (touched with cinnamon), and chicken flautas (crispy, hot, and rolled tight as cigars). Even the guacamole is more or less anthropologically correct—it's served in maza grinders made of volcano lava—so you can dream romantically of olden Mexico as you gaze out at the glittering cargo cranes of Red Hook.
Rate and Review
Dos Caminos
373 Park Avenue South
212-294-1000

Salon Mexico
134-136 East 26th St.
212-685-9400

Alma
187 Columbia St.
Brooklyn
718-643-5400




If you don't believe there's such a thing as pure, unfussy (or un-greasy) Chinese home cooking, pay a visit to the M Shanghai Bistro & Den, on a quiet, leafy street in Williamsburg, where traditional Shanghainese dishes like shizi tou (called "Freddy Mercury balls" on the menu) and green soy peas with tofu shoots are served to neighborhood hipsters sitting at communal tables made of lacquered pine. Shizi tou ("lions' heads" in Mandarin) are giant meatballs softened with water chestnuts, among other items, and if you find them a little too daunting, you can take refuge in healthful platters of sautéed morning glory in tea sauce, or six varieties of dumplings, including the finest example of the bedraggled, overexposed, overhyped Shanghai soup dumpling that I've tasted east of the mighty Yangtze.
Speaking of dumplings, Dim Sum Go Go is still the dorky white man's choice for an esoteric Sunday-morning dim sum wallow, although the rest of the menu seems to be going slowly to seed. For a quick dumpling fix at any time of day or night, however, I repair to Fried Dumpling on Allen Street, where it's always a pleasure to listen to the not-entirely-friendly ladies behind the counter speaking Mandarin in their sonorous Tianjin accents, and where not long ago I paid exactly $2 for five fried pork dumplings, two steamed vegetable buns, and a giant toasted slice of scallion-and-sesame pie, all festively packaged, with plastic knives and forks, in a small flotilla of Styrofoam containers.
Jean-Georges's facsimile of fine Chinese dining, 66, is scheduled to open in Tribeca this month, but until it does, the place to prepare your palate is Yeah Shanghai Deluxe, in the heart of old Chinatown. The chefs there have perfected most styles of dumpling, plus adventurous platters of warm smoked fish, piles of sticky braised pork shoulder glazed in honey, and the best wontons in Manhattan, with long, swaying tails like goldfish. If you're feeling really adventurous, the newest outpost of the fractious, constantly mutating Grand Sichuan International empire is on Second Avenue and 55th Street, where, among the usual array of overlubed, Americanized Chinese glop, you'll find little wonders like candied strips of sweet duck skin, a dish called Chongquing spicy rabbit (rolled in sesame seeds and hot chili oil), and the formidable Chongquing spicy chicken, buried in a great crown of shiny red chili peppers.
Rate and Review
M Shanghai Bistro & Den
129 Havenmeyer St.
Brooklyn
718-384-9300

Dim Sum Go Go
5 E. Broadway
212-732-0797

Fried Dumpling
99 Allen St.
212-941-9975

66
241 Church St.

Yeah Shanghai Deluxe
65 Bayard Street
212-566-4884

Grand Sichuan International
1049 Second Ave.
212-355-5855



Ever since Tom Valenti hit the mother lode on upper Broadway, parties of intrepid chef pioneers have been flooding into the vast, uncharted Upper West Side, seeking to remake their careers. So while Scott Q. Campbell's restaurant @SQC lacks the neighborly charms of Barney Greengrass (or even a local branch of Hunan Balcony), it has brought spiked hot cider to the drab confines of lower Columbus Avenue, along with a fine example of finnan haddie, and even a mess of scrambled eggs laced with Montrachet cheese, available on any morning of the week. Chef Neil Annis has worked similar magic at Compass, in the troubled restaurant space on 70th Street once called Marika. Although the odd battleship-colored cushions make the bar area look like it's been heisted off a high-class Croatian cruise liner circa 1978, the restaurant is a fine place for an evening martini, a late-night snack (the grilled lamb burger), or even dinner, when $30 buys a perfectly acceptable prix fixe portion of saffron-spiked risotto fritters, a slice of organic calf's liver, and apple strudel for dessert.
If you really want to splurge in the great non-foodie tundra above West 60th Street, fork over $118 for a taste of lemon-poached lobster, vegetable tapioca, and fragrant Gewürztraminer froth as part of the autumn tasting menu at Jean Georges (I didn't), or spend roughly a quarter of the money on the surprisingly tasty cut of sirloin grilled right next to the organic-foods section at the new Upstairs Café; at the Fairway Market on Broadway. Much farther uptown, exactly $82 will buy you the entire menu at the diminutive A Café;, where the other evening I had to elbow aside platoons of jolly locals to get a taste of exotic house specialties like juicy rabbit sausage and pheasant pâté flavored with truffle rum in a brie crust. Similar mobs are gathering at Aix, where Didier Virot has salvaged several dishes from the wreckage of his doomed downtown restaurant and is serving them up in a lower-key neighborly setting. His truffle-juicedrenched gnocchi remain as melting as ever, and so does the very un-Provençal version of foie gras, which is crusted in a delicious sleeve of crunchy pistachios. For marooned uptown gourmets, though, the restaurant's real strong point is its intelligent, accessible wine list, which is the best one you'll find north of Picholine.





Rate and Review
@SQC
270 Columbus Ave.
212-579-0100

Barney Greengrass
541 Amsterdam Ave.
212-724-4707

Compass
208 W. 70th St.
212-875-8600

Jean Georges
1 Central Park West
212-299-3900

Upstairs Cafe
Fairway Market
2127 Broadway
212-595-1888 (ext. 145)

A Cafe
947 Columbus Ave.
212-531-1643

Aix
2398 Broadway
212-874-7400




Among seafood connoisseurs, the divisions between high and low culture—fried clams vs. clams Cassino, lobster rolls vs. lobster Thermidor—are fairly well defined. Once in a while, though, a restaurant comes along that straddles the blurry middle ground. Fresh, in Tribeca, is where I go whenever I have a hankering for codfish tongues or fried halibut cheeks, or hunks of "prime rib" swordfish, presented on platters as big as hub caps. The restaurant's owner also runs an upmarket fish purveyor, which means the kitchen gets shipments of clams beamed in daily from Ipswich, and fresh haddock, which is fried in a beer-laced batter that evaporates on the tongue in a pleasing way, like spun sugar.
By a slim margin, I still prefer the $18 lobster roll at Mary's Fish Camp to the $17 lobster roll at Pearl Oyster Bar, and the best high-end gourmet rendition of this classic dish is still the one at Aquavit, concocted by the great Marcus Samuelsson with slivers of pear, Sevruga caviar, and a shot of sinus-clearing ginger-ale granita. Nothing on the menu at Rick Moonen's new midtown establishment, RM, is quite so bizarre, although plenty of it is quite delicious. In particular, I recommend the chef's garlic velouté, which has the color of custard and the consistency of light cream; the wild striped bass, bundled in pancetta; and the skate, crusted in pistachios.
The multitiered blue-and-gold-hued dining room at Blue Fin is the place to go near Times Square if you wish to impress your out-of-town relatives, although for pure fishy satisfaction, nothing in the neighborhood beats the portion of charred octopus tentacles served atop a mass of fat white beans at Esca. For the ultimate in lavish seafood dining, of course, there's Le Bernardin, where it was a pleasure, on my annual visit, to observe Fergie hunkered down in Mme. Le Coze's discreet fat-cat-and-moguls section amid a forest of empty champagne flutes. Possibly, she had splurged on chef Eric Ripert's newest lobster creation, which is dipped in brandy-butter sauce, or the small thatch of linguini bombed with lobes of uni and ghostly gray caviar from Iran. Or perhaps the calorie-conscious ex-princess did what I did and focused all her attentions on a single fabulous portion of the semi-dietetic "barely cooked" salmon, which was dripped chastely with truffle butter and had the warm, soft consistency of baked ice cream.








Rate and Review
Fresh
105 Reade St.
212-406-1900

Mary's Fish Camp
246 W. 4th St.
646-486-2185

Pearl Oyster
18 Cornelia St.
212-691-8211

Aquavit
13 W. 54th St.
212-307-7311

RM
33 E. 60th St.
212-319-3800

Blue Fin
1567 Broadway
212-918-1400

Esca
402 W. 43rd St.
212-564-7272

Le Bernardin
155 W. 51st St.
212-489-1515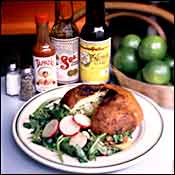 This year, we'd like to begin our brunch explorations at Bonita, a new Williamsburg Mexican spot opened by the owners of the neighborhood's favorite diner, Diner. Almost everything cooked up behind the counter by the friendly gentlemen dressed in their chili-pepper-embossed do-rags is superior, although if we had to choose just one dish, we'd take the noble "pambazo," a towering composition from the kitchens of Mexico City, composed of crumbled handmade chorizo, fresh sliced avocado, and crème fraîche, served between two pieces of toasted brioche soaked in chocolate-mole sauce. After that, it's on to aKa cafe, on Clinton Street, for omelettes made with egg whites only (stuffed, if you wish, with roast pulled chicken or molasses-baked ham); thick wedges of French toast buried in fruit; and exotically coddled eggs poured into hollowed-out slices of Pullman bread, then sealed with a melted slice of Fontina cheese.
Sunday is also the favorite feast day of my 3-year-old daughter, who would like me to mention, in no particular order, the quality of the Belgian waffles at our original Joe Jr.'s diner on Sixth Avenue, the fresh-baked strawberry muffins at Le Zinc, and the friendly waiters who bring her bowls of rigatoni covered in cauliflower ragù at Lupa, and to mourn the loss of the weekly Sunday-morning ritual at City Bakery, where once upon a time, unruly hordes of children were allowed to frost their own doughnuts. For a more sedate family meal, we visit Inside, to sample the fluffy house ricotta pancakes, doused with roasted pears and maple syrup, and the finest grits (laced with sharp white Cheddar) in the West Village. For the grandest Sunday occasions, though, the choice is Town, at the Chambers Hotel in midtown, where chef Geoffrey Zakarian puts on a lavish brunch that includes pedestals of lobster hash streaked with hollandaise, coddled eggs heaped onto mashed potatoes and crispy short ribs, and a savory mash of duck served sloppy-joe-style over crispy Parmesan toast.












Rate and Review
Bonita
338 Bedford Ave.
Brooklyn
718-384-9500

Home
20 Cornelia St.
212-243-9579

aKa Cafe
49 Clinton St.
212-979-6096

Joe Jr.Â's
482 Sixth Ave.
212-924-5220

Le Zinc
139 Duane St.
212-513-0001

Lupa
170 Thompson St.
212-982-5089

City Bakery
3 W. 18th St.
212-366-1414

Inside
9 Jones St.
212-229-9999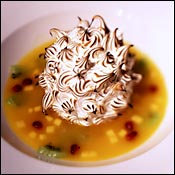 Increasingly in this utilitarian day and age, beefsteaks are becoming fodder for gourmet chefs. If you don't believe me, pay a visit to Terrance Brennan's Seafood & Chop House, at the bottom of the Benjamin Hotel. After perfecting haute French Mediterranean cuisine, followed by every possible aspect of cheese, the eponymous proprietor has begun dabbling in porterhouse steaks, rib chops, and generous portions of chateaubriand. It's too early to pass judgment on the establishment—it's barely been open a month—but I liked the filet portion of my porterhouse better than the fatty sirloin part. All the designer sauces I sampled were fine (ketchup chutney, bordelaise, and horseradish, to name a few), and the most arresting side dish, by far, is the giant, puppy-size Idaho potato, which is unearthed from a hot fleur de sel crust, cleaned by the waiter with a little brush, and served (for the whopping price of $12) with scallions, shavings of Cheddar, sour cream, and, if you wish, real bacon bits.
For a time-tested piece of gourmet beef, however, I prefer the balsamic-basted, charcoal-grilled prime rib ($78 for two) whenever it's on the menu at Etats-Unis, the tangy, slightly crunchy miso-marinated hanger steak at Union Pacific, or the lunchtime sirloin at Tocqueville, which is sliced into two dainty triangles, charred on one side and rare on the other, and garnished with a hollowed bit of brioche containing a raw araucana egg. Among Manhattan steakhouses, the Boom Era gold standard remains the broiled rib chop at The Strip House, and for a taste of old New York, I always guide my carnivore friends to the hallowed New York cut at Sparks. If you want to spend roughly three times the money, for sheer grandeur, nothing quite tops the grilled Black Angus rib eye, served, according to the menu, "for two or three persons," at Alain Ducasse. The thrombotic potato gratin is thick as wet cement, the meat is dutifully drowned in a pungent truffle sauce, poured from a silver pot, and the whole mass is served Rossini-style, under a pale, predictably gargantuan flap of seared foie gras.








Terrance Brennan's Seafood & Chop House
Benjamin Hotel
565 Lexington Ave.
212-715-2400

Etats-Unis
242 E. 81st St.
212-517-8826

Union Pacific
111 E. 22nd St.
212-995-8500

Tocqueville
15 E. 15th St.
212-647-1515

The Strip House
13 E. 12th St.
212-328-0000

Sparks
210 E. 46th St.
212-687-4855

Alain Ducasse
Essex House
155 West 58th St.
212-265-7300




After another twelve months dining out in the company of her unkempt, ox-size, omnivorous husband, my tidy, well-mannered, exceptionally discriminating wife wishes to commend the kitchen at Prune for its new desserts—in particular, the cardamom panna cotta with rum raisins—and to compliment chef Kurt Gutenbrunner of Wallsé for the fine zitronentorte (lemon tart) she enjoyed, along with legions of similar dainty souls, at his homage to fin de siècle Vienna, Café Sabarsky. The fusion cooking at Annisa is her choice for celebratory occasions. Prêt À Manger is where she rushes for a quick gourmet snack (the curried-coronation-chicken sandwich, usually, followed by a single regally wrapped corn-berry muffin), and Kai, in the Itoen tea boutique on Madison Avenue, is her favorite new place for a cup of decadent afternoon tea.
Despite the departure of Überchef Kazuo Yoshida, Jewel Bako is still where she goes for a precious downtown fix of tuna belly, although for cutting-edge sophistication, nothing—not even the aged, time-worn tricks at Nobu—beats the parade of omakase delicacies (tempura-fried ice cream, red snapper touched with vinegar jelly, bits of sesame-specked unagi set atop little surfboards of avocado) at Sushi of Gari on the Upper East Side. For an equally inspired and more economical fusion feast on the Lower East Side, she visits United Noodles and nibbles chastely on crackly little napoleons made of deep-fried wonton skins layered with slivers of shrimp and orange, and the many varieties of mushroom rolls (oyster, shiitake, portobello), set in pools of frothy peanut sauce.
For Italian food in a similarly tiny saltbox setting, there's Patio Dining, where chef Sara Jenkins turns out meaty Tuscan haunches of pork, bombed with sage and an ever changing signature crostini, topped on our last visit with eggs, cheese, and shavings of the freshest white truffle. With its whitewashed communal tables and petite flower arrangements, Salt, in Soho, exudes a tidy, feminine charm. If you want to order just one dish, my wife recommends the spinach salad, which contains a generous portion of sautéed portobello mushrooms and chunks of chèvre, all tossed in a warm pancetta dressing, accompanied by a platter of fat California dates dipped in balsamic vinegar and honey and bundled in strips of sweetly smoked bacon.
Prune
54 E. 1st St.
212-677-6221

Wallse
344 W. 11th St.
212-352-2300

Cafe Sabarsky
1048 Fifth Ave.
212-288-0665

Annisa
13 Barrow St.
212-741-6699

Pret a Manger
13 Manhattan locations.
pret.com

Kai
822 Madison Ave.
212-988-7277

Jewel Bako
239 E. 5th St.
212-979-1012

Nobu
105 Hudson St.
212-219-0500

Sushi of Gari
402 E. 78th St.
212-517-5340

United Noodle
349 E. 12th St.
212-614-0155

Patio Dining
31 Second Ave.
212-460-9171

Salt
58 Macdougal St.
212-674-4968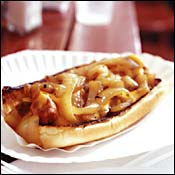 As far as I know, dates aren't on the menu yet at Beyoglu, which is where I sneak off to dine on forbidden Turkish delicacies like sucuk (cured strips of beef rubbed in cumin and garlic), a strangely tangy garnish called esme (pomegranate syrup, minced tomatoes, peppers), and dissolving slices of halvah, flown in fresh from Istanbul. The pickings at Alias, down on Clinton Street, aren't quite so extreme, although the menu includes bits of skate molded into fish cakes, and delicious lamb ribs, which taste like charred little lamb chops flavored with apple cider. After consuming several platters of these, I like to conclude the evening at Punch & Judy, up the street, with a bite of the formidable PLT (pancetta, lettuce, avocado, and tomato), which is constructed from hot, salty slices of the Italian ham and served between two great fluffy pieces of toasted brioche.
BB Sandwich Bar, on MacDougal Street, is another trendy choice among members of the chowhound cognoscenti, although the much-vaunted Philly-cheese-steak hybrid (for $4, the only item on the menu) tasted stale and oddly treacly when I sampled it, like something that had been whipped together several days before on a kitchen assembly line in Omaha, Nebraska. For quick infusions of caloric pleasure, I prefer Crif Dogs, on St. Marks Place, where the proprietors insist on deep-frying their wieners in great bubbling vats of oil. The result is a shiny, nearly glowing hot dog that bursts with rich flavor, which you can purchase for a few dollars in satisfying Philly-cheese-steak form (smothered in melted cheese and onions) or topped with slices of fresh avocado and bacon, like a BLT.
Speaking of pork products, the braised pork belly at Daniel (which you can order à la carte amid all the Hooray Harrys swilling their champagne in the bar area) remains the pinnacle of sinful gourmet dining, in this fat man's view. The fine kitchen at Pico continues to produce the best rendition of traditional suckling pig in town, although when I don't have time to sit through a lavish pork dinner, I purchase the portable sandwich version (with sautéed spinach, on a Portuguese roll) in the restaurant's new front-room brasserie. Lunch is also prime grazing time at Lespinasse, when chef Christian Delouvrier rolls out his barbecued pork ribs, served with sweet cab-bage, applesauce, and a nodule of foie gras.
As for burgers, I like the bison burger served to all the fat cats at The Four Seasons when I have the urge for something sartorial, and, most recently, the trimmed-down retro model ($4.50 including an Arnold roll and butcher-paper wrapping) at the Burger Joint, in the Parker Meridian Hotel, when I don't. For friendly compromise between these two extremes, it's always a pleasure to plunk down $14.95 for David Ruggerio's reasonable facsimile of the vaunted (and $29) DB Burger at Rouge. This decorous whopper is filled with sautéed portobello mushrooms instead of foie gras and comes with pommes frites instead of pommes soufflé. It requires two hands to grapple (Boulud's takes only one), however, and when you take a bite, it deconstructs in a satisfyingly messy way, as all good burgers do.
Rate and Review
Beyoglu
1431 Third Avenue
212-570-5666

Alias
76 Clinton St.
212-505-5011

Punch and Judy
26 Clinton St.
212-982-1116

BB
120 W. 3rd St.
212-473-7500

Crif Dogs
113 St. Mark's Place
212-614-2728

Daniel
60 E. 65th St.
212-288-0033

Pico
349 Greenwich St.
212-343-0700

Lespinasse
2 E. 55th St.
212-339-6719

The Four Seasons
99 E. 52nd St.
212-754-9494

Burger Joint
118 W. 57th St.
212-245-5000

Rouge
135 E. 62nd St.
212-207-4601




In the table-hopping, helter-skelter world of the professional eater, consistency is a rare virtue. So sometimes, when I lie in bed late at night, burping dyspeptically, I like to dream about that perfect week when all the gastronomic stars align. I'd spend this perfect week dining each day on blue-plate specials offered at restaurants around town, and I'd begin, as most weeks do, on Monday, when The Union Square Café; rolls out its masterly lobster shepherd's pie, a layered disk of vegetables and nuggets of lobster topped with a cheesy mashed-potato crust. This grand confection sits in a pool of lobster sauce and is so astonishing to look at that, like when I ordered it recently, it causes gasps of wonder among all the friendly, blue-haired Martha Stewart de-votees at the bar. Tuesday would mean a visit to Le Cirque 2000, when the "weekly classic" is a sweet, vaguely citrus-tasting osso buco, replete (for the robust price tag of $37) with a little pot of smooth, cheesy polenta. Wednesday, I'd dine on mustard-scented braised duck and duck sausage at the cozy Cornelia Street establishment Home. The following day, I'd waddle up Park Avenue to Artisanal, where the Thursday-evening special is a daintily sized, exceptionally nourishing "cassoulet Toulouse." Like the classic example of this dish at La Côte Basque, Terrance Brennan's cassoulet achieves that elusive balance between moisture (veal stock, tomatoes) and bulk (garlic sausage, tarbia beans, duck confit, etc.) and is presented, for the benefit of his persnickety, cheese-fiend clientele, with a topping of chewy Parissiad cheese, in a bouquet of white napkins.
Friday is sacred bouillabaisse night for many of the more observant chefs around the city, and my favorite is the rust-colored, aromatic version served by chef Boulud at DB Bistro Moderne. On Saturday, I'd line up with the rest of the breathless revelers at Balthazar, where the kitchen serves its majestic short ribs, braised to extreme softness in port wine and presented with fresh steamed vegetables and a pile of whipped potatoes.
After that, it's on to Babbo for Mr. Batali's weekly Sunday-evening serving of Bollito misto (a sturdy Italian pot-au-feu of calves' tongues, beef bris-ket, capon, and assorted sausages, among other fatso items), before ending my binge, at long last, with a second stop, at Ouest. There I'd squat at the bar, with a football game on, pop my little green tablets of extra-strength Mylanta, and feed peacefully on a slab of Tom Valenti's signature meat loaf, which, as every trencherman knows, is caked in bacon, smothered in mushroom sauce, and leavened with just a dash of crushed saltines.
Rate and Review
Union Square Cafe
21 E. 16th St.
212-243-4020

Le Cirque 2000
New York Palace Hotel
455 Madison Ave.
212-303-7788

Home
20 Cornelia St.
212-243-9579

Artisanal
2 Park Ave.
212-725-8585

DB Bistro Moderne
55 W. 44th St.
212-391-2400

Balthazar
80 Spring St.
212-965-1414

Babbo
110 Waverly Place
212-777-0303

Ouest
2315 Broadway
212-580-8700