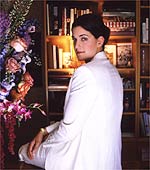 Warner LeRoy, the outrageous showman behind such memorable New York dining scenes as Tavern on the Green and Maxwell's Plum, didn't expect to die. After beating cancer five times, he had convinced himself, and everyone around him, that he was invincible. But in his final days at New York Presbyterian Hospital last February, when he realized the end was near, LeRoy began manically dictating memos ("He was really on fire," says his youngest daughter, Jennifer. "I got fifteen notes") and leaving urgent e-mail messages ("I got ten in one day," says Tavern managing director Allan Kurtz), desperate to pass on final words of advice.
If he was frantic, it was perhaps because LeRoy knew he was bequeathing his four children a troubled legacy: prodigious debts, a money-losing Russian Tea Room that had never lived up to his extravagant vision, and the lingering scars left by his lurid divorce from his second wife, Kay.
Warner LeRoy died, at age 65, on the night of February 22 from an infection that hastened his worsening lymphoma. On the day after the funeral, his children and his sister, Linda LeRoy Janklow, gathered at 4 p.m. in the office of his opulent West Side apartment to learn the contents of his will, updated last November. Bridget, the wisecracking daughter from Warner's first, short-lived marriage to playwright Gen LeRoy, is a writer and mother of three who lives in Amagansett. "I was the one with the completely blank look on my face," says Bridget, 37, who was unfamiliar with her father's finances. Awaiting the news, she held hands with her half-sister Carolyn LeRoy, 29, who had quit as Tavern general manager in 1998 to attend grad school and then care for her ailing father full-time. "I told him I'd rather be his daughter than his vice-president," Carolyn says. She, too, wasn't sure what to expect: "We didn't know anything."
Max LeRoy, 25, had flown in from Los Angeles for the funeral; a former bar manager at the Russian Tea Room, he had moved to California in November to raise money for a music documentary. As for Jenny LeRoy, 22, she had dropped out of Fordham to work for her father, most recently as the Russian Tea Room's director of operations. She was miserable that she hadn't visited him during his last month, and she was still upset over their final conversation. "The last time I talked to him, we had a fight," she says, remembering Warner's infuriated call to the restaurant. "Michael Jackson had come in, and my father was upset that we hadn't pulled out all the stops."
Nevertheless, the eighteen-page will named Jenny, the baby of the family, CEO of his $54 million company, LeRoy Adventures. He set her salary at $250,000. "None of this should be construed as any preference for Jennifer over my other children, all of whom I love equally," he wrote, "but rather a practical solution which I believe will benefit the family. Unfortunately, there can only be one boss."
Although Warner had whispered to Jenny, while in the intensive-care unit last year, "If I don't make it, it'll be yours," she didn't think he'd actually hand her the pots and pans and balance sheets. The words startled her: "It was right there," she says. " 'You will have control.' "
But the real shocker in LeRoy's will is still sinking in to his previously well-subsidized heirs: There isn't much money left. During the LeRoys'$2 1998 divorce trial, Warner's reputation as the last of the big-time spenders was cemented by such details as the $75,000 Parisian couture dress he bought for Kay, the $2 million the couple went through in personal expenses each year, the home he bought for former assistant and mistress Cherian Koumbe, and the BMW, the $20,000 diamond ring, and the $11,000 Valentino pant suit he gave "good friend" Allison McNay (to whom he bequeathed $200,000 in his will). For LeRoy, who grew up in the extravagant world of Hollywood, the son of producer-director Mervyn LeRoy and Doris Warner, such grand gestures were the done thing.
The estate was valued at $48 million, but much of that is an estimate of the value of the restaurants; unless they are sold, they don't translate into cash. LeRoy's liabilities topped out at a whopping $31 million (including $9 million still owed from the more than $22 million divorce settlement won by Kay, the mother of Carolyn, Max, and Jenny). Add to that an estate tax that could top $11 million and it's not a pretty picture. In fact, the pretty pictures – Warner's famed modern-art collection, including a Picasso and a Louise Nevelson – are being auctioned off to pay his debt.
"Everyone thinks we inherited a big bucket of money," says Bridget LeRoy. "None of us did." LeRoy had established trust funds in the $1 million range for each of his children, a nice chunk of change but not all that much for a family used to living large. LeRoy's 8,200-square-foot apartment, complete with a plush screening room that seats 25, is on the market for $24 million, an optimistic price given its less-than-glamorous location in a high-rise at 66th and Amsterdam. Carolyn LeRoy, who is handling the estate, says the family's best-case scenario, assuming the apartment sells at the listing price, is "we'll be solvent. The estate will break even."
All this arithmetic puts Jennifer Oz LeRoy – her grandfather Mervyn produced The Wizard of Oz – on the spot. Her inheritance, and that of her siblings, rests on the profitability of the restaurants. LeRoy indicated in his will that he hoped they would generate at least $100,000 yearly per child.
"You couldn't imagine this happening to a girl of 22, but it's happened," says Kay. "I think Jenny is a perfect mixture of daunted and determined." The other adult closely watching this emotionally fraught family predicament is Linda LeRoy Janklow, wife of Über-agent Mort Janklow. "Clearly, Warner didn't think he was going to die and leave a 22-year-old with this much responsibility," Janklow says. "Carolyn, who he wished very much would stay in the restaurant business and who was excellent, did it for several years and wanted to do other things. He would have been thrilled if all of them were in it." Janklow, who talked to her brother daily, adds, "I know Jenny must be frightened, although she never says that. She's lost her father, who was her mainstay. Her siblings aren't jealous, but they're concerned because there's so much pressure on her."
At Warner LeRoy's office, seventeen floors above Broadway with a view of Central Park, very little has changed since his death. The ornately carved wooden desk that belonged to his grandfather, movie mogul Harry Warner, still faces Central Park, and a glass bear, a miniature of the enormous bear aquarium at the Russian Tea Room, sits on a coffee table.
But sitting now in his large leather chair is Jenny, a tall, ebullient woman inblack casual slacks and T-shirt, who cuddles her Maltese, Chloë, in her lap during meetings. She's girlish, a bit naïve, still feeling her way in a job where she is suddenly responsible for more than 700 employees and learning to assert herself with staffers twice her age. "I am not afraid of these things," she politely but firmly chastises Allan Kurtz over the phone, discussing Tavern's malfunctioning air conditioning. "I'm not afraid to spend $100,000 on a new unit." When she interviews a former Moomba staffer for a job at the Russian Tea Room, they swap ideas about wooing younger customers."People have the impression it's a stuffy place for older people," Jenny says, "I need some way to blow the image out." The downtown denizen ruefully replies, "It's hard to get people to go above 14th Street."
Jenny's waist-length brown hair is always pulled sedately back, but when she leans forward to grab her squirming dog, her ponytail flies around, revealing a fuchsia-dyed streak at the nape of her neck. "I can hide it," she says, laughing. "But I decided I have to act my age sometimes."
The legendary dangers of Oz – "lions and tigers and bears, oh, my" – seem tame compared with the vicissitudes of operating a high-end food empire in a depressed economy, not to mention coping with New Yorkers' fickle attitudes toward restaurants viewed as passé tourist attractions. With its gorgeous Central Park setting, Tavern on the Green, which turns 25 in August, is a cash cow where weddings, graduations, and corporate getaways bring in as much as $37 million in sales, the record set last year. (It is the second-highest-grossing restaurant in the country, after Windows on the World.)
But the revamped Russian Tea Room, co-owned by Steve Roth, head of the giant real-estate developer Vornado, is a ghost of its once-glorious past, overburdened with debt and typically half-empty at night. Last year, the restaurant grossed $17 million, below LeRoy's break-even estimate. "Steve has been very nice and supportive of Jenny, but he's a tough businessman," says Janklow, who helped put her brother and Roth together.
"Clearly, Warner didn't think he was going to die and leave a 22-year-old with this much responsibility," says Linda LeRoy Janklow. "I know Jenny must be frightened."
Rumors abound that Roth, who failed this spring in his bid to take over the World Trade Center, is edgy about relying on a novice to turn around this lackluster investment and is pursuing a management change for the struggling restaurant. Through a spokeswoman, Steve Roth says, "Vornado has no current intention to make any changes." The word "current" speaks for itself.
To help reverse the Tea Room's fortunes, Jenny has turned to the people she trusts most: her family – specifically, her brother and her mother. Max LeRoy, a handsome guy with mussed hair and a sleepy grin, moved back to New York from Los Angeles this spring at his sister's request, camping for a few weeks in the Village apartment she shares with her boyfriend, a former Russian Tea Room chef, before finding his own place. "He's crawled back into the business," Jenny jokes. Max responds with a jab at his sister's penchant for chefs. "I used to think that all you needed to get my sister was apair of checked pants and a knife set."
Max has always been the family rebel, the prodigal son who walks away from expensive possessions but occasionally shows up in the tabloids. (The Post recently retailed his too-close encounter with a nightclub bouncer; Max is pressing assault charges.)
"Jenny called and said she needed me," says Max, who always seems to wear the same uniform of worn jeans, T-shirt, and his father's enormous gold Cartier watch. "I thought I'd give it a year and see what happens." His role, which is not a nine-to-five desk job, seems to be morale-booster, idea guy, and general kibitzer. Rather than hype the family restaurants, he's candid about the problems of reviving these not-exactly-hot spots, saying with disgust, "Tavern needs an exorcism."
Meanwhile, Kay LeRoy, who enrolled last year at NYU to fulfill a long-held dream of earning a college degree, is back in the family business after years of being persona non grata. A fragile yet steely beauty at 58, she and Warner separated and reconciled repeatedly for nearly a decade, even after their 1999 divorce, virtually up until his death. "In the hospital, we joked about who'd play us in the movie of our lives," says Kay, who still has the lilting British accent of her youth. "He wanted Danny DeVito, I wanted Michelle Pfeiffer." Now on summer break from classes, Kay has taken over the two stores at the restaurants, supervising renovations, ordering new merchandise.
"My father was a perfectionist; he could be impossible," Jenny says, describing his fury with her after Kathleen Turner stormed out of the Russian Tea Room when Jenny failed to unseat a foursome at the actress's desired banquette. "Now I understand it – now I'm the one saying 'Just get it done, don't tell me it can't bedone.' " (She's unlikely to match her father's turn-back-the-tides zeal: He once famously called a Tavern staffer to complain that leaves were falling from the trees in the garden; "Can't you do something?" he demanded.)
Yet even as Jenny throws herself into the daily marathon of problem solving, she's still mourning her father. She found it unbearable to watch him in agony going through chemotherapy. "I couldn't do it and work,"she says. "I'd see him and break down for days." Then, in early February, she contracted walking pneumonia and wasn't permitted to visit. "The day he died was really weird for me," she recalls. "My aunt Linda and uncle Mort and my mom all told me to see him that day. Carolyn called." Torn between visiting her father and proving to him how conscientious she was after the Michael Jackson screw-up, she decided to work late at the Russian Tea Room. The choice still haunts her.
Several months later, out one evening in June at nightclub Suite 16 with friends, with loud music pounding and a raucous knock-back-the drinks crowd, Jenny, in a pink lace camisole, low-cut blue jeans, and her sparkly Oz belt, soberly confided that it can be excruciating carrying on without Dad. "There are days when I'll cancel all my meetings," she says, "and drive out to the Hamptons and sit at my father's grave and talk to him."
Carolyn LeRoy, opening the door to her father's enormous apartment, is wearing jeans, a T-shirt, and brilliant red suede clogs. Jenny may have Oz for a middle name, but that doesn't mean Carolyn can't do the Dorothy routine, and today she has offered to show me that there is no place like home.
Oh, my God, the excess. There's the mauve screening room, the custom-made oversize furniture, the antique silver and pricey china that could feed 75 for dinner. Even the bathrooms are outrageous, with a throne like toilet and a bathtub with lavish fixtures and views of the World Trade Center. Warner's closets are mind-boggling: There are three of them, nearly the size of bedrooms, with row after row of jackets organized by style and color; custom-made costume jackets of gold sequins or blue velvet or a red Sgt. Pepper look. There are walls of shoes, of shirts, of ties and belts, a lifetime of conspicuous consumption in many sizes, reflecting the ups and downs of the renowned LeRoy waistline.
Two museum-quality Tiffany lamps stand on living-room side tables; Saul Steinberg drawings hang in the screening room; two enormous antique Chinese dogs guard the entryway. A wall-size Jim Dine painting that seems to symbolize the tortured LeRoy marriage (a real ax, a sharp-toothed saw, and tree branches frame six colorful hearts) is going to Kay as part of the divorce settlement. "We're hoping to keep some of the art, but it depends on the sale of the apartment," Carolyn says.
Warner moved to this new building from the Dakota in 1995, after one of many reconciliations with Kay had failed. As a teenager, Jenny split her weeks between her parents, but after high school she moved in with her father, living in an upstairs suite until she found her own place two years ago. Newlywed Carolyn and husband Stephen Moise, a former Tavern chef now cooking for Tommy Hilfiger, still have a separate living area, although once the apartment is sold, they'll be moving.
Despite the lurid stories during the divorce trial about LeRoy's three alleged mistresses, his daughters are very protective of his memory, insisting their father was not the wild man-about-town of his public image. "None of those women ever slept over," insists Carolyn. "He was afraid to be alone. That's all these women were. They'd watch TV and go out to dinner. My dad loved my mother until the end of the earth."
Kay, who has a longtime companion, lawyer Ken Newman, nonetheless insists that "Warner was the great love of my life." Warner's intimates say he was still desperate to reconcile but feared his future with Kay wasn't promising. Jenny needs to believe everything was okay. "My parents couldn't live together, but they loved each other," she says. "All that matters is that the family was together at the end."
Jenny is sitting ather desk one afternoon, going over a pile of paperwork and letters with her assistant (rolling her eyes over a complaint from a customer that the Russian Tea Room doesn't play Russian music), when Kay bursts in. "I have to show you what I found in the warehouse,"says Kay, wearing dust-covered jeans and a striped boat shirt. Back in a corner office, Kay shows off a glass Baccarat wall sculpture of a woman, now lying in pieces on the floor, that used to hang at Maxwell's Plum, the wildly extravagant swinging-singles barand luxe restaurant that Warner opened in 1966. She also shows us posters featuring photos of the restaurant. "That's a historical table," Kay says, pointing to a seat by the window. "That's where I was sitting the night your father came over and introduced himself, saying, 'Hi, I'm Warner LeRoy, and I'm going to marry you.' " As Jenny smiles, Kay delivers the punch line: "Now it's a Duane Reade."
In stark contrast to Warner, Kay grew up in a small British village, scarcely knew her father (who was imprisoned for embezzlement), and was 16 when her mother committed suicide. To escape, she became a TWA stewardess. Over lunch at the Russian Tea Room, she reveals that her sister's daughter recently committed suicide. "There are frailties in our family," says Kay, who worries about her own children. "We all have to be aware of them and take care of ourselves."
"My mother is the most important person in my life," Jenny says, adamantly. At her urging, Kay has moved from the Upper East Side to a loftlike space several floors above her daughter's new home in a converted department store in the Village. Part of their intense relationship is rooted in the fact that Jenny, the youngest, was enmeshed in her parents' divorce. "Jenny suffered the most," says Kay, regretfully. "She was the kid who loved the mommy-and-daddy thing, saying, 'You're never going to get divorced, are you?' " But this mother-daughter bond also reflects a shift in attitude by Kay and Warner over how best to bring up their children. As Carolyn LeRoy, who is quick to affirm her own love for her mother, explains, "Max and I were raised by full-time governesses. That's how Dad was brought up. His mother never changed a diaper. When Jenny came along, my mother insisted she wanted to raise a child herself."
In this household where the two parents had such different life experiences, the LeRoy children fondly recall, Kay taught them inexpensive pleasures like making homemade greeting cards and folding origami animals, while Warner made sure to turn every family event into an extravaganza. Ask Kay now about Warner's spending, and she says, "You've heard the phrase 'good provider.' Warner was an over-provider. He gave them everything. It worried me."
To better explain her childhood, Jenny arranges for me to see a video of her bat mitzvah party at the family's Amagansett estate. It more than lives up to its billing: Airplanes dive in formation above the house; characters in Wizard of Oz costumes welcome guests; stilt-walkers and magicians work the crowd. Jenny hugs her unofficial "other brother," Sean Lennon, while family friends Peter Jennings, Beverly Sills, and Jann Wenner beam approvingly.
Watching this scene, one imagines the LeRoy children lived charmed lives. Well, they did, and they didn't. Bridget euphemistically describes herself as now leading a sober life. Carolyn was born with a hereditary bone disorder that afflicted Warner's mother (one side of her jaw grows faster than the other) and has had two excruciating rounds of surgery to rebuild her lovely face. Jenny is dyslexic, and she was also in a serious riding accident as a teenager in the Hamptons Classic, dislocating her tailbone. (Her father forbade her to ride after that; his death has freed her to resume the hobby.)
There were other problems as well. As Jenny, Max, and I ride in their father's infamous pinkish-beige customized Cartier limo to Tavern on the Green for a lunch tasting, I ask whether they were typical New York kids, sneaking out at night and getting into trouble.
"We used to say that our parents didn't discipline us, so we had to discipline ourselves," she says. He adds, "Andwe did such a good job of it."
I can't resist probing: "Anybody spend time in rehab?" They look at each other and burst into laughter. "Jenny went to a disciplinary school," Max says, and she throws in, "Max went to Hazelden."
Their parents tried to break the news of the divorce gently: Jenny, 14, was on a class trip, and when she returned, her mother picked her up and explained that she and Warner had decided to be apart for a while. "It was really funny," Jenny recalls, "because ten minutes later, my dad pulled up, and we all got into the limo and went out to the Hamptons for the weekend."
But over time, the angry accusations and tearful reconciliations took a brutal toll. Carolyn dropped out of Brown University to move home, Max was drinking and bounced through a series of schools, including his father's alma mater, Le Rosey in Switzerland, and Dwight in New York. Bridget had become close to her stepmother and was torn up by the split, fearing she'd lose the house her father built for her on his Amagansett estate. (Kay won the master house and 60 acres, but Warner kept the home he'd built for Bridget; in the year before his death, he spent hundreds of thousands of dollars on an addition for himself there, a suite of rooms he never got to spend a night in.)
Jenny flunked out of Dalton and briefly spent time at a boot-camp-style school in Idaho that required chopping wood, 24-hour, no-sleep "emotional-growth sessions," and constant supervision. After two months, Kay, concerned about reports she was receiving about Jenny, flew out to see her, and when school officials tried to block the visit, Kay insisted on bringing her daughter home.
As Jenny tells this story she grows visibly upset. But she has such an essentially sunny personality that she wants to end the anecdote on a fiercely positive, what-I-learned note: "The biggest thing – don't take freedom for granted," she says. "You put things in perspective. Look at the problems I have – Gee, I can't get fabulous tuna, just great tuna? I have my health. I am living every moment that I can. You have to. It's so short. I'm so lucky that I'm 22 and I know that."
At the Russian Tea Room it's prime-time – lunch hour on a sunny summer Wednesday – yet the place is only two-thirds full. Failed senatorial candidate Rick Lazio is at one table, while Sam Cohn, the famous but fading ICM agent, is sitting in his usual corner banquette with screenwriter Alice Arlen. Cohn is one of the few showbiz icons to have remained loyal to the restaurant, rather than defecting to Michael's or other trendy lunch spots. "Jenny is a lovely girl," Cohn says, almost wistfully. "But the problem is, how does she get people back?"
She's trying, but it's hard to fix a broken restaurant. Warner bought the place from Faith Stewart-Gordon for $6.5 million, shut it down, gutted the two-story building and spent four years turning it into an over-the-top folly clearly from the same gene pool as Maxwell's Plum, with three upper banquet floors with Tiffany-glass ceilings, gorgeous inlaid wood and precious stones, a tree of Fabergé-style eggs, and five separate kitchens – only one of which is now in use, a stark reflection of the slump in business.
"We used to say that ourparents didn't discipline us, so we had to discipline ourselves," says Jennifer LeRoy.Adds Max: "And we did such a good job of it."
To woo customers, Jenny asked Renaud Le Rasle – a onetime personal chef of Warner's who took over the restaurant from the much-criticized Fabrice Canelle – to add ladies-who-lunch salads and fanciful desserts. The day the menu is introduced, Jenny and Kay and I sample the new dishes. My seafood salad is fresh; so fresh that the calamari is completely raw. "This would have been fine if you ordered sushi," says Jenny, summoning a waiter. Moments later, the chef appears, apologizing profusely, all but committing ritual seppuku at the table.
Jenny isn't daunted by the idea of undoing some of her father's handiwork, though it won't be easy. One day she tells me she's planning major construction – to put a dramatic stairway between the first and second floors to "marry" the rooms; a few weeks later, she says she's changed her mind, implying that Roth has advised against investing several-hundred-thousand dollars in construction now. She's even considered changing the name (and when I track down Stewart-Gordon, she admits the same thought had crossedher mind). "We have picked up business a bit," Jenny announces in mid-July. "I think we're secure until next year."
Last week end, however, gossip began spreading that Roth was making his move, trying to squeeze out Jenny and bring in another operator, perhaps David Emil of Windows on the World. The swirling story sent a scare through Jenny's executive offices. On July 30th, Jenny and Alan Garmise, the company's president and CFO and a part of the team since 1974, met with Roth at his office around the corner from the Tea Room. Jenny went in with trepidation but came out feeling optimistic.
"Steve has not mentioned anything to me at all about bringing in anyone else," she said the next day, while declining to discuss the meeting. She's moving ahead with plans: passing out 5,000 free-drink coupons to the Tea Room to get people in the door; working with Max to launch late-night lounge parties in September with D.J. friends Mark and Samantha Ronson, debating whether to book entertainment, perhaps jazz performers or even drag queens.
For now, Jenny seems to have bought herself some time. "Steve has always agreed to give me a chance," she says, flashing her most confident smile. "I have to make it work."