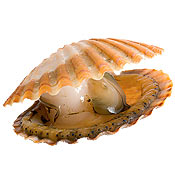 Whoever it was who first gulped down an oyster was certainly an adventurous type, but what about the brave soul who—long before Fear Factor—tackled the scallop? It's almost always sold already shucked, but there's more to this bivalve than its familiar, creamy-white adductor muscle. The lovely shell also houses both orange female roe and white male reproductive glands (the French, of course, eat both), not to mention 50 beady little eyes for eluding predators. If that doesn't whet your appetite, then this festively seasonal recipe from Fresh, Shore, and Coast chef Daniel Angerer should.
Daniel Angerer's Autumn Spice Scallops
1 cup fresh cranberries
1 cup water
1⁄4 cup honey
1⁄2 teaspoon each of ground cinnamon, cloves, and nutmeg
Sea salt
Cayenne powder
Grapeseed oil
8 Maine sea scallops (2 ounces each is ideal)
In a medium-size pot, bring cranberries, water, and honey to a boil. Cover, and simmer until soft, about 15 minutes. Meanwhile, in a small bowl, blend ground cinnamon, cloves, and nutmeg. Season each scallop with a pinch of salt and of cayenne powder, and
(1) dust each side with spice blend. Remove cranberries from the heat, and drain excess liquid; the consistency should be like jam. Set a pan over medium heat with a layer of grapeseed oil.
(2) Place scallops in the pan, and sear each side for approximately 4 minutes.
(3) To serve, place 2 scallops per plate atop a small amount of the cranberry sauce.
Serves 4.