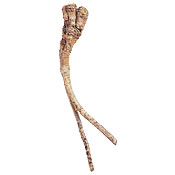 This time of year, the Greenmarket teems (well, scrapes by is more like it) with swollen tubers and gnarly, elongated roots, like the fresh horseradish that can be found all winter at the Paffenroth stand. If you're accustomed to the stuff in a jar, the root looks almost primeval, like something that belongs in a witch's cauldron (and has, in fact, been used historically for medicinal and religious purposes). But its unique flavor—a piquant, biting sharpness with a sweet undertone—makes it a popular condiment and a zesty addition to the creamy dip Marc Meyer serves with bread at Cookshop.
Marc Meyer's Fresh-Horseradish-and-Roasted-Onion Dip
One small or half a medium-large horseradish root, peeled and diced
1/4 cup white vinegar
Salt and pepper to taste
Olive oil
2 medium white onions, sliced
1 cup crème fraîche
1 teaspoon fresh tarragon

Add horseradish, vinegar, and a pinch of salt to a food processor, and pulse until smooth, but not puréed. Reserve.
(1) Heat one tablespoon olive oil in a medium saucepan and add sliced onions. Cook over low flame until very soft, about 45 minutes. Let cool.
(2) In food processor, pulse onions with pinch of salt and pepper until almost a purée. Remove from processor. Using a spatula, remove onion mixture from processor and combine with horseradish and crème fraîche until smooth.
(3) Fold in fresh tarragon. Serve with bread or breadsticks.