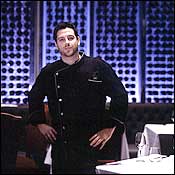 Openings
Alto
Where do you go after you open a suave Italian joint in quaintly insular Tudor City? If you're chef Scott Conant and his partners Chris Cannon, Jane Epstein, and the designer Vicente Wolf, you brave the fickle heart of midtown Manhattan with a swank new restaurant determined to redefine New York's notion of Italian food (and maybe, if you're lucky, snag four stars while you're at it). Alto, opening for dinner this week ($68 for a four-course prix fixe), is a Donghia-plush, frosted-glass-walled homage to alta cucina and to the Alto Adige, a region so northern in geography and gastronomy it might as well be Germany—or at least Alsace. No less omnivorous a food scholar than Waverley Root has decreed, "Though Alto Adige cooking exists within the political boundaries of Italy, it is not Italian cooking." Try telling that to Conant, who goes against the prevailing Tuscan and Southern Italian grain by spotlighting speck, freshwater fish, and tongue-twister starches like schupfnudeln. Where you might expect branzino, Conant offers sturgeon with cabbage and krapfen. Pumpernickel ravi-oli come over sauerkraut. And pastry chef Patty Jackson keeps up the Mitteleuropäisch pace with finales like rhubarb strudel and Sacher torte.
520 Madison Ave., entrance on 53rd St.; 212-308-1099
Daniele's Piadina
When a well-traveled men's-underwear designer and a recently retired ballet dancer turn their attention to what's lacking on the local fast-food landscape, you shouldn't expect ordinary results. And with Daniele's Piadina—an impossibly sleek little nook on a gritty stretch of the Flatiron district—you don't get them. The brainchild of Gregory Sovell (the underwear guy) and his partner Daniel Prates (the ballet dancer), both of whom fell for the classic Romagnan flatbread sandwiches while traveling in Italy, Daniele's takes up where the panini craze left off. The signature piadina (prosciutto, arugula, and creamy, slightly tangy stracchino cheese) is like a deliciously trim and sophisticated European cousin of the American wrap, served on crisp and tender flatbread that's griddled to order. One makes a fine light lunch; heartier appetites can pair it with a cup of pappa pomodoro, a sprightly potage of tomato and bread that Sovell calls "our version of fries."
64 W. 22nd St., nr. Sixth Ave.; 212-989-1307
Rice
When Kalustyan's Cafe closed its doors last month, it was only the most recent in a line of short-lived spots to open and shut on that ill-fated Curry Hill corner. A branch of Nolita's exceedingly popular Rice has sprung up in its place, offering takeout and delivery in advance of its official opening April 15. Like its predecessor, Rice obtains many of its exotic spices and grains from its partner, Kalustyan's market. But Rice veers from the neighborhood's entrenched Indian flavor with its proven formula of mix-and-match rices (basmati, Bhutanese red) and toppings (Thai coconut curry, jerk chicken wings), and signature snacks like Malaysian jerky and "rice krispie treats." New to this branch is an affiliation with the West Village's Soy Luck Club, which will sell its soy drinks and healthy breakfast wraps and pressed bagel sandwiches on-premises.
115 Lexington Ave., at 28th St.; 212-686-5400
And…
The barbecue fever that's swept Manhattan has spread to the East Village, where Smoked consulting chef Kenneth (Ida Mae) Collins mesquite-grills shrimp, pit-smokes brisket, and pushes the BBQ envelope with ingredients like duck confit. Plus 40 bourbons, staff blouses by Charlotte Ronson, and a linebacker (Tennessee Titan Keith Bulluck) for an owner
103 Second Ave., at 6th St.; 212-388-0388.
Restaurateur John Scotto has tried different identities (The Park, L'Etoile) for his ornate midtown space, newly rechristened Table XII. Now he's enlisted the mercurial services of Sandro Fioriti, the gifted Italian chef who can't stay put. Maybe this time he will—along with his porchetta alla Romana, ravioli ricci di mare, and spaghettini al limone
109 E. 56th St., nr. Park Ave.; 212-750-5656.
The Stanton Social opens this weekend with over 50 multiculti plates for sharing, courtesy of chef-partner Chris Santos. Pick and choose from wok-charred edamame, French onion–soup dumplings, lobster-roll sliders, scallop-and-foie-gras satay, pulled-pork steamed buns, and a flight of soufflés (99 Stanton St., nr. Ludlow St.; 212-995-0099).
Sides
Broadway bound Tom Colicchio branches out beyond his 19th Street domain this week when he relocates Craftbar to a 150-seat space around the corner at 900 Broadway. The restaurant, still under the seasonal Mediterranean sway of chef Akhtar Nawab, opens April 14 for dinner and April 18 for lunch—a good thing, since Craft proper serves its last lunch this Friday—and will take reservations (212-461-4300).

A Cold One As every sports-crazed couch potato knows, there's nothing worse than a lukewarm beer. The owners of It's a Dominican Thing, the new Chelsea bistro with a proudly nationalistic streak, must share this view: Every bottle of Presidente is served in what looks like the bamboo precursor of the foam-rubber beer cozy. But don't expect them to start popping up at tailgate parties—a bit clunky, the coolers require an anchoring thumb, which might be why some recently supping expats abstained, leaving the rustic apparatus to the thrill-seeking tourists.