Openings
Naka Naka
In the land of giant Japanese restaurants—the sleek, subterranean Matsuri is one block east, the impending Morimoto around the corner—the diminutive Naka Naka has quietly opened. Not that anyone would know: The nine-stool spot hides behind a signless, curtained façade. But once inside, the welcome is warm and the spirit generous. Chef Chie Sakaguchi serves all the expected sushi and sashimi but seems to take special pleasure in the daily-changing assortment of appetizers like sesame-dressed greens, simmered duck breast, and various hijiki and daikon preparations, delivered in bento boxes by traditionally clad waitresses.
458 W. 17th St., nr. Tenth Ave.; 212-929-8544.
The Place on West 10th
It takes guts to open a restaurant in Manhattan—especially when said restaurant inhabits a location that some consider cursed. But Alexander Achilleos, who's operated the original Place over on West 4th Street for the past nine years, had no qualms about opening an outpost in the notorious West Village spot that has seen the arrival and departure, most recently, of Indigo, Merge, DeMarco's Room, and Marco NY. He's relying on his loyal following and chef Quechol Elias's Mediterranean-inspired American fare to change the luck of the cozy brick-walled space, where diners can partake of the Place standards like sweet-potato ravioli, braised short ribs, and fish stew.
142 W. 10th St., nr. Greenwich Ave.; 212-462-2880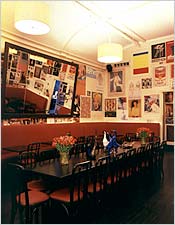 Blaue Gans
Few have done as much for Austrian food in New York as Kurt Gutenbrunner, chef-owner of Wallsé and Café Sabarsky, and chef at Thor, where quark spaetzle and potato rösti still manage to assert their mittel European presence on an otherwise American menu. Next week, Gutenbrunner expands the brand once again by converting the late Le Zinc into a casual Austro-German bistro of sorts—the perfect place, the chef (and father of three young schnitzel-loving girls) is certain, for Tribeca families to congregate for goulash and strudel. Gutenbrunner has hung mirrors, built a communal table, and elaborated on Le Zinc's poster-plastered design scheme, which he intends to update regularly with a little help from art-world friends. Blaue Gans is a homecoming of sorts for Gutenbrunner, a Tribeca resident himself who'd worked at Bouley and had been earmarked to open Danube, before fate (and unexpected delays) intervened. With two Central European joints a block and a half apart, the neighborhood will soon be virtually awash in Grüner Veltliner.
139 Duane St., nr. W. Broadway; no phone yet
And …
After a down-to-the-wire chef change, Barbounia opens this week in the old Patria space, with a Greek-leaning menu of flatbreads and spreads, portobello moussaka, and feta-stuffed rabbit (250 Park Ave. S., at 20th St.; 212-995-0242). Brooklyn boy Christian Dennery has opened Liquors in Fort Greene and Bodegas in Clinton Hill. This weekend, he branches out to Bed-Stuy. At Lewis & Ruby's, in the old Akwaaba Café space, he and his partners serve up soul food two ways—city-slicker sophisticated and country-bumpkin down-home (393 Lewis Ave., nr. Decatur St.; 718-245-8822).