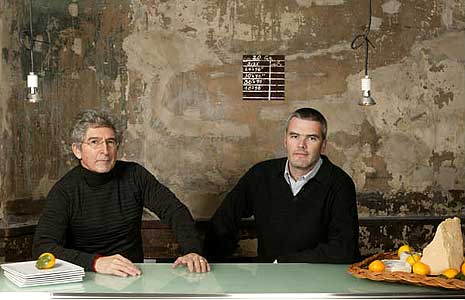 Giorgione 508
Few people have done more to raise New York's collective foodie consciousness (and grocery bills) than Giorgio DeLuca, pioneering co-founder of Dean & DeLuca and co-owner of the three-year-old Giorgione. Any day now—Con Ed willing—he and partner Jorge Neves will expand their modest domain with Giorgione 508, a combination restaurant, espresso bar, and mini-market around the corner from their popular Italian restaurant. Named for its address, and most recently the home of the short-lived Couvron, 508 will serve its rapidly gentrifying neighborhood pancakes and eggs for breakfast, prosciutto sandwiches and arugula salads for lunch, and a dinner menu that showcases the Venetian-style appetizers called cicchetti. Giorgione chef Alex Schindler supervises the kitchen, which will deliver wood-grilled steaks and chops, game stews, and plenty of pastas to diners seated side-by-side at a pair of glass-topped bars. And DeLuca, ever the gourmet grocer (and Dean & DeLuca shareholder), is devoting some prime square footage to pre-cut packaged Camembert, fresh baguettes, Danish butter, Greek yogurt, saucisson, organic eggs, and everything else a modern Manhattanite might need to stock his or her larder.
508 Greenwich St., nr. Spring St.; 212-219-2444
The Orchard
With two Italian restaurants under his belt, John LaFemina was starting to feel constrained. "The more I experimented with different foods," says the Peasant partner and ápizz owner, "the more I got excited about ingredients that weren't, strictly speaking, Italian." So he's opened the Orchard, where, besides agnolotti and cavatelli, there's also whisper-thin flat bread with braised short rib or steak tartare, pan-seared foie gras with strawberry coulis, and pork chops with candied yams. The self-taught chef also practically built the entire restaurant from scratch. Was he ever a carpenter? "No, just a control freak," he says.
162 Orchard St., nr. Rivington St.; 212-353-3570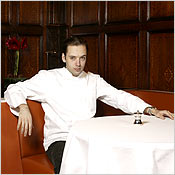 Gilt
Four years ago, the envelope-pushing English chef Paul Liebrandt was charging diners $110 for the singular pleasure of being blindfolded, bound, and commanded to bob for foie gras and suck dessert soup from a baby's bottle. We can't imagine that going over too well at Gilt, the successor to Le Cirque 2000 at the New York Palace Hotel and Liebrandt's opulent new home as of this Thursday. After working for Marco Pierre White and David Bouley, among others, Liebrandt made his New York reputation at Atlas, and then at Papillon, with his pickled foie gras with clam-juice foam and his green-apple-wasabi sorbet, concoctions that repulsed some diners and delighted others (including William Grimes, who gave Atlas three stars in the Times). Since then, in an extremely ironic culinary about-face, Atlas has become a branch of comfort-food central Sarabeth's. But with a team of London backers behind him, Liebrandt has rallied to breathe new life into midtown Manhattan's restaurant landscape. His prix fixe menus ($88 to $145 at dinner, $45 to $60 at lunch) reflect what Liebrandt calls his "greatly refined and matured" style with dishes like black-truffle crumble with crosnes and grapefruit confit, and serrano-ham-wrapped pigeon, served in a 50-seat dining room designed by frequent Ducasse collaborator Patrick Jouin.
455 Madison Ave., at 50th St.; 212-891-8100
Sides
Bistro Impostor After 30-odd years of serving bulky burgers on tiny paper plates to a wildly appreciative late-night crowd, has the Corner Bistro sold out to corporate America? That's what some baffled regulars have been asking owner Bill O'Donnell ever since Stouffer's, the Ohio-based frozen-food giant owned by Nestlé, introduced a new line of frozen dinners and panini (frozen panini?) brazenly called Corner Bistro! The answer is, emphatically, no. In fact, it's doubtful that the Stouffer's "chefs who were inspired to create these tantalizing new recipes based on neighborhood restaurant favorites," as the package declares, have ever even heard of the Corner Bistro, let alone tucked into a regulation Bistro burger. Still, one worries. Lawsuits have erupted over less contentious circumstances, after all. It's unlikely, though, that O'Donnell will take action: "Obviously, I didn't have this place patented," he says. Nestlé, as corporate giants often do, trademarked the name.
Spain in Soho For years, Manchego freaks and chorizo hounds have trekked to Jackson Heights to stock up at Despaña Brand Foods. But next month, when the Spanish-foods importer opens an airy Manhattan outpost at 408 Broome Street near Lafayette Street, shopping will become much easier. So will snacking: The owners plan to serve Spanish-inspired sandwiches and carve ham to order.
Using Her Noodle Momofuku has always been too much of a tight squeeze to have a dessert menu—never mind a pastry chef. But now, Sunshine Flagg, a veteran of WD-50's daring pastry department, has set up shop in the basement, where she bakes tiny cupcakes in unusual flavors like kabocha squash with maple–star-anise buttercream.