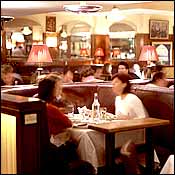 Dine out on sushi and you congratulate yourself on feeling squeaky clean and healthy. Sit across from your honey at a low-lit table in a French bistro, and how can you not be in the mood for love? Talk business over Mexican food? Are you kidding? Let's get loud! But when I walk into an Italian restaurant, I want a "Heeeeeey!" I want a hug. I want a backslap as much as a big bowl of fettuccine Bolognese, because the pasta will taste infinitely better if I feel like everybody's really missed me.
I know in my heart the next time I come back to Bond 45, Anthony, my waiter (all three times), will have missed me. When he said, "Guys, let me get your drinks, and then I will introduce you to the glory that is our menu!" I should have sneered, or at least rolled my eyes. But there wasn't a trace of cynicism in the veteran waiter's voice. He meant it. Then he went through the menu as if he owned the place, beaming every time we took his suggestions. Before I'd eaten a forkful, I had fallen for Bond 45.
So what if the dark-stained paneled room, with its aged tile and diffuse Deco-ish chandeliers designed by Tony Award winner John Lee Beatty strains to look as if Bond's been around since the days of Fiorello La Guardia (the name actually refers to the previous occupant of the space, a clothing store known for giving buyers two pairs of pants with every suit). Give me a place that treats me like family while executing home-style cooking at least as solid as my mom's (no, she's not Sicilian, but ask any Italian—Jewish is close), and I've got another reason to hit Times Square other than theater and Virgil's Barbecue.
The assertive approach to service—falling somewhere between the smartass-itude of old Carnegie Deli waiters and Eve Arden's all-knowing diner manager in Mildred Pierce—is a trademark of Shelly Fireman's restaurants (Trattoria Dell'Arte, Brooklyn Diner). If such banter puts you off, you can ask to be seated with a few of Bond's younger servers, but know you're gonna miss Anthony's urgent insistence on the mozzarella bar misto, a quartet of down-pillow-soft cheeses, including fresh bocconcini and homemade fiori di latte, because "it's going to make you so happy, you're going to kiss me." Well, pucker up, Anthony. Not only are the cheeses distinctive and, just as he promised, "unexpectedly refreshing," but they're surrounded by a delicious, sweetly sour quartet of caponata, roasted peppers, fava beans, and prosciutto.
Anthony also deserves a big wet one for recommending chef Brando De Oliveira's chunky but soft meatballs, minestrone generously studded with hunks of cured ham ("We're not real big on vegetarians"), and grilled sausage with shards of fennel. From a list of pastas priced and portioned to allow middle courses without gluttony, we favored an expert cacio e pepe, al dente spaghetti confidently topped by only grated pecorino and black pepper, fettuccine with basil pesto and pignoli, and, happily, the Bolognese.
Bond 45 touts a focaccia-based version of pizza called pantondo, but it's not unique enough to warrant the $30 price tag. Better to shell out less for the large, garlic-showered scampi, or the chicken brightly seasoned with lemon and fennel. Better still, go ahead and pay more for the sizable fish of the day—a branzino or orata, say, usually prepared simply in olive oil, white wine, and herbs—or the massive pileups of osso buco, peppery veal short ribs, dry-aged porterhouse, or a veal parmigiana consisting of a veal chop pounded thin and wide enough to measure in square footage, then breaded lightly enough to turn crisp, even under a spiky tomato sauce and lakes of cheese.
The kitchen needs to whip up some desserts that better reflect Bond 45's determined high spirits. Only the parfait of limoncello granita provides the right spark, and only after you shovel through a vat of whipped cream.
"Come back any time," cried Anthony. "You guys eat like my relatives. Be glad you're not built like them." True enough, for now. But if we follow Anthony's advice and return regularly, we may be loosening our belt buckles soon.
Anyone foolish enough to ignore a restaurant recommendation from Le Bernardin's Eric Ripert? Even if it is for yet another Italian restaurant on the Upper East Side? Not me.
Big surprise: Spigolo is a little gem, no larger than all those other vest-pocket trattorias nearby that must get their food from a communal kitchen under Third Avenue. So expect a perpetual crush at the door once word gets out that Heather and Scott Fratangelo are not only the town's neatest new mom-and-pop restaurateurs but a sterling team in the kitchen, too.
Hubby is responsible for the vibrant salmon tartare studded with bursts of capers, sun-dried tomatoes, and chili-flecked cucumbers. He's also behind a simple cluster of shaved celery blossoms that with the addition of Gorgonzola, pecans, and a squirt of citrus vinaigrette becomes a memorable salad. The breading on his littleneck clams boasts the touch of luxuriant bagna cauda butter. Nearly ethereal gnocchi are atypically made with sheep's-milk ricotta. There's also a dish called hake fish in "crazy water." Ask the kitchen to prepare the tomato-and-fish–based broth made with garlic and chilies extra crazy. It's wonderful, as is Scott's herb-crusted bass, lamb loin with a sensational caramelized tomato tart (they love vegetables here), and a breast of veal stuffed with pancetta and served with butternut squash that will make up for whatever you gave up for Lent.
Heather, meanwhile, does the near impossible: She's not only a lovely and disarming host, but during the day she creates pastries few Italian restaurants can match. There's a luscious warm gingerbread pudding with candied citrus, gentle vanilla-bean panna cotta floating in a pool of pomegranate soup, and a superb rustic apple cake with apple-cider glaze.
Don't tell Anthony—I don't want him to get jealous—but I could kiss Eric for telling me about Spigolo.
Bond 45
154 W. 45th St.; 212-869-4545



Spigolo
1561 Second Ave.; 212-744-1100


Bond 45
Address: 154 W. 45th St., nr. Seventh Ave.; 212-869-4545.

Hours: Sunday and Monday, 11:30 A.M. to 11 P.M. Tuesday to Saturday, 11:30 A.M. to midnight.

Prices: Appetizers, $6 to $17; entrées, $17 to $37.

Ideal Meal: Mozzarella bar misto, cacio e pepe, veal chop parmigiana, limoncello granita.

Note: Large parties are often seated in the back. If you're a small group, ask to be seated downstairs—it's quieter.
Spigolo
Address: 1561 Second Ave., nr. 81st St.; 212-744-1100.

Hours: Dinner, 5 to 10:30 P.M. daily. Late-night menu, Monday through Saturday, 10:30 P.M. to 2 A.M.

Prices: Appetizers, $8 to $16; entrées, $21 to $27.

Ideal Meal: Salmon tartare, ricotta gnocchi, breast of veal, warm gingerbread pudding.

Note: If you're a walk-in, the bar is a pleasant place to eat.