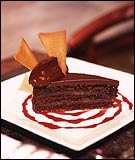 I didn't even see it coming, but suddenly there it was, smack in my face before I could duck. I'm not even sure exactly what triggered it. Maybe it was the three drinks touted on Thom's cocktail menu that tasted like a trio of weak mojitos. Or walking through the wonderfully sleazy alleyway that leads to the deliciously named Lansky Lounge and Grille and finding a room full of tittering headbands and oxford-cloth shirts. Or was it the passing-around of cell phones like hors d'oeuvres at Man Ray's ("You say hi! Now you!"). Or maybe it was the restaurant P.R. person who assured me that the upcoming boîte he was touting was going to blow everything else out of the bottled water because "they're getting the doorman everyone's dying to get."
Who knows which was the last straw? All I know is that I am now completely, painfully, achingly fabulous-ed out. Take away my Bungalow 8 VIP card if you must, but I love any place Carrie Bradshaw would want to bolt from faster than she could snap her Hard Candy-polished fingers.
She'd hate Zoë. It's almost ten years old and looks it, mainly because its cavernous, open-kitchen SoHo-cafeteria décor recalls a time when upscale informality masquerading as downscale was more desirable than the illusion of intimacy. The room is often full of shoppers, couples who don't crane their necks over each other's shoulders, and friends who prefer their conversations private. Its cocktails smell like liquor, not mango or watermelon. Also, it's devoid of tables where women outnumber men six to two, waiters who explain dishes by repeating exactly what's written on the menu, and anyone "Page Six" or the doorman-to-die-for might know.
If this doesn't sound like a godsend, you probably already know the doorman. For the intrigued, however, there is the added bonus that Zoë's kitchen, however exposed, is a lot less out of a time than its décor. In fact, chef Stewart Woodman's easy-to-read menu is indicative of a palate less inclined toward the neighborhood norm – randomness posing as originality – and more fearlessly in favor of dominant seasonings and smart variations on the familiar. Rather than stud spinach salad with, say, sautéed plum rinds and radish tempura, there is a welcome stack of crisp, bracingly strong, thumb-size leaves, slices of brawny white mushrooms, and the fragrant addition of idiazabol cheese and pistachios. Shrimp get sautéed in a gentle orange glaze with a hint of lobster essence. There are sensuously light corn-filled ravioli, covered with peas and shiitake, confidently presented solely with brown butter; a tuna tartare that leaves blandness behind with a kickoff of tomato-and-caper emulsion; and a judicious use of mango and anise that goad you into the indulgence of grilled foie gras. Only the overly dense basil sauce, doused on basil linguine, and a creamy pea soup that's bizarrely addictive but oddly unsatisfying feel like miscalculated appetizers. The hon shimeji mushroom soup, however, flecked with pineapple and scallion, is guzzle time in a bowl.
There appears to be a truly pleasant and disturbingly novel thought behind the presentation of entrées – that someone might be hungry. Zoë's penchant toward heartiness, however, can compromise delicacy, as in the case of a too-crispily sautéed red snapper in olive vinaigrette, or become unbalanced by abundance, like when the faint aroma of steamed dorade is buried beneath a small bucket of fennel melon salad. (Not to mention the poached chicken that sinks under an impenetrable coating of blue cheese and mustard.) But a wood-roasted lobster in its own essence can raise one's spirits like an end-of-summer clearance sale with too much in your size. Moist grilled salmon boasts the happy company of an orange parsley sauce. Roast saddle of lamb is smartly surrounded by rustic eggplant caviar and cracked wheat. The woody porcini crust of a smoked sirloin is brightly complemented by an accompanying lemon tagliatelle. And the pork chop has both a studding of sage and an artichoke confit to thank for its holiday-dinner aroma.
The third course is the only area where Zoë does seem a throwback to a time when restaurants understood that desserts are the original and best-loved comfort food. Remember the wonder that was Ebinger's blackout cake? You might recall that someone tried to revive the name some years back but did a pitiful job. They said the original recipe was lost. Well, I think somebody found it. Zoë's chocolate-pudding cake is the real thing. Almost as delectable are a chocolate s'mores brownie, a lemon bundt cake, an uncloyingly fine peach hamantaschen, and any berry tart they're baking that day.
Is it sad that familiar food and uncomplicated surroundings can feel so fresh and new? Should Zoë have closed and reopened under another name to capitalize on its reinvigoration? Can oh-so-fine but unfabulous survive? Geez, I hope so. But the odds are tough. I'll bet that hot doorman never heard of Zoë. I bet he never heard of Ebinger's, either.
If any place should have instantly acquired the egalitarian appeal of normalcy, it was Lundy's, which has crept into town so quietly you'd think it was being backed by the Oxygen Network. And yet, everything about the seafood place evokes the queasiness of skinny-dipping in a sump. The medical-office entrance is as dislocating as showing up at the dentist a day early. The room is nowhere, possessing no sense of place, spirit, or intent. It's as if all feeling of being in New York has evaporated, and you're on top of an old Hyatt in St. Paul. The waiters wander aimlessly, while you wait for drinks evidently made offsite. The menu is full of promising old favorites, though the staff appears noncommittal about everything but lobster. Food comes faster than drink. And it's fresh, but most of it is seasoned with disinterest, except lobster fra diavolo, which is fun but as messy as a muddy sandbox. For a place open four months, Lundy's feels three years old and ready to be sold.
Zoë, 90 Prince Street (212-966-6722). Lunch, Tuesday to Friday, noon to 3 p.m.; dinner, Monday to Thursday, 6 to 10:30 p.m., Friday, 6 to 11 p.m., Saturday, 5:30 to 11:30 p.m., Sunday, 5:30 to 10 p.m. Appetizers, $8 to $14; entrées, $18 to $29. A.E., M.C., V.
Lundy's, 205 West 50th Street (212-586-0022).