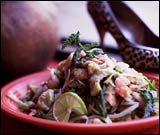 With a few towering exceptions (Elaine at Elaine's, Sirio at Le Cirque 2000), the role of the courtly, back-slapping restaurateur seems to have been eclipsed. Most of the gourmet entrepreneurs who dominate the city's fine-dining scene wouldn't dream of loitering in their many establishments, handing out menus to strangers who walk through the door. Fancy food and lots of publicity fill seats these days, not the promise of a familiar banquette or a special anniversary bottle of wine or any of the other little touches that, in the hands of an experienced professional, create the illusion that you, the diner, for these few hours at least, occupy a special place in his (or her) personal world.
Like most members of the fast-food generation, I never enjoyed this kind of old-fashioned service on a regular basis. But I grew up in a family of New Yorkers, hearing tales of mythic joints run by elegant old gentlemen, all sadly vanished. Now, eating at so many different tables night after night, this kind of settled, personable style of dining is something I pine for. So when word filtered out that two of the city's longtime traditionalists, Zarela Martínez (of Zarela) and Ken Aretsky (Patroon), were opening modest new ventures of their own, I got out my dress shoes and tatty linen jacket and ambled off to take a look.
Ms. Martínez's new restaurant is named Danzón, after a decorous style of ballroom dancing popular in the coastal Mexican province of Veracruz. Like the original Zarela, this establishment occupies two floors of a narrow walkup building, with a bar serving stiff margaritas on the bottom level and a railroad dining space at the top. Zarela introduced nacho-addled New Yorkers to the delicacies of Oaxaca, but the specialty at Danzón is the cuisine of Veracruz, which means a smattering of imported sweet, spicy flavors, plus lots of fresh local seafood, shaped in cooling salads, rolled in crisp tacos, or doused in lime juice and bunches of coriander.
Many of the best recipes have a condensed, finger-food quality, so it's possible (even preferable) to make a meal from the appetizers alone. Within minutes of sitting down, our table was inundated with sweet plantain fritters (plátanos rellenos), bubbling manchego-cheese fundidos (decked with smoky longaniza sausage), and a trio of satisfying seafood tacos, laced with crema and wound as tight as cigars. The Mexican snobs at the table turned up their noses at Zarela's trademark guacamole ("store-bought," one said) but had to be restrained from devouring an exotic dish called pollo en mora, a disc of savory shredded chicken, flavored with olives, slivers of almond, and a sweet blackberry liqueur.
Some of the entrées were plodding by comparison, particularly the famous Veracruzana red snapper, which seemed a little tough (it's the size of a small puppy), and the seafood paella, which suffered from a risotto-like gumminess. The fish specials were more successful (order the snapper in fillet form, if they have it); also pork, which comes in a smoky tenderloin cut (carne de chango) or frizzled in delicious little carnitas on a bed of sweet pumpkin sauce. There are also a series of intensely sweet, almost saccharine desserts, like peanut ice parfait (spiked with cane liquor) and an extra-creamy flan made from vanilla beans. Like the restaurant itself, these dishes all have their merits, although at the end of the evening, nothing is quite as comforting at Danzón as the sight of Ms. Martínez herself, stationed resolutely by the door, holding a stack of menus in her hand.
Ken Aretsky probably doesn't spend much time handing out menus anymore, although he mastered the art early in his career as the front-room impresario at "21." More recently, as the clubby gentleman owner of Patroon (which reopens next month), Aretsky famously sold Cuban cigars under the table (a practice that caught the attention of the D.A.'s office) and charged $1,000 for a single shot of French cognac (Courvoisier Successions, 1911). 92 seems to be a conscious response to this kind of bull-market excess, a trimmed-down, American-style bistro, serving burgers and fries, an artful variety of meat loaf, even an elaborate $6 root-beer float.
Aretsky's version of the casual neighborhood joint is located on the corner of 92nd Street and Madison Avenue, among the gilded baby carriages of Carnegie Hill. There is a crowded, Hooray Henry exuberance to the room, with pink-cheeked gents swilling dry martinis and families with gaggles of well-dressed, extraordinarily blonde children. The burgers they dine on are suitably beefy without being too big, with stacks of thick fries on the side. In the comfort-food category, there is an overwrought lobster roll ($21), which is a little too thick on the mayo and celery for me, and a light, almost tempura-style rendition of fish and chips, served every Tuesday night (the ribs, on Wednesday, also aren't bad). There's a succulent Niman Ranch pork chop and a roster of uninspired salads. It's simple, pretty decent food in general, but unless you live within a ten-block radius, it's probably not worth a special trip. Which seemed to be fine with Ken Aretsky, who the last time I saw him was mingling with his new patrons, shooting a pair of starchy white cuffs, grinning a happy, million-dollar grin.
Danzón, 126 East 28th Street (212-252-1345). Dinner, Monday through Thursday 5 to 11 p.m., Friday and Saturday till 11:30 p.m., closed Sunday. Appetizers, $9 to $13; entrées, $15 to $21. All major credit cards.