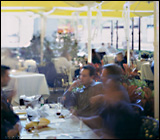 Early last summer, my wife and I flew across the Atlantic Ocean to Nice, rented a car at the little airport there, and drove up into the hills above Cannes for dinner at Roger Vergé's famous restaurant. The snooty food arbiters of the Michelin Guide no longer consider Le Moulin de Mougins to be a three-star restaurant (and they took away a second star in 1996), but on that particular evening, it was good enough for us. We dined outdoors, in a corner of the garden, among parties of Côte D'Azur regulars with their pendulous gold jewelry and iridescent tans. Because this was Provence, we ordered a bottle of rosé and a dish of zucchini blossoms, which I'd heard Vergé sometimes stuffed with whole truffles. Our main courses (duck, I dimly recall, and rack of lamb) were flavored with, among other things, citrus, honey, and lavender. Lemon trees and bushes of lavender also grew in the garden, so if you sat back and closed your eyes, you could smell hints of all these different flavors circulating, like perfume, in the evening air.
Although Vergé has helped train a generation of New York's celebrity chefs (Daniel Boulud, David Bouley), he's avoided bringing this homegrown, delicately atmospheric brand of cooking to the big city until now. Sadly, his timing couldn't be worse. Medi, which opened a month or so before the calamity at the World Trade Center, is a big, sprawling theme park of a restaurant, designed to cater to the expense-account clientele of Rockefeller Plaza. Vergé's partner (his boss, in fact) is Roberto Ruggeri, owner of Bice in Manhattan and dozens more restaurants worldwide. Their stated theme is the food of the Mediterranean (Provence and Ruggeri's specialty, Tuscany), which means the restaurant is covered in oil paintings of sun-splashed hay fields, plus lots of towering floral arrangements stuck with plumes of wheat and sunflowers as big as hubcaps. Giant square umbrellas shade a crowd of fake-marble tables outside, and the interior is colored from floor to ceiling in uniform hues of Mediterranean gold and blue.
The menu at Medi reads like a document from the city's now distant-seeming bull-market past. Even before you hit the main courses, you have to sift through five appetizers "to share," thirteen regular appetizers (two of which cost $24 or more), and eleven "primi" pastas and risottos. On my first visit, our table was quickly overrun with baskets of thickly battered fritto alla fiorentina (containing mostly zucchini sticks), platters of tasty Tuscan meats (smoked hams, coppa), and cutting boards littered with slabs of foie gras and fatty duck pâté. Among more standard appetizers, the baby octopus was nearly inedible and creepy to look at, and the egg in chef Vergé's famous "golden egg" – a kind of elaborate, $38.50 Scotch egg, served in a pool of crème fraîche, with a spoonful of sevruga caviar – seemed overdone. I had better luck with a Frisbee-size helping of beef carpaccio (decked with big flakes of Parmesan) and the duck salad, which was cut in crisp, tender strips and served with a sweet sauce made from amarene cherries.
Diaphanous little Vergé creations like the duck salad, though, are difficult to find; they get lost in an avalanche of hearty Tuscan flavors. Most of the pastas I sampled were superior, although the portions could have been cut by half. There were mildly gummy dumplings called malfatti (stippled with walnuts, in a rich Gorgonzola sauce), peppery bowls of tomato penne, and green wheels of ricotta-filled ravioli in melted pools of truffle butter. Tuscan snobs will enjoy the savory agnolotti dumplings, stuffed with spinach and ground veal, and a steamy bowl of pici spaghetti, drenched in a buttery mushroom sauce and scented with rosemary and bits of black truffles. The risottos were compulsively edible but oversalted – and, at $28.50, overpriced – and Vergé's bouillabaisse had a lumpy, Americanized thickness that I never noticed during my jetlagged sprint through Provence. Other seafood entrées were generally fine (the roasted sea bass in particular), except for a soggy helping of skate, which seemed to have been steamed in some footlocker at the back of the kitchen, instead of sautéed.
If you manage to stagger into the pricey beef-and-poultry portion of the menu at Medi (five of the six entrées are over $30), you'll find big, steroidal veal chops cooked "en cocotte" and served in cast-iron pots, formidable racks of lamb served Viking-style with their bones in the air, even a monster T-bone steak for two, with a heap of canned-tasting Tuscan beans on the side. Of these, I liked the lamb – served with a mass of Brussels sprouts and a dense wheel of potatoes boulanger – best, although the vegetables at the bottom of the veal pot make a nice meal in themselves. My friend the arch foodie had nothing bad to say about her crisp roasted chicken, accompanied by chanterelle mushrooms and a little flotilla of fingerling potatoes. You can get more or less the same dish at lunch (with spinach instead of chanterelles, for more or less half the price), plus a variety of generic quiches and thin-crusted pizzas, including a grisly creation called pizza Rockefeller, consisting of a layer of oily smoked salmon, sour cream instead of mozzarella cheese, and a sprinkling of cheap, fishy caviar.
Despite this uneven menu, I'm happy to report that Medi was generally packed during lunchtime with lots of corporate patriots dining out of doors in their shirtsleeves and ties. The joint was even reasonably full at dinner, despite the presence of a singer on the patio belting out loud, bullfrog renditions of ancient Doobie Brothers tunes. If the music gets too unbearable, you can soothe your nerves with a decent selection of Italian and French wines, plus a hodgepodge of big, sugary desserts. The profiteroles I sampled were soggy, and the purplish lavender crème brûlée tasted a little too much like bath soap. But the ice creams were good (try the pistachio), as was a simple poached pear (flavored with cream and crunchy bits of walnut nougat) and a kind of Disneyfied Italian version of molten chocolate cake called a cioccolatissimo. Or just skip dessert, as my wife and I did on one of my last visits to Medi, take your coffee outside, and admire the great towers of the city. All lit up in the evening, they're as beautiful in their way as any garden in Provence.
Medi, 45 Rockefeller Plaza (212-399-8888). Lunch, Monday through Friday noon to 3; dinner, Sunday through Thursday 6 to 11, Friday and Saturday till midnight. Appetizers, $9.50 to $38.50; entrées, $19.50 to $58. All major credit cards.